The future of food can be in the green water of your pool when you neglect it. At least, that's how they argue from the Malaga startup Origin.Algaespecialized in the cultivation of the microalgae spirulina, which UNESCO defined as millennium food for its high nutritional value. The Andalusian proposal? A product "locally produced, super exclusive and cousin"in the form of a cube of that microalgae that can be dissolved, for example, in the bowl of breakfast cereals. The taste is mild, they say."The complex thing is going to be explaining it to people", explains the head of the company. Let's try it.
"There are more than 60,000 species of microalgae and one of them is spirulina, which has been on the planet for millions of years. They were responsible for creating oxygen on earth. The Aztecs consumed them, let's not think that I know something that we have invented now nor is it anything new: he has been on Earth much longer than us", says the CEO of Origin, in conversation with EL ESPAÑOL from Malaga, Manuel Diez de Onate.
The fundamental point is in the 70% of proteins that spirulina is composed of; which, added to the essential amino acids, the plant origin or the ability to absorb CO2, makes it "super healthy for human consumption". It is, after all, "the superfood that astronauts take into space."
With the clear commitment to spirulina, the Cordovan Xavier Moonthe Torremolinos Eduardo de Arriaga and Díez de Oñate himself, from Estepona, founded Origin.Algae within the talent investor Demium focused on "making it easier for farmers to grow spirulina", a commitment to being a business that serves other businesses, that is, business to business (B2B).
They maintain that facet, but the start up has pivoted to focus on direct sales to the customer, that is, B2C; a new address that premieres this Friday. "What makes the most sense is focus on the final product. It is not easy to find it in the market with local and fresh production. In Malaga, it is impossible", argues the CEO of Origin.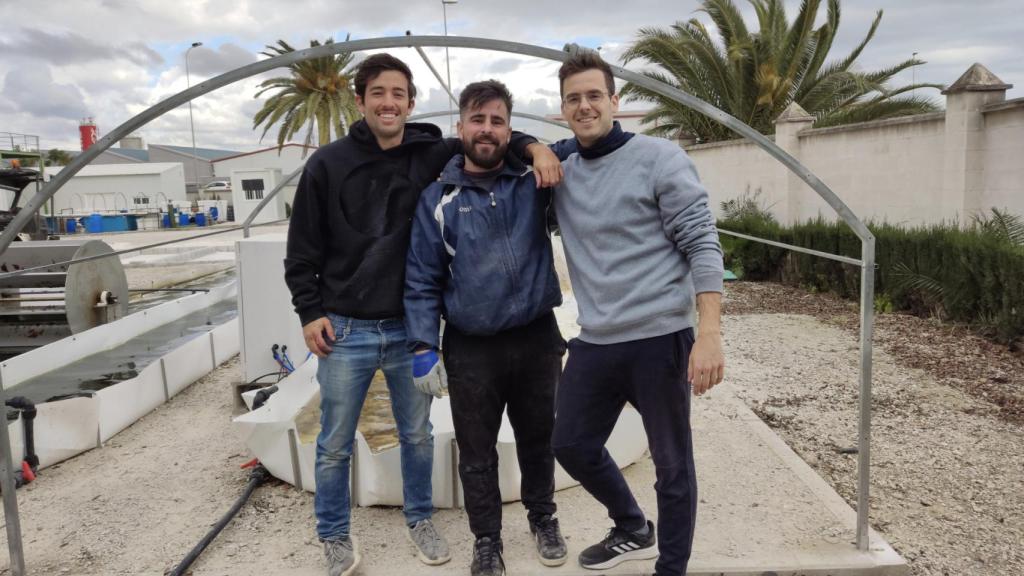 For this, they are creating your own production plant on land near the airport and the old Coca-Cola factory that the University of Malaga (UMA) gave them -"Everything that the UMA does with regard to entrepreneurship is incredible, it is a fantastic ecosystem", says Díez de Oñate- after win, in July last year, the Diputación award within the awards Cleave.
Since September, they settled in the Biotechnology Institute of the UMA, at the beginning of this year they started the works and, in mid-March, they only need to complete the harvesting plant. So this start upconsidered by the specialized press one of the most promising agri-food technology companies in Spainhas its three founders working overtime in their own greenhouse.
"We are going to sell it fresh. When people think of spirulina, they think of a pill or a powder, aDehydrated gas that has been in storage for 2 years [tras importarse desde China, por ejemplo] and has bad smell or bad tasteIt even makes them vomit. In our case, the flavor is much milder, there is hardly any smell, and it contains its nutritional strength much better. There is a difference", argues Manuel Díez de Oñate, who points out that perhaps there has been a lack of "investment and research in the development of the product" of these food microalgae so that this sector, which is also raising expectations among global investors, completes its development.
For now, they offer their fresh spirulina in packs of 30 cubeseven with options of different flavors such as raspberry, vanilla or chocolate, as another protein supplement. "It gives you to dissolve a cube in a portion of smoothie or yogurt, for example, every day for a month. It is a small paste, like green butter", defines the CEO of Origin. The price of the pack does not reach twenty euros. Now, it will be the market that decides if it is ready (or not) to add microalgae to its diet.
Follow the topics that interest you