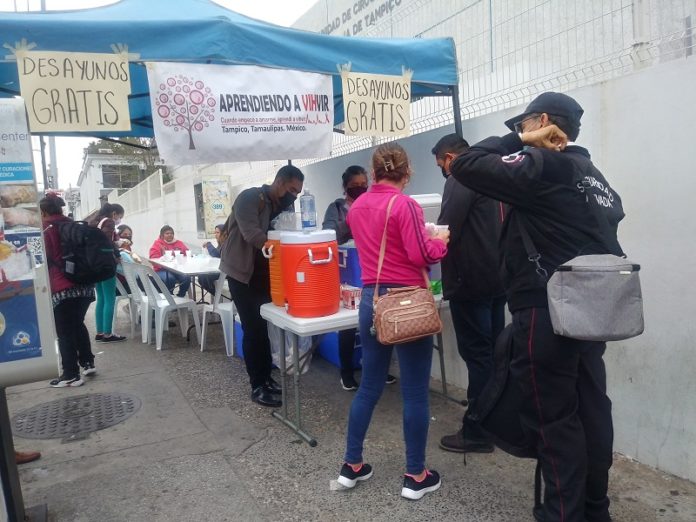 Tampico, Tamaulipas.-Today members of this organization APRENDENDANDO A VIHVIR came to give free breakfasts to people living with HIV and who went to have their viral load done at CAPASIT in this city, as well as to relatives of patients at the Dr. Carlos General Hospital Canseco, who are outside waiting for news about the health of their loved one.
Javier Ramos Yañez, President of Learning to VIHVIR, said that they are an organization focused on the area of ​​HIV and promote early, timely detection and provide support for rapid tests, but they also do this type of action of giving free breakfasts.
He indicated that on this day people living with HIV go to take the viral load test and on this same day they support people who go to the Dr. Carlos Canseco Hospital for any other ailment, since it is not a requirement to have HIV to approach and to be give them breakfast.
"We do not distinguish, we know that there is a great need and that is why we activate the breakfasts, today we bring 250 pig cakes and also ham cakes, these contributions are carried out thanks to the contributions of colleagues and friends who with a granite are added to this cause, be it with glasses, napkins and coffee and your donation is from one peso and it is how we gather and do all this. But anyway I am inviting the whole of society to join this cause because we have friends who help, but sometimes they can't, that's why we need more people to join us and so far it is not a requirement to live with HIV to join this cause and if you already live with her as you want, get closer, we keep the confidentiality".
He reported that they have a Facebook page called learning to Vihvir and through that they can be contacted or
directly with him on the phone 8332048672.
He made reference to the fact that with the pandemic they have changed the attention to get the viral load test, which used to be every month and now they are done every week.
"Before, 200 to 250 people came a month and now only 40 to avoid contagion, but before they arrived early and left until one in the afternoon and now they arrive at 08:00 and at 08:15 or 08:20 they are already coming out".
As for the people who are waiting for news from their family members, they said that they come to have breakfast and that they thank them because some of them have already been out of the hospital for several days and do not have a family member to bring them food.
For this reason, he invited those who want to join this cause to do so so that more people benefit from these foods; In case they can't help, share the page of this organization so that more people can see it and maybe someone else can help.
He indicated that they go every Tuesday to the outskirts of this hospital or when their possibilities allow it.
—
(Visit 1 times, 1 visits today)