MShopping starts with fruits and vegetables. I've always done that. Thoughts about what's in season, what's at its best at the moment, always come before anything else. Perusing the market stalls or scanning the long table at the greengrocer's is the part of food shopping that I enjoy most. It always seems like a good place to start. But often this is where it ends as well.
This month's recipes are suitable for vegans and three of them – with tweaks here and there – are good for vegans too. I roasted cauliflower and made a chickpea sauce to go along with it. Baked Slices Of Meaty Golden Pumpkin With Beans, Winter Tomato Sauce, Marinated And Grilled Eggplant. There's a crunchy pancake of shredded root vegetables to eat with a winter salad or stuffed into a soft roll, and dessert too, a refreshing take on the traditional rice pudding.
None of this is unusual. Meals without meat or fish have always been my mainstay and it looks like that will continue. What matters to this cook is whether it is delicious or not.
Cauliflower, chickpeas and tahini
A creamy, vegan treat for cauliflower. The sauce is made with chickpeas and tahini, then used as an accompaniment to roasted cauliflower and whole chickpeas. I use packaged or canned chickpeas, but if you're cooking them from scratch, reserve a little of the cooking water for mashing.
Serves 2-3
garlic 1 head
cauliflower 1 large (1 kg)
hummus Approximately 400 grams, cooked and drained (2 cans)
Mint leaves a bunch
parsley leaves; big bunch
To prepare the sauce
hummus 2 x 400 gram cans
Tahini 2 tbsp
olive oil 100 ml
Lemon juice 2 tbsp
Preheat the oven to a temperature of 180 degrees Celsius. 6. Wrap the whole head of garlic in a piece of foil, place in a roasting tin and bake for 25-30 minutes until the insides are soft enough to press between finger and thumb.
While the garlic is roasting, trim the cauliflower and cut it into large florets, keeping as much of the stems as possible. Bring a pot of water to a boil, place the cauliflower in a colander or steamer basket and place over boiling water, cover with a lid and steam for 10 minutes. This will ensure beautiful tender flowers.
Remove the garlic and transfer the cauliflower to a roasting tray, add a little olive oil and bake for 20-25 minutes.
While the cauliflower is roasting, prepare the sauce: Place the two cans of chickpeas and liquid in a saucepan and warm gently, then remove from heat, strain and transfer to a food processor. Remove the roasted garlic from its foil, and remove the cloves from their skins. Add 6 cloves of garlic to the processor, reserving the others. Process the chickpeas, tahini and garlic into a smooth cream, pouring in the olive oil and 100ml of hot water as you go. You want a soft puree. Add lemon juice and season with salt.
Drain 400g of chickpeas and add them to the roasted cauliflower, then return to the oven for 5 minutes until the beans are warm. Spoon the chickpeas onto a serving dish, then add the roasted cauliflower and whole chickpeas. Sprinkle with chopped mint and parsley leaves.
Baked zucchini, beans, tomatoes for the winter
The sweetness of roasted pumpkin or squash should be celebrated, but I always like to introduce a condiment that helps balance out the overpowering flavors of the honey—maybe chili, or mustard. This time I used miso—the flavorful darker version—to bring harmony to the accompanying bean sauce. Another vegetarian recipe.
Serves 4
Small pumpkin or squash 1 kg
olive oil 2 tbsp
garlic 4 cloves
To prepare the sauce
onion 2 medium
olive oil 5 tbsp
garlic 3 cloves
Tomatoes 650 gr
Brown miso paste 2 tbsp
Beans and beans 2 x 400 gram cans
For bread crumbs
olive oil 3 tbsp
Fresh bread crumbs 40 grams
Basil leaves and stems 20 grams
Preheat the oven to a temperature of 180 degrees Celsius. Cut a pumpkin or squash in half and scoop out the seeds and fibers from the inside. Cut it into 8 pieces and place it on a baking sheet or roasting pan. Drizzle with oil, salt and black pepper, then add the garlic cloves. No need to peel them off. Bake for 45 minutes or until the squash is tender to the point of a knife.
While the squash is baking, make the sauce. Peel the onion and chop coarsely. Heat the oil in a large saucepan and fry the onions until pale golden. Peel the garlic, cut it into thin slices and add it. Chop the tomatoes into small pieces and toss with the onions, season with salt, then partially cover with a lid and let simmer for about 20 minutes, until everything is soft and squash-like. Add the miso, add the black pepper and make sure to salt.
Drain the beans and toss with the tomato sauce, then continue to simmer over moderate heat for 5 minutes. Make the bread crumbs: Heat the oil in a non-stick frying pan, add the crumbs and cook, stirring regularly around the pan, until pale golden. Chop the basil leaves, stir and check the seasoning.
Place the sliced ​​roasted squash in a serving dish, spoon over the bean-tomato sauce and spread with the basil breadcrumbs.
Carrot pancake, potato and cheese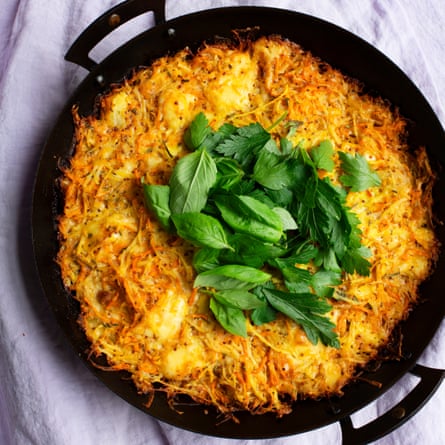 A good way to use up any spare carrots or potatoes you may have. The non-stick pan is essential, and a palette knife to smooth out the slices from the pan. I like to eat this with a leafy green salad, something crisp and fresh like watercress and fennel or cos, cucumber and radish. I should also add that it makes a luxurious roll filling.
Serves 4
potato 200 grams Maris piper or similar
carrot 200 gr
green onion 4
Rosemary 3 large branches
an egg 1, hit
Cheddar or a vegan alternative 300 grams, coarsely grated
peanut or vegetable oil 3 tbsp
basil leaves 2 handfuls
You will need a 24-25cm ovenproof non-stick frying pan. Set the oven to 160°C fan/gas mark 4.
Coarsely grate the potatoes using the matchstick-size setting, as if you were making another Celeriac. Then do the same with carrots. Put the shredded vegetables into a mixing bowl.
Chop and add green onions. Finely chop the rosemary and add it to the bowl. Grind a little black pepper, then add grated potatoes and carrots and stir gently. Add the beaten eggs and grated cheese and mix gently.
Put the pan over moderate heat, pour in the oil, and then flip the mixture into the pan, pressing it gently to the edges without tamping it. Cook the potato mixture until the bottom begins to color, then transfer to the oven and bake for 30 minutes, until golden. (Please note that the handle is very hot. I'm only mentioning this because it's easy to forget.) You can, if you'd like, crisp the top a bit by placing the pie under a hot grill for a few minutes.
Pull the herb leaves from their stems and stack them on top of the potato and carrot cake. Cut into wedges and serve.
Grilled eggplant with steamed basmati and mint yogurt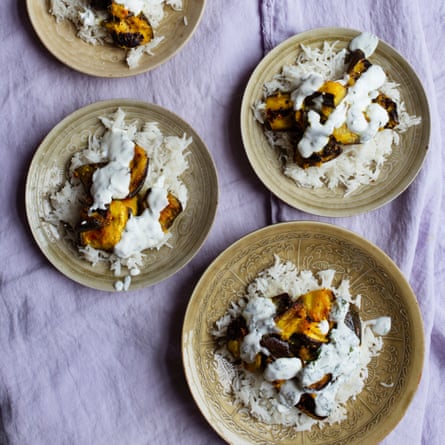 The marinade I make for these eggplants, with very hot peppers, is on the spicy side. Tame the heat, if you wish, by reducing the number of hot peppers or using one of the larger, milder red varieties instead of the baby ones I suggest. Steaming the eggplant before grilling only adds 15 minutes to the recipe but results in a wonderfully tender result. To make this recipe vegan, use your favorite non-dairy substitute in place of the yogurt.
Serves 4
Eggplant 2, medium to large
to season
ginger 40g piece
A little hot pepper 4
garlic 3 cloves
ground chili 1 tsp
ground turmeric 1 tsp
salt 1 tsp
Sugar 2 tsp
White wine vinegar 2 tbsp
peanut oil 3 tbsp
Basmati rice 200 gr
Whole black pepper 6
Green cardamom pods 6
To prepare the yogurt sauce
Dairy or vegan yogurt 200 ml
Mint leaves 2 tablespoons chopped
White wine vinegar 2 tsp
Peel the ginger and chop it into coarse pieces, then place it in a food processor or blender. Remove the stems from the peppers and add them to the ginger. Peel the garlic and put it in as well. Now add the cayenne pepper, turmeric, salt, sugar and white wine vinegar. Pour in peanut oil, process briefly and pour into a bowl.
Bring a pot of water to a boil covered with a steamer basket or colander and lid. Remove the stems from the eggplant and cut them in half lengthwise, then in half again. Cut each into short, 3 cm long pieces of fat. There is no need to be too precise about this. Place the eggplant in the steamer basket, cover and steam for 15-20 minutes. You want them to be soft but not soggy. Take it out and place it carefully on kitchen paper for 15 minutes or so until all the steam is gone.
Turn the eggplant into the marinade, toss gently to coat, being careful not to break it, and set aside for a few hours. The occasional subtle stir is totally fine.
Wash the rice three times with warm water, then put it in a saucepan and cover with enough water to cover the rice by about 3 cm. Add salt, pepper and cardamom and bring to a boil. Cover tightly with a lid, and reduce the heat until the rice softens gently, about 10 minutes. We remove from the fire and leave the lid in place and leave it aside. Mint chop and stir with yogurt with vinegar.
You can cook the eggplant two ways, either on a hot griddle (which produces a lot of smoke but has delicious, crispy, charred edges) or under the grill in the oven, which will lack the smoky ingredients of the Chinese, but will still have a nice crunch. very well. To grill them, place the eggplant on a hot griddle and cook until the underside is darkened and toasted, then slide a palette knife under each piece and flip. Let the other side brown, then remove from the baking tray. To cook under a grill, place the chops on a foil-lined grill pan or baking sheet, place under a hot oven broiler and cook for 5-10 minutes until golden.
Serve the eggplant with rice and yogurt sauce.
Creamy rice with berries and citrus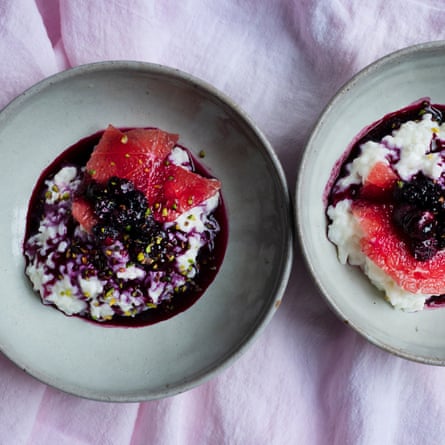 Baked rice pudding with a pillow of glowing golden leather is fun, but I don't always have the necessary hours. A satisfyingly creamy texture can be achieved on the stovetop, where the rice is first boiled, then simmered with cream, vanilla, and sugar. Partly because I like to leave some left over for breakfast—which is totally fine—I stir in a few spoonfuls of thick yogurt as it cools. Once the rice is cooked, you can serve it in all its goodness or serve it with blueberry sauce, sliced ​​grapefruit and pistachios, or slivered almonds.
Serves 4
rice with milk 150 gr
Water 500 ml, plus 3 tablespoons of raspberry sauce
full-fat milk 500 ml
blueberry 250 gr
Golden soft sugar 2 tbsp
caster sugar 3 tbsp
Thick natural yogurt 100 grams
Pink grapefruit 1 small
Chopped pistachio 2 tbsp
Place the rice pudding in a medium heavy bottomed pan with 500ml of water. Let it boil until the water almost evaporates. Watch and move it occasionally.
Add the milk, bring to a boil again, then lower the heat to a gentle boil. Partially cover with a lid and let stand for about 15 minutes, stirring regularly and keeping a close eye on the liquid level.
Make the blueberry sauce: Place the blueberries in a medium saucepan, add 2 tablespoons fine golden sugar and 3 tablespoons water, then simmer 5-6 minutes, until the berries begin to burst and the juice is a dark purple. . sit aside.
When the rice grains are soft and puffy, stir in 3 tablespoons of caster sugar and let it dissolve. Add the yogurt.
Peel the grapefruit with a kitchen knife, then cut it into thin slices to capture as much juice as possible.
Pour into bowls, place grapefruit slices on rice, drizzle over any juice, and drizzle raspberry sauce over top.
You can also add chopped pistachios, pumpkin seeds, barberry, or dried cherries. I also recommend using toasted almond flakes.