Climat, 8th floor, Blackfriars House, Manchester M3 2JA (0161 710 2885). Snacks from £4 to £7.50, larger dishes from £7.50 – £24, sharing plates from £30 to £70, desserts from £5.50 – £8.50, wine from £29
No one would ever write romantic poetry about the entrance to Climat in Manchester. Words like "brusque" and "militant" are unlikely to make hearts tremble. As if Climat should care. Only restaurants that rely on passing trade need to worry about their shiny appearance, and now no one accidentally comes here. Climat, which is only open for three weeks the night I visit, is all kinds of hot. Manchester is a big bustling city, but facing a new project that everyone agrees is doing all the good things in all the right ways, it's behaving like the nicest kind of village. The good news travels quickly from digital ear to digital ear.
So move down the corridor of this office building, located on a shady street somehow behind Deansgate. Take the elevator eight stories up to the purpose-built rooftop dining room, with its outdoor terrace for the summer months, and see for yourself. The long, sharp-edged space houses an equally long open kitchen flanked by a counter. Tonight all the counter seats are taken, as are the tables, and there is a pleasant whiff of smoke in the air from the grill at the far end. A glass wall overlooks the horizon. The view is reminiscent of the poignant illustrations by Maurice Sendak in the night kitchenspurs of Victorian grandeur sit alongside the most gleaming modern blocks and their gold-lit squares of windows, silhouetted against the ink-black sky.
Now look down the list, and note that you've come to the right place. Chef Luke Richardson, who has time with Gary Usher's restaurants in his autobiography, describes it as "Parisian food for expats," which perhaps makes more sense for those who've worked there. They also describe it, more usefully, as "a food you want to eat." This is better. It's hard not to fall in love with the grown-ups with a menu that begins with brown crusts topped with florets of taramasalata and vol-au-vent filled with lamb keema.
The name Climat consciously alludes to the importance of the rite in nurturing great wines and perhaps, inadvertently, its importance in nurturing the stoic character of the great Mancunians. It's the second venture from Christopher Laidler, owner of Chester's small wine bar Covino. Accordingly, wine is a major part of the deal. There's a robust one-page menu available by the glass and by carafe, as well as a larger document filled with the finest, most affordable Burgundy. Order a bottle from Chablis' menu and they may bring it to you a few degrees above chilled, as in fashion. Don't be afraid to insist on getting it in an ice bucket. As the bartender says, "It's your wine." Indeed.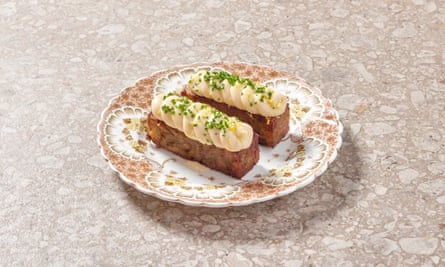 Now we need something to eat. Start with slices of chewy focaccia bathed in vats of the finest olive oil. Follow that up with the classic 70's vol-au-vent growing up and learning a few things about the world. The puff pastry here is golden and deeply rich, like a puffy brioche, stuffed with spiced minced lamb, and topped with fresh pickled chillies and fried curry leaves. Fight over the last crumbs of the glazed lamb. Follow with a golden block of crisp brown, the crisp, textured exterior giving way to the softness of motherwort, with a background note of dill. Use it as a vehicle for her creamy take on tarama.
The dishes get bigger as you go down. A whole eggplant has been roasted until it gives in and plummets, the smoky skin bursting open to reveal the pale flesh. It's topped with a mixture of tahini, yogurt, and a handful of toasted pine nuts, which in turn is topped with a tangle of grated radicchio to give the proceedings a bitter touch. They love Climat's adult bitters touch. It's in lemon pickle puree, which clings to the rim of a plate of spiced guarnard. A thick piece of the tail end was flaked down on the grill until blackened. There are strips of pickled cucumbers, folded on top of each other as if they were part of a stewing bunch, and a deep puddle of a rich, crunchy gravy they simply call "curry sauce," infused with more fried curry leaves.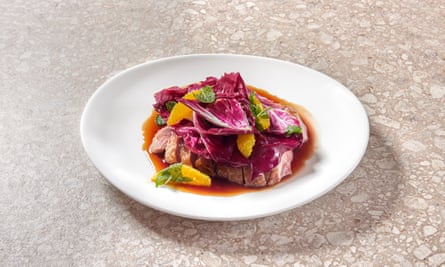 Not everything works. The risotto is so muddy, I find myself wondering if it came from the same kitchen. There's at least a chewy toffee to the roasted Jerusalem artichoke that tops it. Push it to one side, because here comes something of a short list of grills to be shared, priced from £30 for a Tamworth pork chop with smoked beets to £70 for a Dexter special. We have the duck for £55. It's the whole crown. Both breasts were cooked slowly over coals until the flesh was still a cosily pink color with the skin an amber color, then the bone was deboned. It comes with a light juice with clementine and a little radicchio. It's a clever take on duck à l'orange, which really should have those bitter notes.
What is remarkable about the menu, which changes day by day, is its depth. There is a lot here to try. I like the sound of braised carrots with whipped feta and hazelnut pesto, or hake with grilled shallots, or ham with hollandaise seaweed. Dessert isn't just creamy, greenish stuff. There's a deeply filling frangipane tart layered with sour plum, with a snowy peak of fresh cream on the side. There's a choux cake, orange and golden like a vol-au-vent in the beginning, filled with nutmeg ice cream, dark chocolate ganache, and cherries. The bill for all this is not small, but it seems justified. Plus, you can just come and sit at the counter, have a couple of plates and a good glass of wine, enjoy the view and leave with a bank account less than ruined.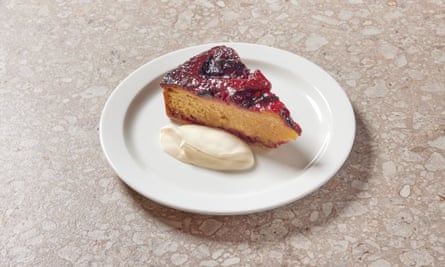 Christopher Laidler is here tonight, watching his team gracefully bring to the happy room. He looks a little terrified. Lee said this was a huge undertaking compared to the small mother ship at Chester. It really is a huge project, but it's also a huge success. It seems that many in Manchester are delighted with the arrival of a great restaurant that serves the food you really want to eat. Just don't let the front door put him off.
News bites
Elsewhere in Manchester, much-admired chef Mary Ellen McTough, the driving force behind the city's poor food group Eat Well MCR, takes on a new role. She will headline the show at the new Treehouse Hotel, Manchester, when it opens this spring. McTague, which closed Chorlton The Creameries last year due to financial stress, will oversee a casual café as well as an all-day menu "based on seasonality, sustainability and a sense of place." Visit Treehousehotels.com.
Dan Cox, former executive chef of Simon Rogan's Fera in London, has finally launched a restaurant on the 120-acre Cornwall farm he took over five years ago. Cox, who also co-created Rogan's Cumbrian Farm, says Crocadon will be located in a refurbished barn in the Tamar Valley and will offer six and ten tasting courses priced at £65 and £95. Cox told Industry Magazine Great hospitality that his food would be "as rooted in nature as can be" and "aesthetically pared down yet technically complex". in Crocadon Farm.
Gary Lee, the executive chef of Ivy who split from theater mogul Joe Allen last summer, has announced his next move. He joins the Middle Eight in Covent Garden, London to run the kitchen at Sycamore Vino Cucina with an Italian touch. We see mideight.com.
Email Jay at [email protected] or follow him on Twitter MustafaHosny Oh God, Amen
The Jay Rayner Sextet plays Albert Hall, Manchester, March 16th. To get tickets, visit alberthallmanchester.com