DrDelicious food doesn't have to be extravagant, and there are multiple ways to amp up your meals while still sticking to a budget. That can mean using cans and seasonings you already have at home, rather than heading to the stores, or finding clever swaps: canned tuna instead of sardines, for example, or chili flakes instead of fresh peppers. Another really effective method is to take the time to experiment with a new cooking technique: only minor tweaks may seem, but the effect of adding a few slices of sautéed garlic, for example, or tossing lightly pickled vegetables or fresh herbs through the sauce can take a dish to Great new vistas at little extra cost.
Sardine curry with ginger and chili
This is one of my go-to dishes when my fridge is empty and I have burnt cans and spices in the cupboard. If you like, substitute cavolo nero for another hard leaf such as chard. Served with a bowl of rice.
to equip 10 minutes
cook 15 minutes
serves 4
1 cinnamon stick
4 x 120 grams of sardines in oilcolander (net weight 336g), 3 tablespoons oil, reserved
1½ teaspoon of black mustard seeds
1 medium red onionPeeled and finely chopped (140 g)
35 grams of fresh gingerpeeled, half grated, and the rest cut into thin julienne strips
4 cloves of garlicPeeled and powdered
Sea salt is fine
2½ teaspoon tomato paste
1½ tsp garam masala
Half a teaspoon of ground turmeric
400 ml coconut milk
60 grams of black cabbageleaves, stems removed, coarsely chopped (40 g)
3 tbsp Fresh Lemonade (anything from 1 and a half lemon)
2 red pepperscut into thin circles, or 1 teaspoon chili flakes
Put the cinnamon and 2 tablespoons of the sardine oil in a large nonstick skillet over medium-high heat. Once hot, add the mustard seeds and cook for a minute, until they start to bubble. Add the onion, grated ginger, garlic, and 1 teaspoon salt and cook, stirring frequently, until the onion is soft but not coloured.
Combine the tomato paste, garam masala, turmeric and two sardines (i.e. 70g) and cook, stirring, for another 2 minutes, until the sardines have broken down into small pieces and the spices have become fragrant. Pour in the coconut milk, and simmer for three minutes, until it thickens slightly, then stir in the cavulo nero and cook for a minute, until completely softened.
Bathe the remaining sardines in the sauce, pour some of it over to cover, let it simmer for another minute, then remove from heat. Add 2 teaspoons of the lemon juice and gently swirl the skillet to mix it into the sauce without breaking up the fish, then set aside.
Put the remaining amount of sardine oil into a small frying pan over medium heat. Once hot, add the ginger and pepper slices, and sauté for 2 minutes until slightly golden.
Gently spoon the curry into a serving bowl, drizzle over the remaining 1 teaspoon of lime juice, drizzle the ginger and chilli oil on top, and serve with a bowl of rice on the side.
Shiny Pork with Green Beans, Chili, and Garlic
This one-pan casserole makes a great mid-week meal that needs nothing more than some steamed sticky rice. If desired, substitute the pork for ground chicken or turkey.
to equip 20 minutes
cook 20 minutes
serves 4
60 ml of sunflower oil
8 cloves of garlicpeeled, half thinly sliced, the rest finely chopped
2 red peppers (20 g), 1 cut into thin rings, and the other finely chopped
500 grams of minced pork
150 grams of unsmoked baconcoarsely chopped
2 tablespoons of fennel seeds-crush lightly in a mortar
black pepper
200g frozen (or fresh) fresh green beansloosened and cut in half crosswise
3½ tablespoons of oyster sauce
25 grams of Thai or regular basilneglected hard stems
1 lemoncut into quarters
Put the oil in a large frying pan over medium heat, and once it gets hot, add the garlic and pepper slices, and sauté them constantly for four to five minutes, until they're slightly golden. Increase the heat and pour through a heatproof sieve into a small bowl. Set the pan aside and reserve the oil and solids for later use.
Put the ground beef in a medium bowl with the chopped chilies, fennel, fennel and a good grind of black pepper, and mix until sticky. Place the skillet back on high heat and once hot, pour in half of the reserved oil and pork mixture. Cook 8 to 10 minutes, stirring to break up the ground beef into smaller pieces, until light brown and slightly crunchy in places, then toss into a medium bowl.
Return the skillet to high, add the remaining oil and green beans, and cook, stirring, for 30 seconds, until nicely browned. Return pork mixture to skillet, stir, add oyster sauce and 1 tablespoon water, and cook 1 minute longer, until everything is well-coated and shiny.
Turn off the heat and stir in the basil, then place in a shallow bowl. Sprinkle chili and garlic on top and serve with lemon and some sticky rice on the side.
Frittata with pickled celery and bell pepper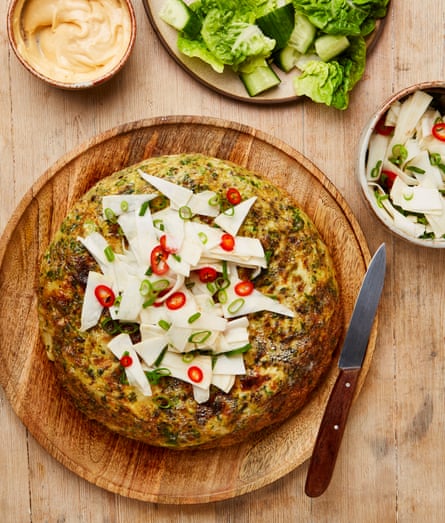 Eggs make such a quick and satisfying meal, and even more so when they're bundled into a frittata. Any leftovers make a great lunch the next day, too.
to equip 30 minutes
cook 45 minutes
serves 6-8
1 medium celery (1 kg) peeled (to get 800 grams)
3 small Golden or yeast butter potatoesor other yellow-fleshed potatoes, peeled and cut into 1 cm thick rings
120 ml olive oil
Salt and black pepper
2 teaspoons cumin seedstoasted and lightly ground in a mortar
7 green onions (80g), cut into thin slices – set aside 20g of vegetables for pickling
45 grams of parsleySmooth stems and leaves, roughly chopped
8 large eggs
for the first
1 clove of garlicPeeled and coarsely chopped
2 tablespoons of Dijon mustard
¾ teaspoon smoked paprika
1 egg + 1 yolk (use extra white in a frittata)
1½ teaspoon lemon juice
200 ml sunflower oilor any other neutral oil
for pickles
1 red pepper (10g) thinly sliced ​​(if you like less heat, remove and discard pulp and seeds)
1¼ teaspoon soft sugar
3 tablespoons of apple cider vinegar
Preheat the oven to 240°C (Fan 220°C) / 475°F / Gas 9 and line a large oven tray with baking paper. Cut the celery in half along the root, then cut each half into three 4-cm-wide wedges. We set aside 300 grams for the pickle, then cut the rest into 1 cm thick slices and put them in a large bowl with the potatoes, 75 ml of oil, three quarters of a teaspoon of salt and a good grind of pepper. Toss to mix, place in a single layer on the lined tray, cover tightly with aluminum foil and bake for 20 minutes, until set. Remove from heat and set aside, then reduce oven temperature to 200°C (Fan 180°C) / 390°F / Gas 6.
Place the caraway seeds, scallions, parsley, egg, additional egg white (from the aoli ​​ingredients), 1/2 teaspoon salt, and a good grind of pepper in a large bowl. Whisk to break the eggs, then add the warm roasted vegetables and any oil from the pan.
Place a 22cm high-sided non-stick frying pan over medium-high heat and once hot, add the remaining 45ml of oil. Remove heat, pour in egg mixture, and bake for 17 minutes for a slightly runny center or 20 minutes if you prefer a firmer combination. Remove and set aside for 15 minutes, then use a spatula or palette knife to loosen the edges. Place the dinner plate on top of the skillet, then flip it over to release the frittata.
Once the frittata is in the oven, prepare the aoli ​​and pickles. Put garlic, mustard, paprika, eggs, egg yolks and lemon juice in a food processor, then put in a blender, then with the motor running, slowly add 200ml of oil until smooth and mayonnaise-like. Transfer the mixture to a bowl, cover it, and let it cool until needed.
For the pickle, cut 300g of peeled celery into 2mm-thick slices (use a mandolin, ideally) and place in a bowl with the chilies, caster sugar, vinegar and ½ teaspoon of salt. Stir the mixture, then leave it aside for 15-20 minutes.
Just before serving, toss the reserved scallions into the pickle, then arrange half of them directly on top of the frittata. Serve warm with aoli ​​and remaining pickles in bowls alongside.