sPeople tell me to watch The Menu, Ralph Fiennes' new movie that expertly grills Redzepi's fine dining world, Rogan et al. I did and it has now ruined the likes of St. Barts for me forever. Fiennes plays a chef who delivers a complex and highly personal tasting menu that is put into place by an earnest general who will live or, it seems, die by his word. It's 1 hour and 47 minutes of watching an amazing comedy-horror movie about my life. There's even an abrasive and tremendously killable restaurant critic who slashes her way through law, sap, and petals in search of bugs. You will regret this.
Hours after watching the movie, I was in a vast Scandinavian spot overlooking the Church of St. Bartholomew the Great on a warped chair carved from fallen plane trees in London. My butt is garnished with a soft throw of sheepskin, while a hyper-focused young chef serves me a snack of Welsh wagyu tartare filled with pickled wild garlic shoots that he picked himself last year. This is followed by The World's Finest Little Love, made with coconut and topped with duck liver, before a cod spherical pie takes me on a journey of exquisite delight.
Turns out I've come across the people behind St Barts before, and I'm almost certain they mean no harm during this comprehensive British tasting menu. Johnny Crowe, Luke Wasserman and Toby Neill opened the fairly good Finn's in Fulham, and before that lived in Hackney, although St Barts, with its £120 15-course tasting menu lasting more than four hours, was always the one. the dream. Whatever a movie like The Menu says about the bizarre world of fine dining and its fans, the place is jam-packed on a cold January evening, with guests who see food as art, made to gasp and ponder, before slipping away. Shave within seconds. A mouthful of golden beef broth soup, for example, which appears in a small ceramic cup to "warm you up." Or the intricately spun onion tart, which is really just a baguette, though in Chef Crew's hands it looks as I imagine Rapunzel spun hay into gold. or individual pieces of sumptuous Bresaola, served on a glossy black board.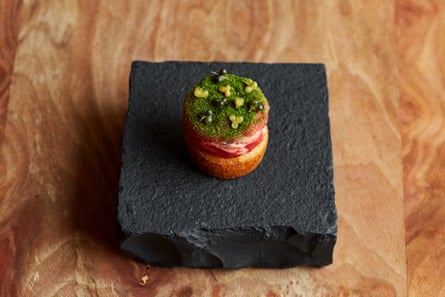 If you're hoping to fill your belly to the brim with oily carbs or enjoy the clatter of the dessert cart that brings Black Forest gateau to your table, I'll politely direct you elsewhere. Here in St Barts, you'll linger in the bar area for about an hour, sampling small tastes of 'East End seafood cocktail' – smoked eel, clams and caviar – in an oyster shell or 'duck offal porridge', which tastes just as you might imagine: it's Pond's tart is strong, iron-laden, and sticky, and definitely not for everyone. If you're a meat eater and steer clear of the nitty gritty of animal products, St. Barts might test you. A subsequent beef dish is served with a tongue and heart stew, which other restaurants may have avoided, but St. Barts clearly states this. The service is warm and prompt, and that's also, because you're here to have a good time and not for a short while.
Although it sometimes feels like there's not much food in terms of volume, what turns out is often really nice and flavourful. A soup of scallops with fierce red peppers is wonderful, as is a small piece of delicately cooked cod topped with fungus preserve, and a suggestion of duck breast served with less than a dozen cranberries, a tablespoon of British crab and ginger, savoring it for its freshness and serving on a small bun.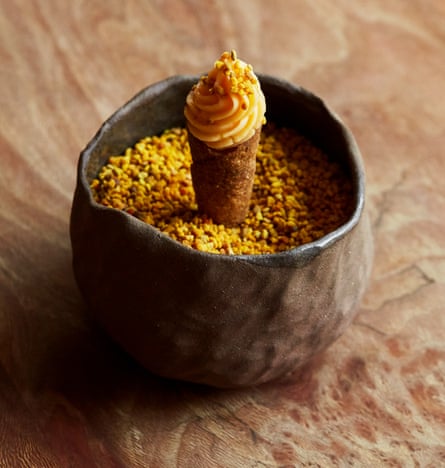 St Barts is one of the highlights of London's new openings, a place to take the food nerd in your life for a special occasion and watch them swirl wildly around the honey-lavender ice cream cone that arrives before the main dessert event, which, on the evening we went, was a sort of mound of celery pastry. And pralines that in no way convinced me that celeriac is an alternative to apples or pears, but this isn't the kind of evening where one rests on its laurels about likes or dislikes. This is a deluxe, multi-course tasting menu with prepaid tickets, and you will end up on whatever wonderful excursion the chef desires and be very grateful for afterwards.
In the past, I've seen people rebel in the middle of a dinner like this and start ordering a side of mashed potatoes; Let's just say it didn't end well for them, although it wasn't as bleak as it was for the guests on the menu. The trick is to just relax and eat the odd nut frankly, then accept the little brownie in a bag of hemp that the chef insists you heat up for breakfast the next morning. The world of fine dining is weird, but I'd enjoy weirdness any day.