Bocon Racine, 66 Cowcross Street, London EC1M 6BP (020 7253 3368). Starters £8.50 – £16.50, Mains £17.50 – £48, Desserts £6.50 – £9, Wines from £25.50
There are film critics whose enthusiasm can be guaranteed at the presentation of a Martin Scorsese film. There are theater critics out there who would be full of a little love when writing about any Stephen Sondheim musical. This is the equivalent of a restaurant review. The only argument for me for not reviewing the newly opened Bouchon Racine is that I am a huge, evasive fan of all the people involved and all the food they serve. In other words, because I was already certain that the restaurant was going to be very good indeed and because I had been proven absolutely right, I should not say that because I had already shown that I was compromised, thanks to my deep experience and impeccable good taste. Yes correct.
So here it is: Bouchon Racine is everything. It's a delightful rebirth of Chef Henry Harris's Racine, a much-loved bistro on London's Brompton Street, which opened in 2002. Harris, who was part of Simon Hopkinson's 1st Brigade in Bibbendem, wanted after a less than happy excursion around the kitchens in gear, To open a restaurant serving the kind of classic French dishes that I love. He wanted to do indecent good things with the butter and cream and animal entrails that so many people recoil from. His menu there was a timid celebration of the bourgeoisie, spiced in the best of Bordeaux, at the Fair of Armagnac.
Racine, which means root, was supposed to be a neighborhood restaurant, but by 2015 there wasn't much left of the neighborhood. Many people treat property more like a home than an investment. Harris moved. He's brought a bit of his Francophile charm to a handful of taverns, and along the way, for full disclosure, cooked his Last Supper at the end of my book of the same name, in a room above one of them. We ate well that night.
Now he's teamed up with Dave Strauss, another industry geek, with a gift for service and a beard that Zeus himself would be the envy of. I have many reasons to adore Strauss, other than the fact that he makes good service look easy. He was the GM of Funny Beast in 2014 when I wrote a scathing review. Steaks were so expensive, she argued, "they should drive the damned animal into the restaurant and pin it under the table so that it may please me while I eat." Strauss responded on Twitter: "The fallen cows are already on their way to the restaurant." He ran Goodman and Zelman Meats before a stint in the West Country with Chef Mitch Tonks.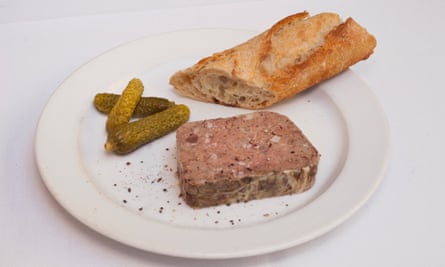 Together, Harris and Strauss have now captured the Three Compass opposite Farringdon station in London. Downstairs is the pub where they sell pints of Moretti. Upstairs is the dining room, with the glass ceiling conservatory area to the front. It was a Thai place. The red carpet has been replaced with darker painted floorboards. The walls are the deepest shade of Jersey cream, and the menu is a scrawled chalkboard of true beauty, which changes depending on what's available.
Start with oysters from Carlingford or silky slices of walnut jambon noir de Bigorre from the Hautes-Pyrénées, with fat the color of antique crockery. Drape on pieces of baguette smeared with the best funky salted butter. Grab a bit of bread back to slather in hot brown butter with salty-sour capers bathing two lobes of veal brains, delicately cooked so that the outside is crisp and the inside is pearly white. Too rich in your blood? very cerebral? Get this coarsely chopped chicken liver pate, earthy and reminiscent of the Jewish way, with chopped liver. Or eat dense, stringy pieces of herring with potato salad tossed with carrot slivers, acidified onion strips and the best peppery olive oil. fainting a little. Take a sip from the well-priced Côtes du Rhône. Make yourself the center of what's to come.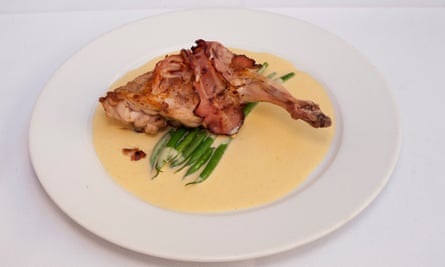 There are few places in the country that serve tête de veau, perhaps because there are just a few people who like the sound of it. But then, if you are going to strike an animal on the head, you must be prepared to eat it all, including that head, boneless and rolled and boiled, until it is a delicious wobbly arrangement of meat and jelly in the lips—clear, clear gravy, with fresh fries and ketchup. Delicious ravioli filled with a zesty vinaigrette and fresh herbs. Not for you? Well, make old Harris like roasted rabbit leg in mustard sauce packed with Dijon nose punch, with a slab of crispy bacon balanced on top. Or just eat a côte de boeuf with frothy butter. The chips are hardly optional. What are you saying? Non-carnivores? hang on. I will just check. Well, this evening there is a main dish of orzo with wild mushrooms. But honestly, this isn't high on Racine's agenda. Be angry by all means. Send me angry emails or better yet, send angry emails to your like-minded friends. You will enjoy that. And maybe after that, go somewhere else to eat.
In the meantime, we're interested in dessert: a pretty piece of pastry in the form of a tart voodooise à la crème, a crunchy box filled with the best sweetened dairy products. There's a wonderful creme caramel with an Armagnac-soaked agin prune for those who want it. Best of all, because I'm biased and also right, there's a Mont Blanc gâteau for two, a huge batch of crunchy and chewy meringue with whipped cream and a dollop of chestnut puree. Start with a glass of white wine enhanced with a Campari borde, also known as Bicyclette; Finish with a small amount of something strong from one of the cool looking bottles out there. In between, order a reasonably priced wine that comes from the same place Harris gifted all of the recipes to.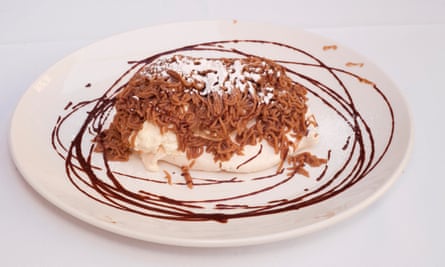 I love the bustling array of restaurants available today. I still shudder with excitement when I was introduced to a culinary tradition I didn't know. But there's a part of me that's deeply into the old stuff, and it's done so perfectly. It's all boucon racin. If you feel my previous acquaintance with this restaurant invalidates my opinion, fair enough. There will be another review along next week. Meanwhile, I'll be the happy guy with the funny Mont Blanc and spoon.
News bites
Hospitality group D&D London, formerly Conran Restaurants, has announced a slew of closures. They include the Klosterhaus in Bristol and East 59 in Leeds. London is losing two of its most recognizable names. Blueprint Café first opened in 1994 and was headed by Chef Jeremy Lee for nearly 20 years before moving to Quo Vadis in 2012. Avenue on St James Street was opened by restaurateur Chris Bodker in December 1995, as a sister to Kensington Place.
If, despite this grim news, you still want to get into the restaurant business, look no further: Jules, a celebrity haunt in London's Holland Park for the past 53 years, is up for sale, as owners Timothy and Cathy Herring have moved into retirement. The likes of Mick Jagger, Tina Turner and Paul McCartney have all eaten there over the years. It is known that the most valuable table was placed in its alcove numbered G3, and was nicknamed the G-Spot. Well of course it was.
Glasgow is set to acquire a new Italian restaurant headed up by three chef brothers who previously worked for Francesco Mazzi in London's Sartoria. Antonio, Pasquale and Simone Cozzolino will open Banca di Roma inside the city's Royal Exchange building in the next few months. Their menu will be inspired by being raised on their family tomato farm in Vesuvio, Naples. Desserts will include a gold bar in honor of the building's banking history. Follow their progress on Instagram @tweet.
Email Jay at [email protected] or follow him on Twitter MustafaHosny Oh God, Amen