I I always think that New Year's Eve is a little too close to Christmas to make the most of it. We're all too chubby and solemn to enjoy more festivities soon, and we lack space to make resolutions for the coming year. On the other hand, the Chinese New Year, which falls this coming Sunday, is so well timed that everyone might want to celebrate it. Not only do we have the renewed energy to think of another feast, but the food associated with Spring is exactly what we should be eating this time of year: steamed vegetables, slivers of aromatic ginger and chili, roasted seeds and gooey nuts. Hop along! Happy Rabbit year!
Steamed fish with vinegar and soy
Steamed whole fish are often the focus of Chinese New Year celebration, and are believed to bring prosperity and abundance for the coming year. Not only is this cooking method quick, but it's also all that's needed to pull together a delicious sauce. For ease, I've adapted the approach to using fillets, but by all means, go the traditional route and use a whole fish instead, if you prefer. If you don't have a steamer, just fry the fish and serve it with sauce and aromatics.
to equip 25 minutes
cook 20 minutes
serves 2-4
175 ml of rice wine vinegar
80ml of Shaoxing wine
75 ml soy sauce
1 star anise
1 teaspoon fennel seeds
1 teaspoon cumin seeds
1 teaspoon Aleppo pepper
2 tablespoons Demerara sugar
1 large shallot (200g), dark green tops removed, remainder cut first into thirds and then into matchsticks
25 grams of fresh gingerpeeled and cut into matchsticks (use a mandolin, if you have one)
2 tablespoons of vegetable oilplus an additional 1 tsp for finishing
4 x 90g sustainably sourced seabass, bream or red snapper filletsEach is about 2 cm thick
1 red pepperAnd peeled and julienned
10 g coriander leaves and stems fine
Place first eight ingredients in a small saucepan with four tablespoons of water. Bring to a boil over medium-high heat, then reduce to medium-high heat, and simmer 10 minutes, then remove from heat and set aside.
Mix the shallots with half of the ginger, and place a wide, high-sided saucepan that you have a lid on over medium heat. Add the oil and the shallot-ginger mixture, and sauté, stirring, for 2 minutes, until the shallots are tender but not coloured. Turn the mixture onto a plate covered with lips, then put the pan on the fire again.
Strain the soaked sauce mixture into a skillet, then discard the aniseed and sprinkle the rest of the yellowed seasoning over the cooked shallots.
Bring the sauce to a simmer, then place an oiled steamer basket on top. Place the fish fillets skin side down, cover and steam for three to four minutes, until the fish is opaque and cooked through (cook longer if the fish fillets are thicker or if you are using a whole fish).
Remove the saucepan from the heat, then using a spatula, gently lift the fish (flank it and discard the skin, if you like). Place the fish on top of the shallots and pour the sauce over it. Serve hot with preserved ginger, chilies, and cilantro sprinkled on top.
Long life noodles seasoned with crispy duck
Longevity noodles are eaten on Chinese New Year to symbolize a long and happy life. Use extra long pasta, such as fresh pasta tow days, from an Asian food store, or large nests of dried noodles from large supermarkets. To reduce cooking time—and turn the dish vegan—simply omit the duck.
to equip 25 minutes
cook 2 hours
serves 4
2 x 320g duck legs
salt
3 teaspoons of Aleppo pepper
4 cloves of garlicPeeled and powdered
Half a teaspoon of ground white pepper (or ½ teaspoon if you are not using Sichuan pepper)
Half a teaspoon of fennel seeds-crush lightly in a mortar
8 sichuan pepperslightly crushed into a mortar (optional)
10 grams of fresh gingerpeeled and blended
3 packages dried medium egg noodles (190 grams)
110g of bean sprouts
65 ml vegetable oil
1 tablespoon of light soy sauce
1 tablespoon dark soy sauce
1½ teaspoons of Xinqiang vinegar (or 1 teaspoon rice wine vinegar mixed with 1/2 teaspoon soy sauce)
30 grams of green onionsjulienned
1 teaspoon of sesametoasted
Preheat oven to 240°C (fan 220°C)/475°F/gas 9. Pierce the skin of each duck leg six times with the tip of a small sharp knife, then season with 3/4 teaspoon salt and place skin side down. Oven rack placed on top of a tray. Roast for 30 minutes, until golden, then reduce oven temperature to 185°C (fan 165°C) / 360°F / gas 4°. Use a pair of tongs to flip the duck legs skin side down, roast for another 20 minutes, then flip again and roast for another 25 minutes, until the skin is nice and crispy. Take it out and let it rest for five minutes, then use two forks to chop the meat and skin into large pieces (discard the bones).
Place chilies, garlic, white pepper, fennel, Sichuan pepper (if using), and ginger in a large heatproof bowl.
Fill a medium saucepan with water, bring to a boil, then cook the noodles according to package instructions, adding the bean sprouts at the last minute of the cooking time. Drain the noodles, then place the strainer over a large bowl and let drain for 1 minute over the steam.
Meanwhile, heat the oil in a small saucepan over medium-high heat for three or four minutes, until noticeably hot, but not smoking. Pour the hot oil over the chili-garlic mixture in the bowl, then add the soy sauce and vinegar. Add the pasta and toss gently to coat, being careful not to break it up. Transfer to a grilled platter, top with shredded duck, spring onions and sesame seeds, and serve hot.
Fried romaine with sweet and sour cashews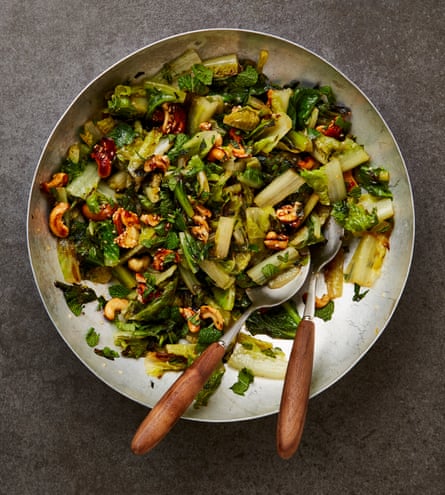 Steamed greens provide a touch of comfort and relief from the cacophony of flavors and textures at a Chinese-style feast. This dish is quick to make and best served hot, but it's also lovely on a sandwich with some cold cuts and/or a hard-boiled egg.
to equip 8 minutes
cook 20 minutes
serves 4
for cashews
50 grams of cashewsHalf
2 tablespoons of Satsuma juice (any of 1 satsuma), or juice of a tangerine or orange
Half a teaspoon of honey
⅛ teaspoon hot pepper flakes
Half a teaspoon of sesame seeds
Half a teaspoon of sesame oil
Half a teaspoon of vegetable oilplus 1 additional tablespoon for frying
Sea salt and black pepper
to fry
2 romaine lettuce (550g), cut crosswise into 3cm pieces
1 teaspoon of rice wine vinegar
1 teaspoon of honey
1 tablespoon of Satsuma juice
Half a teaspoon of sesame seeds
10 g of mint leavescoarsely chopped
First, make the sticky cashews. Place a large high-sided saucepan with a lid over medium-high heat. Add cashews and toast, stirring frequently, for five minutes, until golden. Pour in the satsuma juice and cook, stirring constantly, for 20 seconds, then add the honey, chili flakes, sesame seeds, both oils, one-eighth of a teaspoon salt, and a good grind of pepper, mix well to coat, turn onto a tray, and set aside.
Wipe out the pan, put it back on high heat and add 1 tablespoon of vegetable oil. Once hot, add the lettuce and 1/4 teaspoon of the salt and mix quickly to coat. Cover the skillet and steam the lettuce for three minutes, tossing it once halfway through. Remove lid and cook for another five minutes, stirring frequently, until lettuce is wilted, then combine vinegar, honey, satsuma juice, sesame seeds, 1 tablespoon chopped mint, 1/8th teaspoon salt, and remove from saucepan. the heat.
Combine three-quarters of the sticky nuts, then toss into a large, shallow bowl and serve with the remaining cashews and mint sprinkled on top.