jAm Delish, a sparkling independent hotel tucked away in a back street in Islington, is a noteworthy new opening for several reasons. First, it's not the sprawling, laughably expensive, 200-seat, all-day, Mediterranean-style bistro that every investor these days supports, knowing idiot and £28 for substandard citrus. carpaccio is separated easily. Second, it's a Jamaican vegetarian restaurant that serves fake goat curry, roast plantains and salt fish which is definitely not fish. This is not common.
Sure, Jamaican vegetarian food is probably more popular, if one thinks about it logically. I will show my work: Jamaica has the largest Rastafari community in the world; Rastafarians follow a meat-free diet; And Britain is home to many vegan, vegetarian and Jamaican food lovers, not to mention the Rastafarians. So you might think that, somewhere along the way, vegetarian "fish" brown soup or "cheese" pasta with fake bacon might have gone mainstream. Instead, Jordan Johnson, co-founder of Jam Delish, found it difficult to find decent versions of his favorite Jamaican food, so he started during lockdown as a dark delivery kitchen in Wimbledon, before emerging as a market shop and a stay at Soho's The Sun & 13 Cantons, where he enjoyed The likes of Raheem Sterling, Common, Lily James and Black Panther stars experience Jam Delish.
Now, he's found a permanent home and is fronted by Jamie Oliver's fifteen alumnus Nathan Collymore. And the new location is the opposite of the situation. She is played by Jocelyn Brown, Dee Train and Nights Over Egypt by the Jones Girls. There's a sophisticated cocktail menu serving Antiguan zombies and amaretto, as well as a "shooter" section including Jägerbombs and slippery nipples (AKA sambuca and Baileys) that I haven't seen since the 1992 girls' holiday at Playa de las Américas in Tenerife. They also sell Boost Energy, and an entire side of the restaurant is a wall of "live greenery" made of artificial foliage. If all that makes Jam Delish sound boisterous, youthful, and a little quirky, well, it's a little, but on a miserable Tuesday night in January, it was hectic, while many other places nearby had a graveyard feel.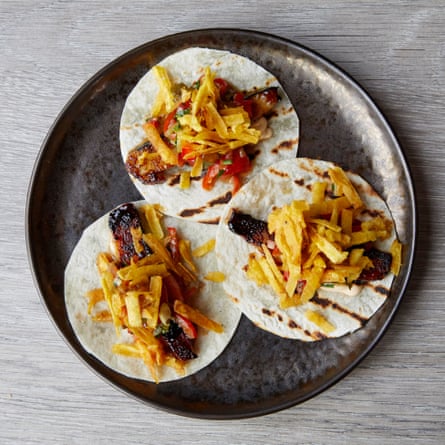 And honestly, Collymore is a vibrant talent and a game-changer in the vegan cooking scene. Good vegan eating is about texture, contrast, balance, plating, and above all, making natural items like lentils, bananas, and oyster mushrooms the stars of the show. In Jam Delish, Collymore insults the likes of Mildred's and Lewis Hamilton's Neat Burger by serving up complex, visually beautiful bowls of "oxtail" stew filled with jackfruit, wild mushrooms, butter beans, bananas, sweet potatoes, and cassava herb dumplings. or 'Nubul' of grilled roti with three generous plates of jerk baba ghanoush, plantain chickpeas and exquisite burnt green onions and chili butter.
Cooking makes you ask: "But how? How does this happen without good butter, cream, gravy, or meat?" Because vegetarian food is often dismal. It can be so dry it could choke a dromedary, or worse, it can look absolutely delicious, but taste like polystyrene. I've eaten enough of this well-intentioned but ultimately horrible nonsense in my long, windy life to know genius when I see it, and Jam Delish's fried "chicken" with acai and green lentils is just that, all sitting around a large grill. A slice of tender Caribbean squash, With a small jug of dark, thick, drinkable Jamaican gravy. Callaloo and codfish come with sticky roasted sweet potatoes and Scotch bonnet sauce made from sweetened coconut. Perhaps my favorite dish, however, is the Caribbean fish tacos, which are delicious soft-shell tortillas with lime-glazed tofu, "cod" peppers, pickled de gallo, pineapple, and mango.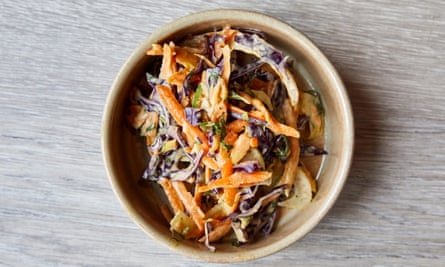 In fact, haters of fake meat products like seitan, tofu, TVP, and the rest will have trouble with Jam Delish, because it shows up all over the menu, but mainly to add realism rather than flavour. The real fun is in the shimmery sauces and the heat and crunch. It is in the expert use of garlic, thyme, peanuts and pomegranate. and in exotic, meaty butter oyster mushrooms, sautéed and served with sweet banana ketchup and green avocado puree.
And lest you think the pudding is just a monotonous vegan drink, no, there's also a deluxe chocolate ice cream sandwich made with rich rum cake, chocolate banana ice cream, chocolate soil, and a potent Guinness Punch sauce. Jam Delish won't be to everyone's taste, but if it's up to you and you want a meat-free version of Montego Bay's best offering, this is a delicious, spicy, decadent, and unforgettable concoction. Save me a spot of plastic.
Delish jam 1 Tolpoodle Street, London N1. Open Tuesday-Friday 5-10:30pm, Saturday noon-10:30pm, and 1-7pm. Starting at about £40 a head a la carte (three-course set menu, £34), plus drinks and service.

The final episode of series four of Grace's Comfort Eating podcast was released on Tuesday 17th January. Listen to it here.