BReading Bread has always been an act of creativity for me. And I didn't consider myself creative until I baked my first sourdough bread. The bakery I co-founded and called The Bakehouse is an artisanal bakery in Kyiv, Ukraine. We have been baking sourdough bread and making delicious pastries since 2015. We have been the long-standing pioneer of sourdough bread in Ukraine, and in October 2021 we finally opened our very new bakery – Bakehouse Garage – in the Podil district of Kyiv. This is my dream bakery, and we spent three years and $1.5 million USD building it. But during the first days of the war, we had attacks and explosions only a few kilometers away, so we had to close it on February 24th. Instead, we bake in the basement of the old bakery.
From the third day of the war, my team has been baking bread and giving it away for free to our soldiers, hospitals, people in cities and villages affected by the Russians, and old people in Kyiv. Our bakers make 450 to 1,000 charity loaves per day. And we will continue to bake it as long as our country needs it.
It's hard to bake in a war zone. It's hard to find and deliver good ingredients, and not all of our team members are able to come and work.
Women face a different challenge: many of us, especially those with young children, left Kyiv and moved to western Ukraine or abroad, so we didn't have to hear sirens or go to shelters with young children dozens of times a day. Many cooks, bakers and office workers (mainly women) left the country. And no one knows when we will be back.
I believe that no citizen of the world should remain silent and indifferent to the terror of war. My gratitude to all the bakers who have invested their time and care in creating Knead Peace—the book containing the sourdough recipe, which you'll also find below—knows no bounds. We bakers innovate. This is the opposite of what fascist aggressors do every day. We need peace, so let's knead it.
Anna Makievska left Ukraine with her two children after the Russian invasion and currently resides in Portugal. She is still involved in the daily operations of The Bakehouse.
Flaxseed paste
Flaxseed bread, or The Flax, as we began to call it once it became popular with our customers, was the first bread we baked with my recipe on a commercial scale. Flax is high in fiber, loaded with omega-3 fatty acids, and can be obtained from local sources. So, to the point: Here's our most popular baking recipe.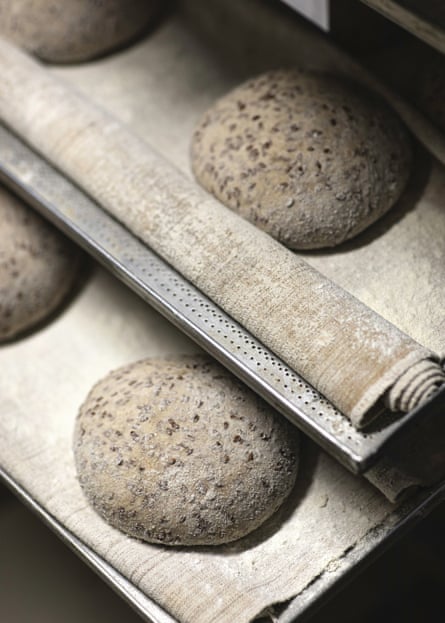 For soaked flax seeds
260 grams of flax seeds
260 grams of waterat room temperature
for liquid yeast
155 grams of strong white bread flour
155 grams of water
35 grams of sourdough (100% hydration)
for making sourdough
430 grams of strong white bread flour
430 grams of strong wholemeal flour
650 grams of water
28 grams of sea salt flakes
Soak the flaxseeds 12-24 hours before mixing the dough. To do this, mix flaxseeds with room temperature water in a bowl. Cover it with a lid and leave it on the table.
Approximately seven to eight hours before mixing the dough, make the liquid yeast. It's best to do this overnight or first thing in the morning so you can mix the dough in the afternoon. Mix the bread flour, water, and sourdough starter, cover with a tea towel, and let sit for seven to eight hours.
When the yeast is bubbly, and it smells like yogurt, and has grown two and a half to three times in volume, it is good to put it in the dough.
To prepare the dough, mix the white bread flour, water and yeast in a bowl. If mixing by hand, blend until homogeneous and smooth; If using a stand mixer, blend at 1st speed until smooth.
Cover with a tea towel and leave for 40 minutes to 1.5 hours to rest.
Add the salt and the soaked flaxseeds and mix well using your hands or at the first speed of the blender. The dough will be quite moist and smooth and will need to knead for a while to pass the windowpane test. (Take a small ball of dough and stretch it until the dough is thin enough for light to pass through. If it cannot be stretched thin enough without tearing, it is not ready yet and must be kneaded further.)
After mixing the temperature of the dough should be around 23-25°C. Now your dough should rest at room temperature 2.5 to 4 hours, depending on weather conditions and the initial temperature of the dough. During this time, you need to stretch and fold the dough approximately every 45 minutes.
Divide the dough into 600 grams. The batch should only be enough for four loaves. Form the dough into a round shape, place on a tray and cover for 40 minutes.
Shape the dough into a ball (round) or batard (oval). Place them in well-crushed proofing baskets.
Refrigerate the loaves for at least 12 hours (I recommend up to 48 hours).
One hour before baking the bread, preheat the oven to 250°C with a Dutch oven or casserole dish inside.
30 to 60 minutes before you're ready to bake, remove the loaves from the refrigerator.
Lightly flour several sheets of baking paper, then gently flip the loaves out of the proofing baskets onto the paper. Score with a very sharp knife. Lower one loaf of paper into the Dutch oven. Sprinkle with water and put in the oven with the lid on.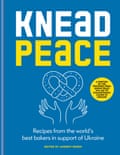 Bake for 15 minutes then lower the temperature to 230°C, remove the lid and bake for another 15 minutes. Repeat with the remaining three loaves.
When cooked, the bread will appear hollow when pressed from below. Leave to cool on a wire rack.