tHere are many great vegan Italian recipes – Standard pastamushroom risotto, Pasta and beans (sometimes) — but it must be said that nothing quite packs the punch of a delicious classic Bolognese sauce. If you think vegans deserve just as much fun in this short, brutal life as everyone else, then trying to reverse engineer that life for them (and for everyone else trying to reduce meat consumption) seems a lot like a task worth annoying some purists for. .
It turns out the challenge was less recreating the experience without using animal products—there are plenty of umami-packed ingredients that fit the bill—than working out what to call it. "Vegetarian ragu" feels an oxymoron, since the word literally means "meat sauce," yet "Bolognese," meaning to use dairy, is equally open to nit-picking. But let the children argue among themselves – we have pasta to eat.
the meat"
Or rather, a meat substitute. Traditionally, this foam is made with ground beef, not very lean, and is often combined with bacon and/or minced meat and sweet, earthy chicken liver—a combination that doesn't immediately suggest vegan alternatives. Ideally, whatever is used should have fatty, earthy, umami-rich qualities and a similar chewy yet juicy texture. (Note that I didn't delve into the realm of vegan meat here; if you're a fan, you might want to use it here instead.)
Mushrooms, according to Serious Eat's Daniel Gritzer, are "an obvious choice, thanks to their incredibly delicious flavor" popular with Gritzer and Alexa Weibel for The New York Times using chestnuts, Yotam Ottolenghi and Ixta Belfrage shiitake in their book Flavor, and Jesse Erskine chestnuts, shiitake and portobello. Erskine and Ottolenghi/Belfrage also add dried mushrooms, which have been rehydrated and finely chopped, and then the latter is rehydrated into a powder and spread as an amazingly umami-rich spice that I'm definitely stealing. With so many flavors in this sauce, I find the fresh mushrooms mainly useful for the juicy mass, so I'll use the regular chestnut variety, though my testers and I determined they weren't too important to do the job on their own; A second, more powerful element is required.
Gretzer recommends seitan, or wheat gluten: "A moist, chewy, spongy substance with a mild flavor that feels oddly bread-like." It turns out that this delicious ingredient is hard to find on the regular in the UK; I finally located a tin can labeled "mock duck" at a local health food store, but I don't overcook it for the consistency, which is very similar to mushrooms. Jessie Ware, Sue Quinn, Ottolenghi, and Belfrage include lentils, with Ware mashing half of them at the end to get the "perfect texture," a tip she attributes to Table Manners: The Anna Jones Cookbook. Quinn's recipe at Easy Vegan also uses beans, Ottolenghi/Belfrage pearl barley, and Ware aubergine, while Erskine uses soy chop and smoked tofu, plus five mushrooms, writing in Slow that "it's essential to use all three as they each add something different." .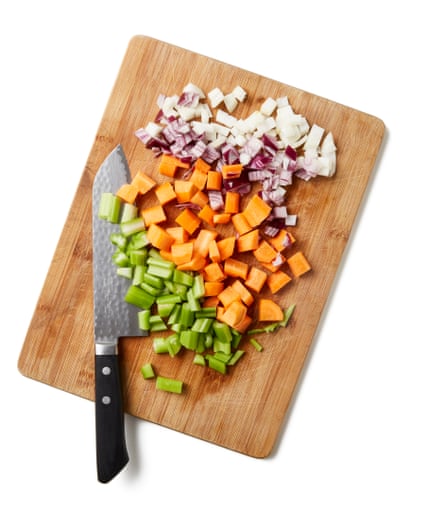 While all of the above are enjoyable in their own way (and the idea of ​​pureeing the lentils to thicken the sauce is a particularly clever one), I find that firm tofu offers the best beefy texture—it might be a bit a tad crunchy, but the umami-rich mushroom and spice flavor will make up for it. Weibel's finely chopped walnuts are a clever way to add more body to a sauce, but I decided to blend them in, like dried porcini, so that they blended in, enriching it without contributing to any obvious crunch.
Another helpful tip from Gritzer: Shredding mushrooms (and in my case, tofu) gives them a meaty texture that's more convincing than simply chopping them. You can get busy with a knife if you're short on time (I don't find the food processor method recommended by Ottolenghi and Belfrage saves anything, because things always get caught on the blades, and onions end up like mush. Carrots are still lumps—but you, like them, might be you have a better machine).
aromatics

By contrast, the base is the easy part: onions, carrots, and celery, just like in the classic Bolognese sauce, though there were some red onions to make up for the sweetness lost with the offal. I don't tend to add garlic to my version of beef, but I'd go here, for the same reason that Gretzer pours red, instead of the traditional white wine: "In this vegetable sauce, I need my smoke curtains, and red wine has a stronger flavor that goes well with Your taste buds have more — and the more you flirt with your taste buds with red wine, the less they'll notice that you don't eat meat."
Likewise, I'll add laurel and rosemary—two herbs that make me think of braised meats (Gritzer also uses sage, and erskine for thyme, both work the same way), as well as nutmeg, a nod to my original ragu alla Bolognese. Although I kept things fairly simple, fennel seeds, oregano, chili flakes, chipotle, star anise, allspice, coriander, and cumin all pop into my recipe test, if you're looking to spice things up a bit.
The sauce
In addition to the aforementioned wine (which will actually be red), I'm going to dilute the sauce with diced tomatoes and tomato puree. At first, I tried to keep it to a minimum and the fusion was more faithful to the idea of ​​meat sauce rather than tomato sauce. But then I realized tomatoes are another useful smokescreen—especially with mushrooms, where the flavors blend to produce something that's decidedly not mushroom or tomato, but simply rich in flavour. (Although many recipes include broth, I always find vegetable broth to taste sharper—all celery and dried herbs—than one with meat, so I stuck with water.)
Gretzer stirs a vegan béchamel made with almond milk and a scoop of flavorless coconut oil into the final dish, while Ottolenghi and Belfrage add coconut cream. I don't think so, because any of them crave the tropical touches in a northern Italian sauce, but, says Gretzer, "to add the smoothness and richness of the emulsified beef fat in the classic Bolognese sauce. Without it, the sauce is so lean, it's a dead giveaway that it's a vegetable hustler." He's right, but I think you can get a similar result with a generous amount of olive oil; Don't be put off by the amount in the recipe below, though — remember that unlike meat, mushrooms and tofu are very low in fat, so you're making up for a deficit.
spices

This is where things get really interesting. Mix all of the above, and you will get a very good sauce. However, to take the extra mile, you can sneak in some very funky ingredients — after all, you've already got tofu in there. Gritzer, Ottolenghi, and Belfrage all use soy sauce and miso, which, Gritzer explains, "add complexity and depth of flavor that usually comes from the meat itself." Ottolenghi and Belfrage also use rose mush, which provides another smoky flavour, but my favorite is Weibel's Marmite, which "brings salty, bitter notes like those of browned meat. Like mushrooms, walnuts, soy sauce, tomato paste—and yes, beef—it has a high concentration." of glutamic acid, which imparts a strong umami taste best described as meaty." I think it has the best flavor out of all of the above, but if you don't keep it at home, soy sauce or miso are better alternatives.
After adding the salty marmite, I decided the sauce needed a little sweetness to balance it out. Ware adds a nicely cut date for this reason, but I'll come back to the thing I often sneak into tomato sauces that need a little help: a spoonful of balsamic vinegar, which brings the sugar and more umami. Yes, this sauce is intense.
cooking method
I feel fairly confident that traditionalists would give up in disgust at the first mention of tofu, so they wouldn't be around to dismiss the fact that I would suggest baking ragu, rather than cooking it on the stove. It may sound strange, but after experimenting with this technique in the "Perfect Pan Ragu" recipe in Ottolenghi and Belfrage's book, it dries and caramelizes the ingredients more efficiently, which is helpful in this case, when the goal is to concentrate flavors. As a bonus, it requires much less monitoring on the part of the cook.
If you don't want to put it in the oven, you can easily put it on the stovetop instead. Gently sauté the onions, celery, and carrots with the herbs until soft, stir in the garlic for a few minutes, then sauté the fresh onions. mushrooms until they have given up most of the liquid, before adding the tofu, tomato puree, and porcini powder, stirring regularly until they are somewhat dry and beginning to brown. At this point you can add the remaining ingredients, cover and simmer for half an hour, before uncovering for a final 15 minutes, if necessary. It'll still be great, though you'll only need to babysit a little more. Whichever way you do it, I promise it will be worth it.
Perfect vegetarian ragu
to equip 20 minutes
cook 1 hour 40 minutes
serves 4-6
75 grams of peeled walnuts
250 grams of chestnut mushrooms
250 grams of firm tofu
½ red onionpeeled and cut into small dice
½ yellow onionpeeled and cut into small dice
1 large carrotcut into small dice
2 stalks of celerycut into small dice
4 cloves of garlicfinely chopped
30 grams of dried porciniwhipped into a powder
salt
90 ml of olive oilAnd more to serve
2 tablespoons of tomato paste
2 tablespoons of Marmite
1 x 400 grams of chopped tomatoes
1 tablespoon of balsamic vinegar
200 ml red wine
1 bay leaf
1 sprig of fresh rosemary
Nutmegto taste
Preheat oven to 200°C (fan 180°C)/390°F/gas 6 (see above for stovetop cooking), and place a large high-sided baking sheet/roasting pan in there to heat.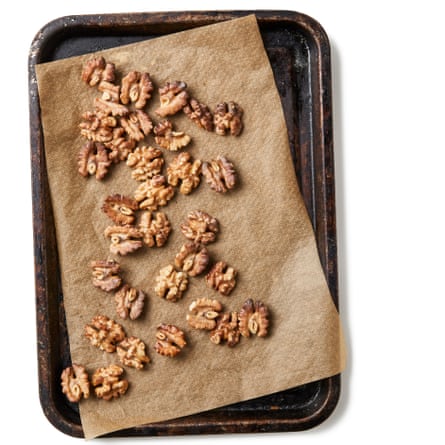 Toast the walnuts in a dry skillet for eight minutes, shaking them once to make sure they don't burn, then remove and set aside.
Meanwhile, chop mushrooms into bite-sized pieces and similarly tear/chop the caps and tofu.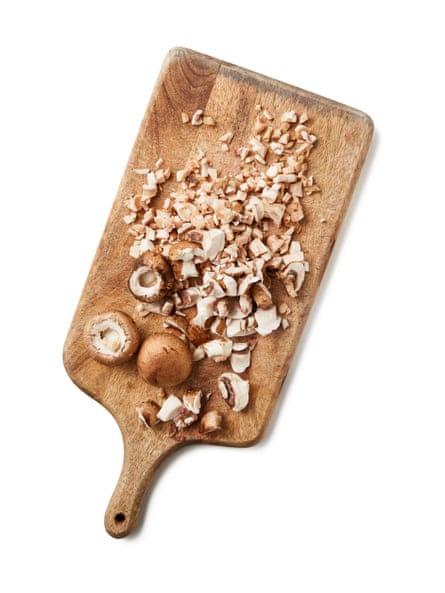 Put the diced onions, carrots and celery in the hot roasting pan, then add the garlic, mushrooms, tofu and porcini powder, season and mix.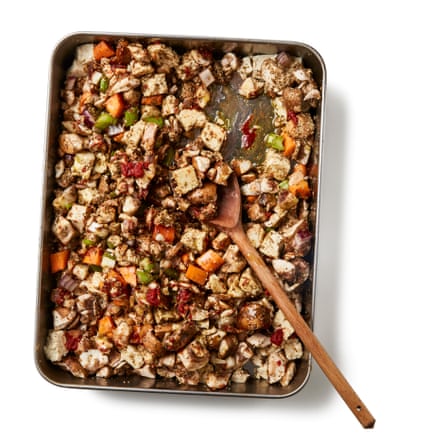 Mix the oil with the tomato puree, add to the can and mix again until all the vegetables and tofu are well coated.
Bake for 20 minutes, then flip, making sure to remove any bits from the corners, then bake for another 20 minutes.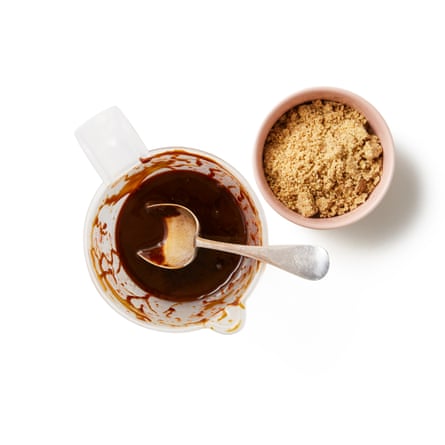 Meanwhile, the toasted walnuts are beaten into a powder and the marmite dissolved in 100ml of warm water.
Remove the pan from the oven and reduce the heat to 180°C (fan 160°C) / 350°F / Gas 4. Add the walnuts, chopped tomatoes, marmite water, balsamic vinegar and wine, then add the mixture, rosemary and a good grate of nutmeg, cover with foil and bake for 30 minutes. Another minute.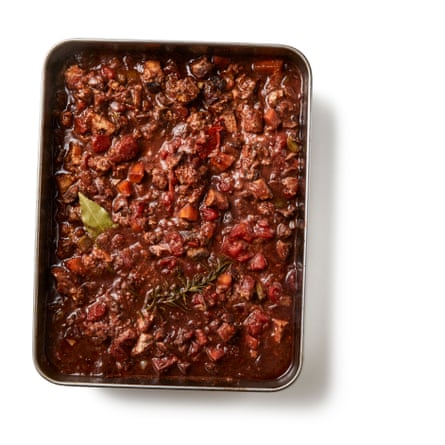 Remove the aluminum foil and bake for a final 15 minutes, by which time the mixture should be saucy, but not soupy.
Taste and adjust if needed for the seasoning, then add another good drizzle of olive oil before serving with the pasta of your choice.