tRuth that being said, I'm not great at New Year's resolutions or giving things away. However, if I'm pushed to choose, I won't eat January meat much sooner than turn down the odd glass of wine, which at this time of year is frankly medicinal. And not eating meat or fish is the best way to maximize flavour, color and crunch: vibrant green peas, bright orange squash, palate-stimulating aromatics, crunchy seeds and nuts, fresh herbs, chili peppers…the food we eat in January and beyond. , it can be as much about asking for things as it is about giving things away.
Green Pea and Coconut Soup with Sunflower Seeds (pictured above)
It's all I want in the depths of winter, but it's also something to set aside for summer, when it works just as well. It's delicious with a slice of toasted ciabatta or some cooked rice noodles.
to equip 30 minutes
cook 35 minutes
serves 4
3 tablespoons of olive oil
2 stalks of celerytrimmed and finely chopped (140 g)
2 shallotstrimmed and finely chopped (170 g)
3 banana leeksPeeled and finely chopped (110 grams)
3 garlic clovesPeeled and powdered
Sea salt and black pepper
2 Macrot lime leaves
2 lemon sticksbrittleness
1 x 400 ml of full fat coconut milk
500 grams of frozen peasdissolved
for soy seeds
40 grams of sunflower seeds
40 grams of olive oil
20 grams of fresh ginger piecePeeled and finely chopped
¼ teaspoon hot pepper flakes
1 tablespoon of soy sauce
Place a large saucepan over medium-high heat, add the oil, celery, shallots, shallots, garlic, and 1/2 teaspoon salt, and cook, stirring frequently, for 10-12 minutes, until the vegetables are tender but no longer colored.
Add the lemon leaves, lemongrass, and plenty of ground black pepper, and cook, stirring constantly to prevent the mixture from sticking together, for another 2 minutes. Add coconut milk and 1.2 liters of water and bring to a boil, then reduce heat to medium and simmer for 20 minutes.
While the soup is boiling, make the soybeans. Place the sunflower seeds, oil, ginger, and cayenne pepper in a small saucepan over medium-high heat. When it starts to sizzle, reduce the heat to medium and sauté gently for about five minutes, until the ginger and seeds turn golden. Toss into a small bowl or bowl and stir in the soy.
Place the peas in a large heatproof bowl or jug ​​with 1/2 teaspoon of the salt. Remove and discard the lemongrass and lemongrass leaves from the soup pot, then pour the soup over the peas. Working in two or three batches, puree the soup in a blender for 2 minutes or so in one go, until smooth and pale green, then pour back into the pot and heat if necessary.
To serve, divide the hot soup among four bowls and roll up the seeds.
Roasted pumpkin soup with maple nuts and herb oil
Make an extra maple nut, if you like: they keep well in an airtight container and are sprinkled beautifully on salads. Both the soup and the herb oil can be made the next day, ready to mix when serving.
to equip 15 minutes
cook 1 hour 30 minutes
serves 6
1 x 1kg Crown Pumpkinor any other starchy variety, such as kabocha
400 grams of sweet potatoesunpeeled
150 ml olive oil
5 grams of sage leaves
1 red pepperthinly sliced ​​at an angle (10 g)
1 shallottrimmed and cut into 2mm (200g) rounds
1 large onionPeeled and coarsely chopped (240 g)
10 grams of fresh gingerpeeled and blended
Sea salt is fine
½ teaspoon smoked paprika
½ teaspoon ground coriander
2 small King Edward potatoes (or similar) (200 grams)
60 grams of walnuts
1½ tablespoons of maple syrup
10 g of coriander leavesfinely chopped
10 g of parsley leavesfinely chopped
1 teaspoon of finely grated lemon peel
Preheat oven to 220°C (fan 200°C)/425°F/gas 7. Place the whole squash and sweet potatoes on a baking tray lined with greaseproof paper and roast, turning once halfway through, for 1 hour, until tender and golden. Remove and reduce oven to 180°C (fan 160°C)/350°F/gas 4. Once cool enough to handle, use a metal spatula to peel off the skin of the pumpkin and sweet potatoes, and scoop out the pumpkin seeds.
Meanwhile, put 80ml of olive oil in a small saucepan over medium heat, add the sage leaves and sauté for 2 minutes, until green. Use a slotted spoon to lift out the sage, transfer it to a kitchen paper and leave to soften. Add the chili peppers to the hot oil and sauté, stirring occasionally, for about 2 minutes, until deep red, then transfer to kitchen paper sage-side down.
Transfer the hot oil to a large saucepan over medium heat, add the shallots, onion, ginger, and three teaspoons of the salt and cook, stirring occasionally, for five minutes, until soft and translucent. Add the smoked paprika and ground coriander and cook for a minute until fragrant, then add the cooked pumpkin and sweet potato flesh and 1.6 liters of water.
Peel the potatoes and grate them on a cutting board, then add them to the soup before they change colour. Bring the soup to a boil, then lower the heat and let it simmer for 15 minutes.
While the soup is cooking, make the walnuts brittle. Line a small baking sheet with greaseproof paper, coat with walnuts, maple syrup, and 1/4 teaspoon salt, and toss to coat. Roast, stirring once halfway through, about 10 minutes, until toasted and golden brown, then remove and sprinkle the fried sage and chili pepper over the top, toss to coat and allow to cool. Once the nut mixture has cooled, wash the paper to crush the brittle into smaller pieces.
Make the herb oil by combining the cilantro, parsley, lemon zest, remaining 70ml oil, and 1/4 teaspoon salt in a small bowl.
Once the soup has simmered, remove the heat from the heat and use a stick or regular blender until smooth and velvety. Add a little water to break it up, if needed, then divide it among six bowls. Sprinkle the maple and walnut flakes on top and serve with the herb oil.
Chickpea, carrot and swede soup with herbed olives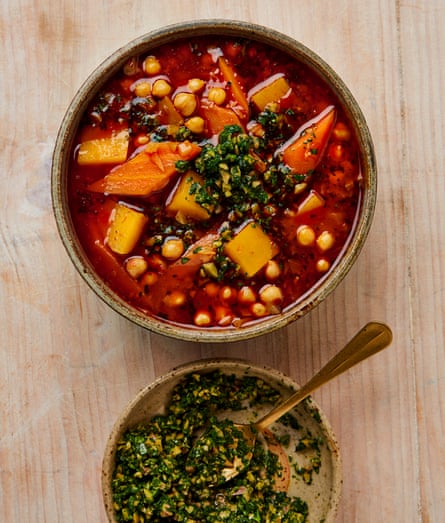 This is inspired by Morocco to me, which usually contain lamb or chicken. Feel free to add some, or use chicken broth instead of water for a richer result (although it's not obviously vegetarian).
to equip 10 minutes
cook 25 minutes
serves 4-6
2 onionsPeeled and finely chopped 300 grams
4 cloves of garlicPeeled and powdered
1 teaspoon cumin seeds
2 tablespoons of rose mush
2 tablespoons of tomato paste
1 cinnamon stick
Sea salt is fine
60 ml of olive oil
2 x 400 grams of chickpeas
½ Swedepeeled and cut into 2cm cubes (200g)
2 carrotsPeeled and cut in half lengthwise and then into 3cm (200g) pieces
10 g of parsley leaves
10 g of coriander leaves
40 grams of pitted green olives
4 teaspoons of apple cider vinegar
Place the first 6 ingredients in a large saucepan along with 2 teaspoons of the salt and 45ml of the oil, then cook over medium-high heat for five minutes, until the onions are translucent. Add the chickpeas with the liquid and 800ml of water, bring to a boil, then add the swede and carrots. Reduce heat and simmer 15 minutes, until vegetables are tender but still retain their shape, then remove from heat and discard the cinnamon stick.
While the soup is cooking, place the herbs, olives, and vinegar in the small bowl of a food processor, add the remaining 2 tablespoons of olive oil, and blend until it becomes a coarse paste.
To serve, divide soup among shallow bowls and pour olive mixture over top.