Root vegetable stew with dumplings (photo above)
This delicious and comforting dish is perfect for an evening meal during the cooler months.
to equip 20 minutes
cook 1 hour 15 minutes
serves 4-6
2 ttablespoon olive oil
2 large onionscut into thin slices
150 gr Chestnut mushroomshalf
1 tOne tablespoon of flour
2 carrotspeeled and cut into large pieces
2 white carrotspeeled and cut into large pieces
½ Swede (about 400 g), peeled and cut into large pieces
½ Celeriac (about 500 grams), peeled and cut into large pieces
150 gr pearl barley
2 Thyme sprigs
2 tablespoons dark soy sauce
2 ttomato puree bsp
Salt and black pepper
750ml vegetable stock
500 ml Vegan brave
100 gr spinach
To prepare dumplings
150 gr Pure flour
1½ tbaking powder sp
75g Vegetable tallow
1 tChopped thyme leaves
¼ tsalt s
¼ tsp ground black pepper
Heat the oil in a large casserole dish with a lid, add the onion and cook over medium heat for about eight minutes, until soft and translucent.
Add the mushrooms and cook for five minutes, until lightly browned. Add 1 tablespoon of flour and cook for another minute or so. Add all the root vegetables along with the pearl barley, thyme, soybean and tomato puree, and a pinch of salt and pepper. Pour into stock, toss and toss to blend. Bring to a boil, then reduce heat, cover with a lid and simmer for 30 minutes.
Lift the lid and stir the soup gently, then increase the heat slightly and simmer for another 10 minutes, until the sauce has reduced and thickened.
Meanwhile, mix all the dumpling ingredients together, then mix in 100ml of water until the mixture starts to come together. Divide the dough into eight portions and roll into balls.
Stir the spinach into the soup and nest the dumplings carefully on top with a little space between them, then put the lid back on and cook for another 20 minutes, or until the dumplings are puffed and set.
Edamame fried rice
Once you have all the ingredients ready, this will be a really quick and easy dinner, made in minutes, and a great way to mix in leftover rice.
to equip 15 minutes
cook 12 minutes
serves 4
2 tSesame oil
3 garlic clovesgrated
2 cm A piece of gingerPeeled and grated
2 carrotsPeeled and finely chopped
700 gr Leftover cooked white ricepreferably long-grain or basmati
250 gr Fresh or dried edamame beans
2 tTamari or light soy sauce
2 tBSP Hoisin Sauce
salt (my choice)
For quick pickled radishes
100 gr radishcut into thin slices
50 ml Rice wine vinegar
A little sugar
a pinch of salt
to serve
3 green onionscut into diagonal slices
50 gr Store-bought crispy fried onions
First make the quick pickled radish. Add all ingredients to a small bowl and stir to combine. sit aside.
Heat the sesame oil in a large frying pan or frying pan, add the garlic and ginger and saute over medium-high heat for about a minute, until golden. Add the carrots and sauté for about three minutes, until slightly softened. Stir the rice, breaking up any clumps, and mix with the other ingredients.
Add the edamame, tamari or soybeans, and hoisin and stir until everything is evenly coated in the sauces. Cook for another five minutes, until the beans are bright green.
Add salt to taste (the sauces should make the dish salty enough), then serve in bowls topped with radishes, scallions, and crispy fried onions.
Broccoli, carrots and spinach d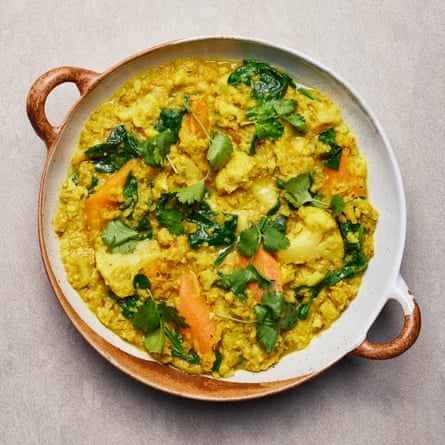 Who doesn't love soothing dal – especially when it's so easy to make? Inspired by the traditional Indian dish, chunky vegetables are added to the lentils here to make it more like a soup. You can swap out these vegetables quite easily. Enjoy on its own or with roti, flatbread or rice.
to equip 20 minutes
cook 50 minutes
serves 4
2 tbsp vegetable oil
1 tA tablespoon of cumin seeds
1 onionfinely chopped
2½ cm A piece of gingerPeeled and grated
2 tsp garam masala
1 tsp ground coriander
300 gr cauliflowerdivided into small florets
300 gr CarrotsPeeled and cut into small pieces
200 gr Crushed red lentilswashed and filtered
1 tsp ground turmeric
1 t1 tablespoon of salt
A bunch of spinachcoarsely chopped
A bunch of coriander leavesto serve
Heat the oil in a large saucepan, add the cumin seeds and let them simmer over medium heat for a few seconds. Add the onion and cook for eight minutes, until soft and translucent. Add the ginger, garam masala and ground coriander and cook for another 2 minutes.
Add the vegetables and lentils and stir to coat with the seasoned onions, then pour in 750ml of water. Bring to a simmer and cook gently for 20 minutes.
Scrape any residue on the surface of the liquid, then add the turmeric and salt and cook for another 15 minutes, or until the vegetables and lentils are tender.
Stir spinach into lentil mixture and cook 2 minutes, until wilted. Served in bowls covered with coriander leaves. Peanut butter cookies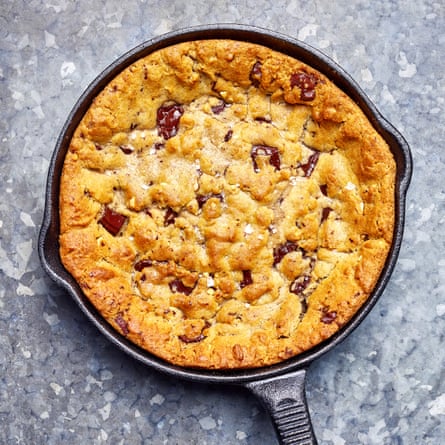 An ooey-gooey cookie and candy in one – what else could anyone want? Especially delicious with vegan ice cream.
to equip 15 minutes
cook 30 minutes
serves 8
100 gr margarinesoftened, plus extra lubrication
100 gr Smooth peanut butter
150 gr light brown sugar
100 gr caster sugar
2 tvanilla extract sp
2 tApple sauce or puree – Shop‑bought a good one
250 gr Pure flour
1 tsp Bicarbonate of soda
½ tsalt s
125 grams Vegan dark chocolateCut into small pieces
Preheat oven to 180°C (fan 160°C) / 350°F / Gas 4, and grease a 23cm oven pan or pie plate with vegetable butter.
Place the vegan butter, peanut butter, sugars, and vanilla in a large bowl and beat until pale and creamy. Combine applesauce or puree, then sift over flour, baking soda, and salt and stir gently. Finally, add the chocolate pieces.
Put the cookie dough into the greased pan or dish, then spread it all over the base. Bake for 25-30 minutes, or until the cookies are crisp around the edges but still slightly gooey in the centre.
Cut into wedges, or cut into slices and serve. Store any leftovers in an airtight container for up to five days.
Recipes excerpted from Broke Vegan: One Pot, by Sam Dixon, published by Aster this week at £12.99. To order a copy for £11.30 go to guardianbookshop.com