tHere are some of the more festive treats out there. They make the most delightful of excuses (not that we need one this time of year) for bundling all kinds of sweet seasonal flavors into a tart or plate. Caramelized nuts, powdered sugar-dusted dishes, double cream, cinnamon and allspice, dried fruit…so get me some fig pudding (and then some!) already!
Tart Piloncillo (top photo)
Piloncillo is a dark, unrefined sugar from Mexico, full of organic impurities that give it a complex molasses flavor similar to jaggery or panela. You can buy it at Latin and South American food stores, but if you can't get any, use jaggery instead. Dough can be made ahead of time, and even frozen. You'll have plenty of leftover egg whites, which is the perfect excuse to make some festive, snowy-looking meringues (otherwise, freeze them for another time). This tart benefits greatly from a night in the fridge after baking.
to equip 10 minutes
Cold 1 hour
cook 2 hours
comfort 1 hour
serves 12
For the hot issue
150 grams of plain flourPlus more dust
40 grams of fine corn flourAnd the or polenta
135 grams of unsalted butter, refrigerated and coldCut into small cubes
25 grams of soft sugar
Half a teaspoon of spices
Half a teaspoon of cinnamon powder
1 teaspoon of finely grated lemon peel
Sea salt is fineplus sea salt to finish
50ml cold full cream milk, chilled
1 egg yolk
1 tablespoon of double cream
to fill
220 grams of piloncilloor dark brown sugar, or finely grated
50ml Pedro XimenezOr Marsala or Madeira
750 ml double cream
11 egg yolks
25 grams of soft sugar
First, make the dough. Place the first 7 ingredients and 1/4 teaspoon of fine sea salt into the bowl of a food processor and blend until the mixture resembles bread crumbs. Place them in a large bowl, then gradually add the milk, mixing constantly, until everything comes together into a paste. Place it on a lightly floured work surface and knead it gently just to bring it together – it should be slightly sticky, but not sticky to your hands. Wrap it up and let it cool for at least an hour.
Take the dough out of the refrigerator, place it on a well-floured work surface, and roll it into a 38 cm circle with a thickness of 2 mm. Roll the dough loosely around the rolling pin, then carefully lift it up and place it on top of a 2-inch-deep by 28-cm tart tin. Using your hands, quickly press dough into corners and sides of tin, leaving any protrusion. Cover with a large sheet of greaseproof paper and fill with baking grains, then return to refrigerator for another hour.
Preheat oven to 200°C (180°C) / 390°F / Gas 6. Cut any hanging dough from the tart tin and set aside, then bake for 30 minutes, until edges are golden brown. Remove the paper and beans, using the excess pastry reserved to plug any holes, then bake for another 20 minutes, until the base is lightly browned. Whisk the egg yolks and cream in a small bowl, brush the uncovered dough all over, and return to the oven for just 2 minutes. Remove and leave to cool.
Lower the oven to 160°C (Fan 140°C) / 325°F / Gas 3. Now make the stuffing. Melt piloncillo in a large saucepan over medium-high heat, gently swirling the pan, until the sugar is completely liquid. Remove from heat, carefully add sherry, then return to low heat and whisk in cream.
In a large bowl, whisk the egg yolks, caster sugar, and one-eighth of a teaspoon of fine sea salt, until smooth, then quickly whisk in one-fourth of the hot cream mixture. Pour in the remaining cream mixture, mix, then pass through a strainer back into the pan.
Place the tart tray on the baking tray, pour in three-quarters of the custard, and gently slide the tray into the oven. Pour in the remaining custard to fill the tin to the top, then bake for 35 minutes, until the custard has set but is still wobbly. Remove from heat, allow to cool completely, and serve with a generous pinch of sea salt on top.
Caramel Christmas Mess
This caramelized fig is inspired by my love of fig pudding, and gives you all the flavor and less of the wait. Make sure to weigh all of the ingredients first, as the cooking moves very quickly. If you want to go ahead, make the meringue a day ahead and store it in an airtight container (or use store-bought ones).
to equip 10 minutes
cook 2 hours
serves 6
160 grams of caster sugar
65 grams of egg white (any of two eggs)
⅛ teaspoon cream of tartar
Sea salt is fine
60 grams of unsalted buttercubes
6 grains of fresh black figthe heads are removed, and then cut in half vertically
Half a teaspoon of spices
2 tablespoons of whiskey
1 tablespoon of fresh lemon juice (any of 1-2 lemons)
50 grams of fresh cream
200ml double cream
1 tablespoon of powdered sugarplus 1 additional teaspoon for dusting
4 amaretti biscuitsalmost collapse
4 sprigs of fresh thymepicking leaves
Preheat oven to 180°C (Fan 160°C) / 350°F / Gas 4. Sprinkle 115g of sugar on a baking tray lined with greaseproof paper and bake for 10 minutes. 2 minutes before the time is up, place the egg whites, cream of tartar, and a pinch of salt in the bowl of a stand mixer and beat on medium speed until foamy.
Remove the sugar tray from the oven and reduce the heat to 120°C (fan 100°C) / 250°F / Gas ½. Set the mixer speed to low and, using the parchment paper to help you, slowly pour in the warm sugar until completely incorporated. Return speed to high and beat for five or six minutes, until meringue mixture is glossy and forms stiff peaks.
Line a 40cm x 30cm oven tray with baking paper and, using a spatula, gently spread the meringue evenly on top, measuring about 35cm x 25cm. Bake for 80-90 minutes, until completely dry. Remove and allow to cool, then cut into arbitrary fragments.
Place a medium frying pan over medium-high heat, add 10g butter, and when it melts, place the cut figs face down and cook for a minute, until lightly browned. Stir the remaining sugar into the skillet, then cook for another 90 seconds, swishing the skillet occasionally, until the sugar has mostly melted and the figs begin to caramelize. Add the remaining butter and spices, toss again to mix, then cook for another minute.
Carefully flip the figs, pour in the whiskey, and cook for 30 seconds, swirling the pan, until the sauce turns syrupy. Remove from heat, stir in lemon juice, then tip figs and salsa into bowl and let cool 10 minutes, until cool but not set.
Meanwhile, place the fresh cream, double cream, and 1 tablespoon of the powdered sugar in the bowl of a stand mixer fitted with the paddle attachment and beat over medium-high heat for two to three minutes, until soft, fluffy peaks form.
To serve, place a generous dollop of cream on six individual plates. Lay out the fig halves and garnish with a few pieces of meringue. Sprinkle a few amaretti crumbs and thyme on top, then put the last teaspoon of powdered sugar into a small sieve and sprinkle over each plate.
Chestnut and Walnut Melville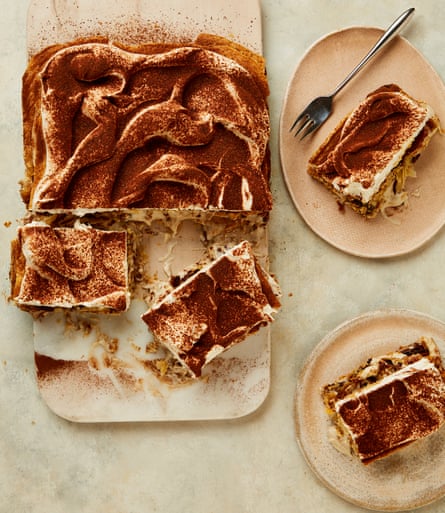 All of the different items can be made ahead of time, ready to be assembled just before serving. Keep the cream in the fridge, and the well-baked pastries and nuts in an airtight container. To make it kid-friendly, omit the rum and coffee.
to equip 30 minutes
cook 35 minutes
crowd 15 minutes
serves 8
2 x 320 gram packages of ready-made butter dough
2 tablespoons of powdered sugar
To prepare chestnut cream
400 ml full fat milk
1 tablespoon of vanilla paste
4 egg yolks (save the whites for another use)
20 grams of corn flour
75 grams of caster sugar
⅛ teaspoon flaked salt
40 grams of unsalted butterCut into cubes
200 grams of sweet chestnut puree – I like the ones by Clément Fougere
1½ tablespoons of rum or brandy (my choice)
330 ml double cream
For sticky pecans
150 grams of pecanscoarsely chopped
15 grams of unsalted butter
1½ tablespoons of maple syrup
¼ teaspoon flaked salt
for coffee dust (optional)
1 tablespoon of ground coffee
1 tablespoon of cocoa powder
½ teaspoon ground cinnamon
Preheat oven to 200°C (fan 180°C) / 390°F / Gas 6.
Roll out 1 sheet of puff pastry on a clean work surface, and roll it into a slightly thinner 26cm x 38cm rectangle. Using a sharp knife, cut this in half crosswise, then carefully lift the two rectangles one at a time onto a large, flat oven tray lined with greaseproof paper. Repeat with half of the remaining pastry sheet (save the rest for another use) and place that on a second parchment-lined tray. Place the pastry trays in the fridge for 10 minutes, just to set, and then prick the three rectangles with a fork. Dust both sides of each rectangle with 1 teaspoon of the powdered sugar (I do this with a small sieve), then cover with a large sheet of greaseproof paper. Place a tray on top and weight it with a heavy ovenproof tray or skillet.
Bake for 25 minutes, then remove weights and topping paper, and bake uncovered for another 10 minutes, until golden and cooked through. Carefully lift pastry rectangles from trays to a large rack (or racks) and let cool for 20 minutes.
Meanwhile, make the chestnut cream. Place the milk and vanilla paste in a medium saucepan and bring to a boil over medium-high heat. Place the egg yolks, cornmeal, sugar, and salt in a medium bowl and whisk until smooth. Pour in a quarter of the hot milk mixture, whisk to combine, then pour in the rest of the milk, while continuing to whisk. Sift mixture back into skillet, place over medium-low heat and cook for two to three minutes, until thickened enough to hold its shape when stirred. Remove the heat from the heat, and mix and scrape the butter into a medium tray lined with greaseproof paper. Cover, ideally, with reusable wrap, let cool for 10 minutes, then let cool for 30 minutes.
Once cool, put the cream mixture into a large bowl and stir in the chestnut puree and 1 tablespoon of the rum, if using. Whisk the double cream until soft peaks form, fold a third into the chestnut cream, and refrigerate for 20-30 minutes, until set.
Now make the sticky pecans. Place the nuts and butter in a medium skillet and cook over medium-high heat, stirring frequently, for six to seven minutes, until toasted. Add the maple syrup and 1/4 teaspoon salt and cook for another minute until sticky, then turn onto a tray and let cool.
Mix all coffee dust ingredients, if using, in a small bowl.
To assemble, spread a spoonful of the chestnut mixture onto a large, flat plate and place 1 pastry sheet on top. Gently spoon over half of remaining chestnut mixture and spread evenly. Using a small sieve, sprinkle coffee dust on top until it coats the cream layer, then sprinkle with half of the pecans. Place a second sheet of pastry on top and repeat, then place a third sheet of pastry on top.
Stir the remaining 1/2 tablespoon of rum into the remaining cream, and roll the cream over the top pastry sheet and sift it over the remaining coffee dust. Cut the millefeuille into rectangles—use a sharp serrated knife, ideally—and serve.