Tsiakkos & Charcoal, 5a Marylands Road, London W9 2DU (020 7286 7896). Starters and sides £4.50 – £9.50, mains £13.50 – £18, desserts £5.50, wines from £20
It's a dark and damp night in London's W9. The taillights are reflected off the wet roads, part red on black, and sometimes the constant roar of traffic on Harrow Road is interrupted by the distant Doppler of a police siren. However, there is just something here on this mostly residential street that reminds me of my time on sunny Greek island hopping many years ago. It's the heavy giveaway of charcoal smoke and fat-boosting ingredients; It's the aromas I remember from the bars that clustered close together along each island's pier front. That's the thing about Tsiakkos & Charcoal. You will smell it long before you find it and even when you find it you will suspect you have it.
There are no signage on the turquoise facade. There are faded red curtains drawn across both the windows and the window in the door, preventing you from seeing what is going on inside. If the door is open, you might see a cluttered desk against the wall just inside, and a computer sitting amid papers. Tonight, a World Cup match will be played on the computer screen. do not delay. Go inside. Walk through the open kitchen in the front room with its charcoal grill, tended by a couple of bearded men, to the half-paneled dining room in the back. Or, if you're feeling daring, sit under fireplaces in the covered garden space outside, complete with fairy lights.
But please, go. Tsiakkos & Charcoal is a reminder that amidst the new fetishization of people like me, cool places continue to do great things year after year, without any of it bothering them. The fact that I have not heard of him, unfortunately, does not mean that he is obscure. They have been featured in many of London's Greek Cypriot restaurant tours over the years. It has been reviewed at times in more detail. I heard about it because london Standard evening He asked 25 chefs to name their favorite cheap restaurants. Some of them – Padella, Hoppers and Kiln – were recommendations for nice upscale places, without taking us off the beaten track for anyone.
It was Josh Katz of Berber and Q who suggested Tsiakkos. He said, "It looks like you're eating inside someone's house." Basic. "The food is much like a restaurant: simple, rustic, and full of charm and character." Which makes me anxious because I subcontracted this full review to Katz, because he's not wrong. No wheels are reinvented, no envelopes are pushed. The menu is short and built around a classic repertoire that speaks of a place other than rocky hillsides and blue skies, far from here.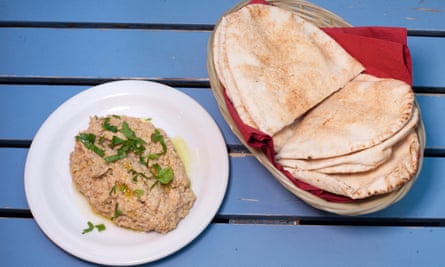 The closest thing to a revelation is the hummus, which is my home, as if the hummus had been crumbled with a fork, rather than crumbled. It's huge and cuddly and neatly disposable, although for £1 you'll get a basket of pita served warm, and just screaming to be squeezed into service. Use it, too, on Taramasalata's whipped high tops, which barely make a nod to the astringent Day-Glo pink stuff whipped up by the tough plastic of Main Street. It is soothing, creamy and just right. Top it with thick slices of halloumi, grilled over charcoal, then drizzled in olive oil and lemon juice. These dishes will set you back a great five or so. Toss them in a crunchy salad rich with pickled peppers and salty kalamata olives.
Wellness contestants waste the Channel Tunnel's digital bandwidth on hilarious videos full of white teeth, shiny hair, and ideas for healthy eating that look like a dying hope on a plate. Treat these videos with the contempt they deserve. Just come here and eat Greek Cypriot food and feel good about yourself and properly taken care of. The care is taken tonight by a young woman who manages the steady stream of customers with glorious ease as if she'd just passed by and might be bringing those dinner plates as she goes this way. However, no one was left waiting. I asked her how long the restaurant has been here. She smiles and says, "At least as long as I'm alive." She told me she was 27 years old.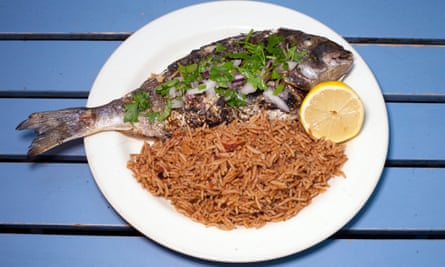 There are three charcoal grills and three oven-baked dishes on display. The latter, all priced in the mid-teens, are moussaka, kleftco, and what they call slow-burned ham. It's a big shoulder mound, which has been lounging in the oven most of the day until, as the menu says, it "melted." Gently buffed skin is a sticky, chewy wonder. The grills are pork or chicken souvlaki, or a whole fish, the silvery skin blistered and blackened and then seasoned with chopped white onions and fresh green herbs. Both dishes come with a slightly sweet mound of rice, accompanied by a light brown earthiness of cinnamon and other spices.
Dessert comes in the form of rugged baklava pieces, which are thick layers of syrup-soaked baked filo that pack the requisite fillings. While we're told it was brought in from elsewhere, there's also tiramisu, assembled on site from delightful slices of sponge and whipped cream. If you can get to these things and finish them off, well done. I salute you.
Like everything else, the wine list is a compact, just half a dozen whites and reds, with two-thirds of the list priced at £30 or less. There is also a very short list of Greek wines, I mean three, some of which cost a little more. But it's all relative, isn't it? For £28.50 per person, you can simply order a meze, from appetizers and charcoal grills, and serve over five courses, and for parties of eight or more, that's all they'll do. It seems to me a very good option. It's not like you're going to miss anything.
Some people will now yell frantically at this review, because they will feel I have given away their "secret". They will think I made it difficult for them to get a table. In fact, it must be hard to get a table here, because it's so pretty. In any case, journalists are not in the business of keeping secrets. We're working to tell you things you should know. Tsiakkos & Charcoal is one of them.
News bites
Chef Robbie Lauren has found a permanent home for his restaurant Only Food and Courses, a groovy nostalgic take on food from the '80s and '90s that I enjoyed most when he worked out of a shipping container in Pop Brixton. It will now be inside the venerable Cheshire Cheese pub on London's Fleet Street. Downstairs it will serve various snacks, while upstairs it will be a six-course 'supper club' menu in two sittings at £75 per person, including treats to smoked salmon, eggs, prawn cocktail and millionaires' bread (onlyfoodandcourses.com).
England won the World Cup. In this case it was the Culinary World Cup, a quadrennial event that this time took place in Luxembourg. England's nine-man team won gold ahead of 29 other nations, for their performance of serving 110 caps at the Restaurant of Nations event. They also took home a silver in their buffet, while the junior team took bronze and a silver. This is the kind of competition I can get behind.
Restaurant Margate Barletta, which set up a crowdfunding fund to help the company survive a £50,000 fraud, will be shut down. Announcing the decision on Instagram, they said: The impact of fraudulent activity on our bank account, combined with increased energy bills and the cost-of-living crisis, has made it impossible for us to continue. This was not the result we had hoped for, but it is the one we must achieve. Those who donated to Credfunder can request a refund. Anything left over will go to Hospitality Action.
Email Jay at [email protected] or follow him on Twitter MustafaHosny Oh God, Amen