The Black Bull Inn, 44 Main Street, Sedbergh LA10 5BL (015396 20264), theblackbullsedbergh.co.uk). Snacks £4.50 – £6.50, Sandwiches £6.95 – £14.95, Appetizers £9.95 – £10.9, Mains £18.50 – £27.95, Desserts £7.50 – £8.50, Wines from 28 pound
Black Bull would be easy to read in Sedbergh, located in that part of the Yorkshire Dales that offers high tide to the Lake District. At weekday lunchtime, the dining rooms quickly fill up with parents in expensive wax outerwear lunching with their children from the eponymous boarding school that dominates the town. A parade of burgers and sandwiches, neatly poked with cocktail sticks, along with soup with slabs of bread on the doorstep, come out of the kitchen. And a pint please for the pink-cheeked, broad-chested chap with the Range Rover out.
This may be Blackpool's literal and figurative bread and butter; The way any multipurpose country pub earns its crust and crumbs. But take a look at the bar menu that those family groups are ordering from and another story begins to unfold. Yes, it includes beef and radish sandwiches, and one filled with hot roast pork from nearby Manserg Hall Farm, famous in the Loon Valley for its outdoor pigs. So far, very elegant. But there are others that are less traditional: chickpea and lentil curry for example, or pork and kimchi stew, or perhaps Korean crispy beef with shiso and sesame, served as a snack.
The same voodoo work is in place planning. To the left of the front door is the bar area. It comes complete with beers from Fell Brewery, Lakes Brew Company, and Timothy Taylor's on tap. It may only satisfy the grumpy members of the Tavern Liberation Front who think it is a bloody disgrace to offer nice things to eat in such places. What's wrong with a packet of fries, right? (Nothing, as it happens). Immediately to the right is the casual dining area, with its curved booths of red leather. Beyond that is the restaurant proper, a more austere space with raw wood paneling hung in turn with large charcoal landscapes. It is a real riot of grays and blacks.
It all starts to make sense when you learn more about the legacy of head chef Nina Matsunaga who runs the pub with her local-born partner, James Ratcliffe. Raised by Japanese parents in Dusseldorf, Matsunaga brought in those influences to influence ingredients from the surrounding hills and meadows, but in an impressive, let-it-yourself kind of way. If it tastes good, it works. Matsunaga was recently named a finalist in the Chef of the Year category for the Be Inclusive Hospitality Awards, which celebrate diversity in the restaurant industry. After I ate her food, I can tell she deserves to celebrate a lot.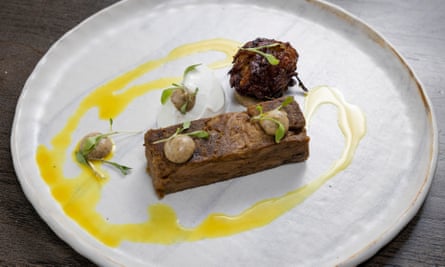 Start with the crispy korean beef. The meat was cooked and then cut. Chunks of tangles are pressed and then wrapped in a thin, thin shiso sheet and fried in the lightest lassi tempura batter. On the side is the sweet soy sauce, filled with the edible slurry of black and white sesame seeds. I can do a lot of damage with a bucket of these. More rugged is the take on hummus made from various types of black-eyed peas served with crackers filled with caraway and sunflower seeds.
The starters here in this backyard dining room are complex and elaborate, but never sacrifice flavor for brilliance. As with beef, Herdwick lamb shoulder is cooked until crumbly, seasoned with Indian spices and then pressed and served in a crunchy jingha block. It comes with liver-enriched onion baguette, along with a quinelle of Greek yogurt and a crushed lemon pickle bold enough to make you light up your nose like a Randy mare. It's the bold, subtle flavors of a high street curry house, only in custom tailors and spoons. On another plate, a fatty mackerel filet lolls over a thick soy sauce sweetened with bursts of green pepper heat. The heat-infused skin is layered with nori seaweed, wild garlic buds, and a drop or two of caviar. It's a fish dish that's not shy about its unconventional surface depths. Mackerel is also cooked perfectly.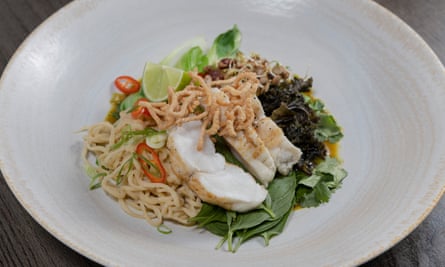 As is a small slice of beef, sliced ​​to bring out the party pink, with a slice of rib eye, cooked first and then crispy. Yes I know; The same trick three times in one meal. But by God, it's an effective trick. It comes with a big mound of potent green nam prik, which is a thai pepper relish. I think a lot of things can benefit from having this nam prik as a support act. Lightly crunchy edamame beans act as ballast. After all that subtlety and poise, a plate of firm, rolled-up rice noodles topped with snowy peaks of monkfish feels like a change of pace. It comes with a huge, sweet and savory Asian gravy with baby shrimp. There are sprouted beans, Chinese greens, fresh fronds of cilantro, and stir-fried golden noodles for texture. Fresh chili peppers and lemon give the dark umami flavors liveliness and invigoration. It's a messy bowl, but a very good mess.
If anything, the desserts take all of that colossal hoopla and boxset drama to another level. We have a disc of duck egg custard. It is very light and seems to hold its shape only through strength of character. There's a gentle hand to the sweetness, which is balanced out by bits of spicy gingerbread, echoing the legendary product from nearby Grasmere. (If you haven't tried Grasmere gingerbread, you've only been half a lifetime away.) What describes as an apple terrine is a wonderfully crafted block of lightly cooked fruit, thinly sliced ​​and layered, with a dead gorgeous cinnamon icing. Cream, caramel caramel and honeycomb shards. It is an honor for me to get acquainted with these sweets. Starters are around the tenner, and mains often slide north of £20. However there is a three course lunch menu at £29.50 with only slightly reduced choice.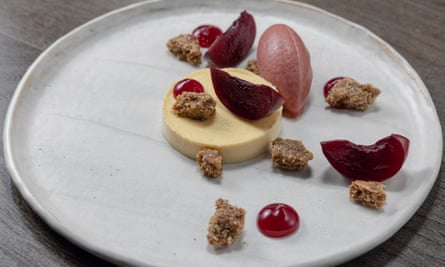 Remarkably, none of this lofty aspiration comes with a side order of dismal formality. Still very much a pub. The service is fun, as we are now. Lunch is finally over, and for the far north dusk is already beginning. The Sedbergh children return to lessons, while their parents take the bill. Black Bull may appear as a rather fancy pub. He definitely has a very good chef in the kitchen. But the catch is that she knows how to satisfy not just one crowd, but a number of them. She fed and watered us all properly today. Just in different ways.
News bites
Il Portico, an Italian restaurant in Kensington, has joined forces with a local charity, the Kensington and Chelsea Foundation, to provide free meals to people in need who live in the borough. Portico Pizzeria operates out of the location of what used to be Pino's sister restaurant, which owner James Chiavarini has decided to turn into a community asset. It will run Wednesday through Sunday and can serve free wood-fired margaritas to 500 people a week. The project is funded by donations and by money raised through a new delivery platform on Uber Eats, which allows paying locals to order a range of Italian dishes. Uber Eats does not take any commission. To find out more and donate go here.
Brilliant North London based Luminary Bakery, a social enterprise that helps underprivileged women get back on their feet through the art of baking, has launched a range of Christmas gift boxes available for delivery across most of the UK. Dessert choices include brownies, mince pies, and a variety of mini cakes. Visit their online store.
Pie makers Dickinson & Morris of Melton Mowbray have once again teamed up with piemaster Calum Franklin of the Holborn Dining Room to offer a limited edition festive Christmas pie made with hot water crust pastry, and filled with ham, turkey, smoked ham, Christmas seasoning and cranberry jelly. It feeds 12 people, costs £35 plus delivery and is available to buy here. Last year, when I mentioned it, they sold out quickly. Fortunately, I already bought mine so the rest of you can now accumulate.
Email Jay at [email protected] or follow him on Twitter MustafaHosny Oh God, Amen