cbirthday could It'd be Christmas without brandy butter, chocolate logs, and bottles of mulled wine, but don't feel a little more Like Christmas with them? Either way, making it yourself and giving it as a gift is a surefire way to get into the festive spirit. Spices, chocolate, citrus, liquor…
Marzipan Butter Brandy
This leavened butter is perfect for mixing on toasted bannetons, pancakes, and Christmas pudding. Arak brings with it a hot aniseed flavor that makes the butter even more delicious, but don't worry if you can't get any of it: just add a little more brandy instead. Once prepared, the butter will keep in the refrigerator for up to 2 weeks.
to equip 10 minutes
Blitz 5 minutes
Make 1 medium vessel
Memorizes 2 weeks
125 grams Unsalted butter at room temperature
50 gr icing sugar
50 gr Soft brown sugar
125 grams Good marzipan (at least 60% almonds) – I love Odense
1 large tablet orangefinely grated zest to get 1½ tsp (Save the rest of the fruit for another use)
½ tsp Flaked sea salt
40 ml brandy
1 tbsp See youor 1 tbsp extra brandy
Place the butter, sugaring, marzipan, orange zest and salt in a food processor and pulse for 2 to 3 minutes, scraping the sides of the bowl once or twice, until smooth. With motor running, slowly drip in the brandy and arrack, if using, and blot for another minute, until well blended and slightly fluffy; Don't try to over mix or the mixture will split. Spoon into a sterilized jar, tie with a pretty ribbon, and refrigerate for up to two weeks.
Hawaij spiced chocolate
Tart barberry and sweet hawij spice make this ultra-chocolate treat extra special. Stir 1 tablespoon of the vermouth into the egg mixture, if you like, to make this a little more festive and aged.
to equip 20 minutes
cook 20 minutes
Cold 3-4 hours
Make 1 large tablet (or 2 small) registers
Memorizes 1 week
30 grams barberryor cranberries
1 large tablet orangefinely grated zest to get 1½ tspthen juice to get it 45 ml
80 grams Soft brown sugarPlus ¼ tsp Additional about barberry
Sea salt scrub
140 gr 70% dark chocolate cocoa
80 grams Milk chocolate
80 grams Almond peelroasted and coarsely chopped
80 grams Walnut Ginger Biscuitbroken into small pieces
40 grams Mixed peelcut into 1 mm pieces
1 egg Plus 1 egg yolk (save the white for another use)
Half a teaspoon of ground ginger
8 green Cardamom podssplit, seeds extracted and finely ground in a mortar – you like ½ tsp ground seeds
⅛ teaspoon freshly ground nutmeg
1¼ tsp ground cinnamon
⅛ teaspoon ground cloves
1 tbsp icing sugar
1¼ tsp sumac
Place the barberry seeds in a small saucepan with the orange juice, an additional 1/4 teaspoon of the sugar and a pinch of salt, place over medium heat and simmer for a minute or two. Mix well, then set aside so the barberry juice can absorb the juice and fill up.
Fill a medium saucepan one-fourth full with water and bring to a simmer. Place the chocolate in a medium bowl and add 1/4 teaspoon of the salt. Lower the heat under the boiling water, then place the bowl of chocolate over the saucepan, making sure that the base of the bowl does not touch the water. Stir until chocolate melts, then remove pot from heat and stir in orange peel, almonds, nuts, ginger, and mixed zest, until well coated.
Place the whole egg and egg yolk in a medium bowl with the rest 80 grams sugar and all the spices and a pinch of salt. Place this mixture over a pot of boiling water and whisk for two or three minutes, until the sugar has dissolved, the mixture has become fluffy and has doubled in volume. Remove the heat, stir in the soaked barberry berries and chocolate mixture, and let it cool for five minutes—don't leave it any longer, or it might set.
Lay a large sheet of greaseproof paper on a flat surface and pour the chocolate mixture into the center of a coarse sausage shape. Fold the paper over the chocolate and use the paper to mold the chocolate mixture into a longer sausage, about 30cm long by 3cm wide. Twist the ends to seal in the mixture, then transfer to a large tray. Place it in the refrigerator for three to five hours, reshaping the record inside its paper every 30 minutes, so that it will be nicely rounded as you set.
Once the sausage is completely set, peel off the paper and place the log back on the tray. Sift the powdered sugar into a small bowl, mix in the sumac, then sprinkle over the whole stem, and shake the tray to roll in the sugar mixture until completely coated.
Wrap in clean greaseproof paper, wrap ends closed and tie with decorative ribbon. It will keep in the refrigerator for up to a week.
Coffee and tequila infused with cocoa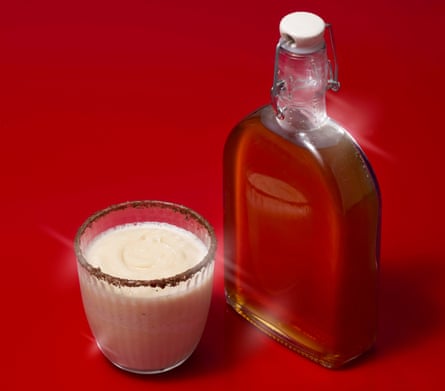 This is a great gift for someone who loves an espresso martini or white russian, and it can be made weeks in advance. Keep the original bottle of tequila, as it is a useful container for your gift; If you like, remove the original sticker and replace it with one you made yourself. I've also provided instructions on how to make a tequila frappe cocktail, inspired by Mexican flavors and Vietnamese coffee, for which I'm thankful to Orin Coleman, Head Barman at Rovi's.
to equip 5 minutes
cook 5 minutes
soak 48 hourss
Memorizes 2 months+
1 x 750ml Blanco tequila bottle
100 gr light brown sugar
20 grams cocoa nibs
25g coffee beansslightly crushed
1 vanilla poddivided lengthwise (or 3 spent horns or 1 tsp Vanilla extract)
1 inch Chili pepper (7g), or mulatto peppers
To prepare the tequila frappe cocktail (serves 4 people)
1 tsp coffee beans
1 tsp cocoa nibs
¼ tsp light brown sugar
1 lemon wedge
60 ml condensed milk

First the tequila is infused. Place the first 4 ingredients in a sterilized 1½ liter jar. Scrape the seeds out of the vanilla pod, if using, and drop both the pod and seed into the jar.
In a small skillet over high heat, roast the peppers for 20 seconds on each side, until fragrant and soft, remove and discard the stem and seeds, and add the flesh to the jar. Roll up the cap, shake well and let it steep for 2 days (don't give it any more than that, or it will turn bitter); Shake the jar once or twice a day to release the flavors. The mixture will turn a dark coffee colour.
Pour mixture through a fine-mesh sieve over a large bowl and discard all solids except for the vanilla pod. Return the liquid and vanilla to the jar (or pour it into a bottle), seal it, and store it in a cool, dark place, where it will keep for at least two months.
To make a tequila frappe, make a coffee salt rim first. Put the coffee, cocoa, sugar, and one-eighth of a teaspoon of salt into a mortar or spice grinder, grind very well, and then toss into a wide, shallow bowl. Slide a lime wedge around the edges of four martini glasses (or mini glasses), then roll the edges in seasoned salt to coat.
Pour 120 ml Wet tequila in a blender, add condensed milk and 160 gr ice (about eight cubes), then blend for 30 seconds, until smooth and fluffy. Divide among four glasses and serve cold.