wWhether it's Thanksgiving or otherwise, the best parts of many holidays are the things served on the side. They can often be made ahead, happy to wait until the centerpiece is ready, and tend to be more full of flavor and texture than the main event, too. This is not to say this is an either/or situation, though: grilling needs sides and sides need grilling. Which is another thing to be grateful for when you sit down to any celebratory meal.
Pumpkin glazed with tahini and pecan gremolata
Using chickpea flour here is a neat trick: it helps the marinade stick to the squash better and creates a nice spicy crust. If you don't have any, simply delete it. All of the toppings can be made ahead of time, ready to assemble the dish at the last minute, but add lemon juice to the gremolata just before serving.
to equip 25 minutes
cook 35 minutes
serves 4-6
1 small pumpkinpeeled, cut in half crosswise, de-seeded and cut into 3cm (600g) wide wedges
2 red onions (320g), peeled and cut into 3cm wedges
1 tablespoon of rosemary leavescoarsely chopped
¼ teaspoon of chili flakesor chili flakes
Half a teaspoon of ground ginger
Half a teaspoon of ground cumin
½ teaspoon ground cinnamon
Half a teaspoon of light brown sugar
Half a teaspoon of chickpea flour (AKA gram flour – optional)
salt
3 tablespoons of olive oil
3 garlic clovesPeeled and cut into thin slices
For balsamic and date glaze
70 ml of balsamic vinegar
50 ml date syrup
for gremolata
50 grams of pecansroasted and coarsely chopped
15 g of mint leavescoarsely chopped
15 grams of coriandercoarsely chopped
1 lemonfinely grated, to get 1 tsp, then squeezed, to get 2 tsp
To prepare the tahini sauce
60 grams of tahini
1 teaspoon lemon juice
First, make the glaze. Put the balsamic and date syrup in a small saucepan with one-eighth of a teaspoon of salt and bring to a boil, bring to a boil for 2 minutes, then remove from heat.
Preheat oven to 210°C (Fan 190°C) / 410°F / Gas 6°. Place the pumpkin, onion, rosemary, spices, sugar, gram flour if using, and 1/2 teaspoon salt in a large roasting pan and toss to coat evenly. Drizzle in oil, toss again, and roast for 20 minutes. Gently toss garlic and roast for another 10 minutes, then pour over 2 tablespoons of the glaze and roast for another 2 minutes. Remove from the oven and leave aside to cool slightly.
Meanwhile, make the sauce. Put the tahini, lemon juice and 1/8th teaspoon of the salt in a medium bowl, gradually whisking in 45ml of cold water until you have a silky sauce, then set aside.
Just before serving, combine all gremolata ingredients in a small bowl. Arrange the pumpkin mixture on a large lip-covered platter, drizzle the tahini sauce all over the top and drizzle with the remaining glaze. Served with gremolata.
Brussels sprouts with cavolo nero and chestnut crumble
This crumb, which brings a nutty richness to vegetables, would be equally at home on some salad leaves. If you want to go ahead, prepare the vegetables the day before, but don't be tempted to make the crumbs until right before serving.
to equip 20 minutes
cook 30 minutes
serves 6 as a side
35 ml of olive oil
2 red onionspeeled and cut in half, then each half cut into 6 wedges (190g)
Salt and black pepper
2 tablespoons of balsamic vinegar
2 teaspoons of dark brown sugar
750 grams of Brussels sproutstrimmed and cut in half
1 clove of garlicPeeled and powdered
150 grams of black cabbageStems removed (reserve for stock), leaves cut into 6cm (70g) strips
130 grams of baconCut into cm pieces
10 grams of sage leaves
80gm packed cooked and peeled chestnutscoarsely chopped
Place a large skillet over high heat, and when hot, add 1 teaspoon of the oil, the onion, and 1/2 teaspoon of the salt, and cook, stirring frequently, for five minutes, until the onion is slightly charred and translucent. Stir in the balsamic vinegar and sugar until the onions are well coated, then transfer to a large bowl.
Wipe out the pan and put it back on high heat. Once hot, add 2 teaspoons of oil and place half of the cut buds side down. Sprinkle over three-quarters of a teaspoon of the salt, then cook for three minutes, flipping once halfway through, until the sprouts are slightly charred. Transfer to a small bowl, return the skillet to the heat and repeat with 2 more teaspoons of the oil and the rest of the sprouts. Flip all the sprouts back into the skillet, add a good amount of pepper and cook, stirring, for another 2 minutes, then add to the bowl of onions.
Return the skillet to a medium heat. Once hot, add the last 2 teaspoons of oil and garlic and sauté, stirring, for 30 seconds. Add the nero cavullo, 1/4 teaspoon salt and 1 tablespoon water, cook, stirring occasionally, 2 more minutes, until wilted, then scrape into bud and onion bowl.
Now make an avalanche. Put the pan back on high heat, and fry the pancake, stirring occasionally, for 2 minutes, until golden. Add the sage and cook for a minute until it turns dark green, then add the chestnuts.
Invert half of the kofta mixture into the sprout bowl, then spoon the sprout mixture into the large lip-lined serving dish. Spread the remaining mixture over the rusks and serve hot.
Shallot and anchovy gratin with a crispy topping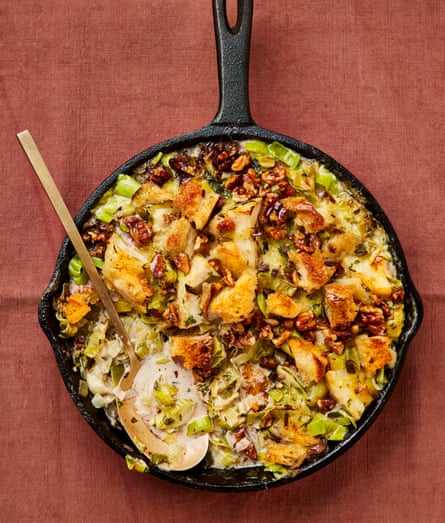 This addictive one-pan gratin will find a happy home on any Thanksgiving table. To go ahead, make the base a day in advance and refrigerate it.
to equip 25 minutes
cook 45 minutes
serves 6
1 kg of leektrimmed and cut into 5mm (850g) thick rounds
4 cloves of garlicPeeled and powdered
1 small celery (550g) peeled and cut into 5cm pieces
75 grams of unsalted butter
9 anchovy slices in oil3 finely chopped, the rest left whole, plus 2 teaspoons of oil
Sea salt and black pepper
150ml chicken (or vegetable) broth
50 grams of Parmesan cheesefinely grated
250 ml double cream
20 grams of tarragonPick its leaves and chop finely
15 grams of parsleyPick its leaves and chop finely
160 grams of fermented doughscales removed (90g mesh), and torn into 2-3cm pieces
50 grams of walnutsroughly chopped
Preheat oven to 190°C (fan 170°C)/375°F/gas 5. Place a large, ovenproof, 11-inch skillet over medium-high heat, add first four ingredients, six whole anchovy fillets and one teaspoon of salt, and cook with Stir-fry for eight minutes, until leeks and celery are softened and light in color. Add the broth, parmesan cheese, cream, herbs, grind the pepper well and remove from heat.
Place the chopped anchovies, anchovy oil, bread, and walnuts in a medium bowl and stir to combine. Sprinkle the bread mixture over the leek and celery mixture, then bake for 35 minutes, until the topping is golden.
Take it out of the oven and let it rest for 10 minutes, then serve it hot.