FFinally, after five years of goodwill, I hit The Dog & Gun Inn in Skelton, a Michelin-starred pub seven miles northwest of Penrith. The fact that Cumbria now has more Michelin stars outside of London is one of the strangest things I've ever seen happen in my life, not least because many people couldn't find 6,769 square kilometers on a UK map and still confused Cardiff with Carlisle.
There is great irony in the fact that a chef like Ben Quinn-Fryer can take on the classic Cumberland country pub, modeled on thousands across the country that flourished for years before sadly closing, giving shape to the Michelin knocking, only then to be mostly ignored in many from the Best of Cumbria lists due to local competition. Crucially, though, Dog & Gun is not at all like L'Enclume in Cartmel, Allium in Askham Hall, Forest Side in Grasmere or any of the other great beasts of the Lakes that serve up ornate multi-course fine dining to gourmet tourists. . Instead, it's a charming, relatively unchanged, quite unassuming country pub you might assume only serves Cumberland sausages and mash and bags of Scampi Fries.
And this is the absolute normal, mixed with the likes of twice-baked Torpenhow cheddar and black truffle garnish, and that's absolutely magical. This soufflé, cloudy and tart, with creamy but airy guts and a crisp, browned top, very Good, and it comes in an iron skillet, hot and sits in a puddle of cheddar goo with a truffle mohawk on top. Ahead, we devoured every last morsel of a large breadboard filled with warm, shiny rosemary-salt focaccia with romesco-dipped ramekins, scented with almonds, garlic, and pepper, and a sweet, soft brioche with whipped butter topped with toasted yeast. The pros always tell you to skip the bread, because it spoils the following courses, but here it would be wrong. Someone in this kitchen can really bake.
Dinner at Dog & Gun is hearty and comforting, not a parade of small plates and tales of local farmers. In fact, no one here tries to tell you the source of any ingredient whatsoever, which is totally fun — there's a menu with all the details already in there, naming the farmer who breeds the Dexter beef and the couple in Allerdale who make the cheddar. Instead, the in-house staff handles the important stuff like pouring pints and setting logs on the fire.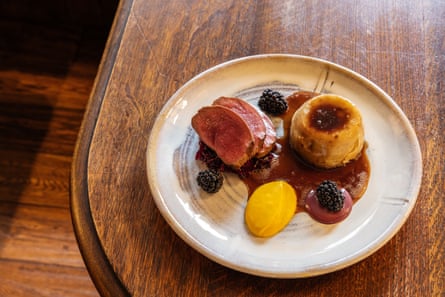 Three courses cooked to this standard for £55 quite a surprise in this day and age, especially when they include the likes of fat-encrusted, golden scallops with creamy celery and toasted hazelnuts or poached pork raviolo with sage and pine nuts. Not only does a main of venison at Cartmel Valley feature thick, juicy, pink slices, it also has a wobbly suet pudding full of rich, braised meat that goes well with a giant bowl of chips.
The other main of halibut comes with toasted sourdough crumbs, but the absolute star of this particular dish is the sweet vermouth butter sauce, wine and citrus all at the same time. Sauces are perilously difficult to come by, but when they are just right, they are the highest point of excellence in the kitchen.
By this point in the diner, I was beginning to worry that Chef Ben might move on from this beloved pub and open one of those places where well-behaved gentlemen are not allowed at the bar and dinner continues after 11pm. I love Dog & Gun just the way it is, with its local ladies tables outside for something a little fancy, like a bowl of Cep risotto or hogget done three ways with piquante sauce. The finest dinner doesn't need to be painfully loud flutein.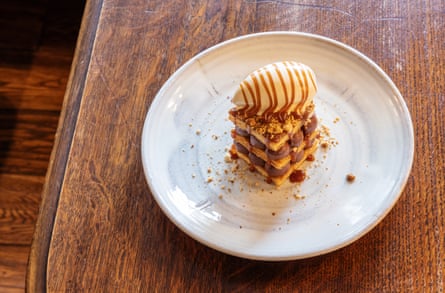 The best part about the dinner was the dessert course, words I rarely write (though now that you mention it, I said the exact same thing last week). The second soufflé of the evening, a dreamy damson with frangipane ice cream, had all the beauty of a bread tart dripped into a small iced scoop. Featuring a thick Valrhona ganache between a sweet pastry crumbly and perfect, all topped with salted caramel and toasted hazelnut ice cream, the dark chocolate millefeuille has already won the 2022 Pudding Award, and it's only mid-November. No bell for that, by the way: just a prize for seeing me drag a sentimental spoonful across an empty bowl and plan to return as soon as possible.
The Dog & Gun isn't really anywhere near, only has a few tables and does a good job of casually pretending it's not a Michelin starred establishment at all. But their game is up, because I got there last and I can tell you with certainty that this is the real taste of Cumbria.
The Dog & Gun Inn Skelton, near Penrith, Cumbria, 01768 484301. Open dinner only, Tue-Sat 5.30-11pm. From £55 per person for three courses, plus drinks and service.

The next episode of series four of Grace's Comfort Eating podcast will be released on Tuesday 22nd November. Listen to it here.