aLord companions. Sticky little sausages from being cooked around grilled meat, bacon wraps and roasted potatoes, buns of pork stuffing and a creamy breading sauce, nutmeg for the bird. There's cranberry sauce, game chips, Brussels sprouts, bacon, and of course a jug of steamed broth. These are my favorite pieces of feast and I can eat them on their own without having to grill. They are classics and in my opinion a pretty unwavering part of the Christmas table.
However, I like to find the changes too: a crunchy salad set aside smoked salmon or served with a plate of oysters; Grilled parsnip with pomegranate raita. And stuffing studded with cranberries and chestnuts. In addition to roast potatoes, I will occasionally cook them in slices, with goose fat and rosemary (it's great to cheer up a plate of cold roast pork). At the end of a meal, I often scrape off the brandy butter and make a scented custard with cardamom or rose water—sometimes both—and put it on slices of plum pudding or mince pie.
All the recipes in this collection will accompany the Christmas classics, but they really shine on Boxing Day, when we bring cold cuts to the table. Roasted parsnip with beef slices. Potato goose with cold ham. Or a salad of root vegetables and blackberries with leftover roasted walnuts – all of these ring the bell.
Beetroot and celery with pickled blackberries
To accompany smoked salmon or trout, cold roast turkey, goose or beef, cold ham or roasted nuts
Sometimes we need a crunchy salad with a sharp sauce, something that contrasts with the richness of eating at Christmas. Beetroot and celery are sliced ​​thin like Christmas wrapping paper, and tossed with pickled blackberries and mustard dressing as an accompaniment to smoked salmon and trout or slices of cold roasted goose or pork. This is a salad that will make pork pie wedges or terrine wedges a coarse texture. Last Christmas we brought it to the table on a shallow white plate on Boxing Day, where it sat comfortably alongside a warm, wild-sized nut quiche.
Serves 4
for blackberries
red wine vinegar 150 ml
fine brown sugar 75g
yellow mustard seeds 1 teaspoon
sea ​​salt ½ teaspoon
blackberries 250 grams
for beetroot
raw beetroot 300 gr
celeriac 300 gr
olive oil 3 tablespoons
Grain mustard 2 teaspoons
white wine vinegar 1½ tablespoons
liquid honey 1 tablespoon
dill 10 grams
Put the red wine vinegar and fine brown sugar in a medium-sized stainless steel or enamel saucepan and bring to a boil. Add mustard seeds and sea salt. When the sugar has dissolved, cut each berry in half and add it to the hot vinegar and sugar. Transfer fruit and liquor to a sterilized jar and seal.
Peel the raw beetroot and cut it into thin rings. Put them in a mixing bowl. Peel the celery and remove the roots and crown, then cut the flesh into very thin slices. Cut each slice into quarters (or use a cookie cutter to make smaller rounds if you'd like).
Make the sauce: Put the olive oil in a small bowl, add the mustard, vinegar, and honey, then mix them lightly with a small fork or whisk. Add salt and coarsely ground black pepper. Add the beetroot and celery to the marinade, cover and set aside overnight. During the night, the beetroot and celery will soften a little.
Finely chop the dill fronds and add to the salad. Drain the blackberries and add them with 2 tablespoons of the sauce to the salad and transfer to a serving plate.
Roast the parsnip, mint and pomegranate raita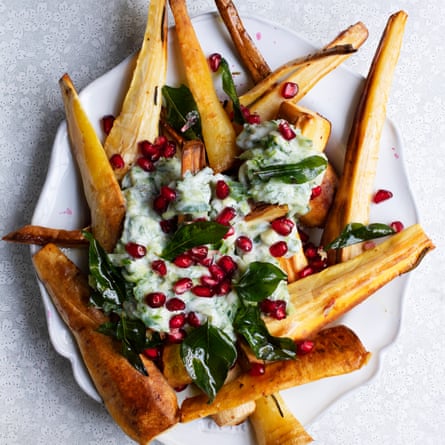 To accompany roasted walnuts, roast beef, roast pork and cold cuts
Every time I see roasted parsnip or whip it up into a fluffy puree, I think of the late Jane Gregson, who wrote this column for over 20 years, describing her parsnip soup with Indian spices that I make to this day. I'm not sure if her inclusion of curry spices led me to the idea of ​​serving roasted parsnip with an iced raita of mint and pomegranate, but it might as well. This is Christmas Eve or Boxing Day food, the kind of vegetable dish that comes with leftovers, such as a nut roast or cold turkey. The spicy parsnip and its tangy sauce dispense with any sign of 'leftovers'.
Serves 4
parsnip 1 kg
olive oil 50 ml
butter 50 g
Rosemary 6 branches
for raita
Cucumber 300 gr
green onion 2 small
natural yogurt 200 ml
ice water 80 ml
white wine vinegar 3 tablespoons
Mint leaves 20
pomegranate ½
to end
peanut oil 2 tablespoons
curry leaves 10
Heat the oven to a temperature of 180 ° C. 6. Peel the parsnip and cut it into quarters lengthwise. Place in a roasting pan, chop up oil, spread with butter, season with rosemary sprigs, black pepper and salt, and stir gently to coat with oil and spices.
Roast the parsnips for 35-45 minutes, until golden on the outside and soft and fluffy on the inside. The occasional rotation during cooking helps color them evenly.
While the parsnips are roasting, make the marinade: Grate the cucumbers coarsely (you don't need to peel them) in a sieve set over a bowl, salt the cucumbers lightly and let them drain for 20 minutes. This will make the cucumbers less wet.
Chop green onions. Place the yogurt in a medium-sized mixing bowl and whisk into the ice water. Add green onions, vinegar and finely chopped mint leaves. Cover it and put it in the fridge.
Heat the peanut oil in a shallow frying pan, add the curry leaves and let it fry over moderate heat until they start to soften, then remove and dry on a piece of kitchen paper.
Cut the pomegranate in half, extract the seeds, and set aside. Season the sauce with a little salt. Squeeze any moisture from the cucumbers and stir them into the yogurt with the pomegranate seeds (do this briefly, you don't want pink yogurt), then spoon them over the parsnips as soon as they come out of the oven, golden and sizzling. Finally, scatter the curry leaves.
Sausage, chestnut and cranberry filling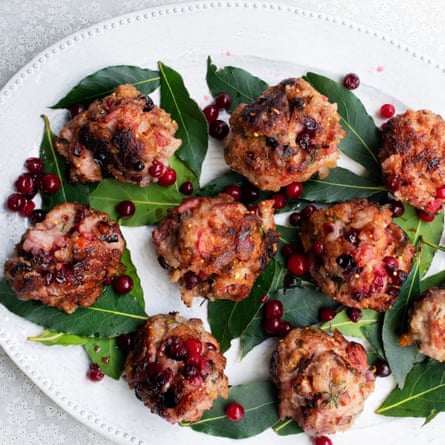 To accompany roast turkey, goose, roast pork or baked pork
I'm sticking to the theory – and it's a good theory – that any filling should be tasty enough to eat on its own. A good enough sausage, seasoned with soft onions, extracts of smoked bacon and breadcrumbs, is a good enough start, to which we can add herbs, dried fruits or crumbled nuts. It's a sound home to that bundle of chestnuts in the back of the cabinet or to chopped hazelnuts or plums.
Some pungent fruits, such as cranberries, lemon peel, or grated orange, are a thoughtful addition, as are some mustard seeds or a pinch of dried pepper flakes. I have enough to make at Christmas, so I use vacuum-packed, canned, or bottled chestnuts for recipes like this, while leaving fresh chestnuts to roast in their shells on Boxing Day.
Makes 12 big balls
an onion 1
Spicy bacon 250 grams
olive oil 2 tablespoons
Mustard seeds 2 teaspoons
dried chili flakes 2 teaspoons
sausage 500 grams
dried bread crumbs 60 grams
sauerkraut 150 grams
juniper berries 6
thyme leaves 1 tablespoon
chestnut 75g peeled and cooked
Cranberries 150 gm fresh or frozen
Peel the onion, finely chop and chop the bacon into cubes. Heat oil in a shallow skillet, add onion and bacon and cook over moderate heat for 20-25 minutes until soft and golden. Stir regularly, partially covering with a lid if necessary.
Remove from heat and combine in mustard seeds, chili flakes, sausage meat, breadcrumbs, and sauerkraut. Crush the juniper berries using a pestle and mortar, chop the thyme and chestnut leaves, then add them along with the cranberries to the filling. No point fiddling with the spoon here, getting your hands on it is the best way to mix all the ingredients together.
Form the filling into 12 large balls, each approximately 70 grams. Heat a shallow layer of oil in a shallow frying pan, set over moderate heat, and brown the balls on all sides. It is important not to stir the balls until the base of each turns brown, then you can turn them gently with a spoon or palette knife and brown the rest. Set oven to 180°C, fan/gas mark 6.
Incubate the filling balls in a roasting pan or baking dish, add a little oil (or whatever is left in the pan) and bake for 25 minutes, until golden and sizzling.
Potatoes with goose fat and rosemary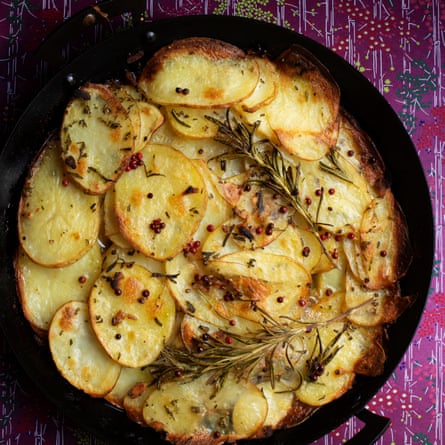 To accompany roast beef, cold pork and grilled salmon
Of all the smells of Christmas – the pudding flying in its canvas; minced meat patties with sugar in the oven; Roast goose – It's the potatoes roasted in goose fat that speak the loudest to me. I can think of few things better to eat than potatoes, thinly sliced ​​and cooked in goose fat. It's a layered dish – soft slices almost melt at the center of the dish, so you eat it with a spoon, the crisp outer edges, and then oh my goodness, the slices you need for prizes from the bottom of the dish with a palette knife – crisp, mushy, chewy all at once. This is a well-meaning recipe that will stay warm while you prepare the rest of the meal.
Serves 4
Potato 1.3 kg
Goose or duck fat 180 grams
Rosemary 6 branches
garlic 2 cloves of fat
pink pepper 2 teaspoons
Wash and dry the potatoes and cut them into thin slices. No slice should be thicker than a pound coin. Place them in a mixing bowl with the goose or duck fat. Remove the leaves from the rosemary and chop finely – you should have about 2 tbsp. Spread it over the potatoes. Set oven to 180°C, fan/gas mark 6.
Peel the garlic and cut it into thin slices, then add to the potatoes with abundant seasoning of salt and black pepper. Flip the potatoes to coat evenly with the fat and seasoning, then place the slices neatly or hogger magher as you like, in a large roasting pan – I'm using a 30cm diameter one. Cover it with a lid or a piece of aluminum foil.
Bake for 1 hour, then remove the lid and continue to cook for another 30 minutes, until the potatoes are golden and tender. (Test it with a skewer, it should slide through the layers effortlessly.) If desired, 10 minutes before ready scatter a few pink peppercorns.
Custard with pistachio and cardamom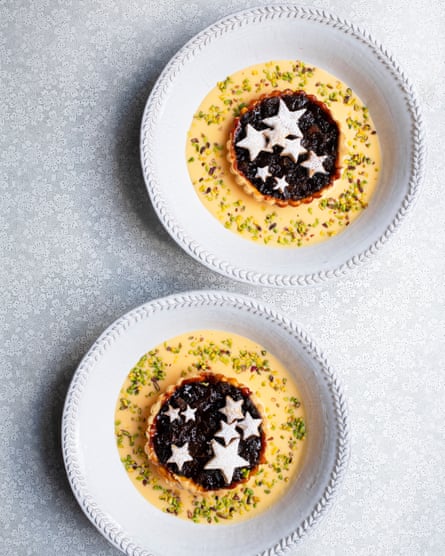 To accompany Christmas pudding, mince pies, apple pie or grilled panettone wedges
As much as I find the nutmeg and citrus flavors of traditional buttercream brandy one of the little joys of Christmas, I realize their uses are somewhat limited. A large jug of marinated custard for eating warm or well cooled is the most versatile. (I've been known to pour it on slices of birthday cake.)
Makes 500 ml
green cardamom 10
full-fat milk 250 ml
double cream 250 ml
yolk 4
fine sugar 50 g
pistachio 50 g canteen
Crack the cardamom pods with a rolling pin or pestle, then adjust the small black seeds.
Grind the seeds into a coarse powder and place in a medium saucepan. Pour in the milk and cream, then put on a moderate heat and bring to a boil. Watch carefully and as soon as the milk begins to rise upward, remove the sides of the pan and set aside.
Beat the yolks with sugar, then pour over them the cardamom milk through a sieve (to catch the cardamom). Stir the milk with the eggs and sugar, wipe the saucepan and return the custard to the fire. Watch carefully (honestly, don't take your eyes off it for 1 second), and stir it almost constantly until the custard starts to thicken. Immediately remove from fire and set aside.
Finely chop the pistachio and sprinkle it on the surface.
If by any chance the custard is too hot and starts to turn granular, you need to get the heat off it as soon as possible. Pour into a cold bowl, dip the bowl in cold water, and whisk as vigorously as possible until the sauce is smooth and creamy.