Ellis Restaurant, Town Hall Hotel, 8 Patriot Square, London E2 9NF (020 7871 0460; restaurantelis.co.uk). Small plates £8-13, large plates £16-38, desserts £7-10, wine £30
True, dinner didn't get off to a great start. There were the three times I had to explain that no, I wasn't eating myself, I was just the first to arrive and can you stop trying to get rid of my companion's cutlery. He would need it. There were two presentations of cocktails and two to explain the menu, a briefing that few people enjoy the first time, let alone the second. But let's put it all down to the connection issues that can be ironed out.
This was the biggest problem. After months of great meals across the UK at fair prices where no one tried to explain the menu to me even once, I returned to London and had a relaxed dinner, including the second cheapest bottle of wine, costing £110 per person. It was just good. It wasn't terrible. There were two bland dishes, few of which passed without distraction from the conversation, and a frustrated couple. Followed by the kind of bill I associate with memories made, culinary cleverness and overall splendor.
Then, as I stomped the steps of the architecturally splendid Bethnal Green Town Hall in East London, home to the newly opened Elis Restaurant, I felt I had become one of the people to criticize these views with fleeting fury. 110 pounds per person? In the midst of a cost-of-living crisis? How dare you blood? I know the arguments: Restaurants aren't anyone's idea of ​​a necessity, but there are no tickets to premium football, West End shows, new iPads, or horizon-widening vacations. However we allocate acres of space for these.
In bleak economic times, there are still plenty of people who can buy pretty things. Plus, we can keep both ideas in our heads at the same time: that people struggle terribly and yes, this sounds like a good way to spend money that I'm lucky enough to have. Just a few months ago I argued that giving up restaurants when you can afford them was a deeper way to stagnate, not get out of it. But really, it should be worth it.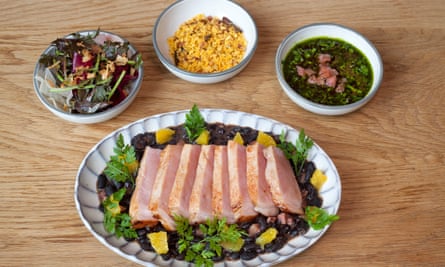 Anyway, let's get into the details. Elis is the second restaurant for Brazilian-born chef Rafael Cagalli, who has a Michelin star Da Terra across from the hard-to-navigate City Hall. His food draws deeply on his Brazilian and Italian heritage. Supposed to be a comforting redundancy compared to the bells and whistles of Da Terra, the tasting menu is £215 per person. Like his mother's first jazz bar in São Paulo, it was named after Brazilian singer Ellis Regina. Hence the square box of the corner room, with its pendant lights and half-timbered panels, all designed to reflect the robust structures of the building in which you sit, and resonate with the strains of old-school Bossa.
The list does not need much explanation. It's divided into small plates and large plates, all set for sharing. The choice of bread for £8 is practical, although it comes with nice cultured butter and a small bowl of stringy stracciatella, which lubricates the dry well a bit. The Porchetta tonnato, for £12, is an eerie reversal of the usual dish. Shredded tuna and anchovy sauce sit under the thin curls of roast pork rather than the other way around. It works well enough. An Italian dish of rice steak, served in hollow bone, very beautiful and well prepared. The phrase "churros pecorino" makes a delicious and juicy version of these beautifully popped, deep-fried donuts. These are dense, clumsy and mouth drying. A plate of fried food arrives on our table, leaving it unfinished.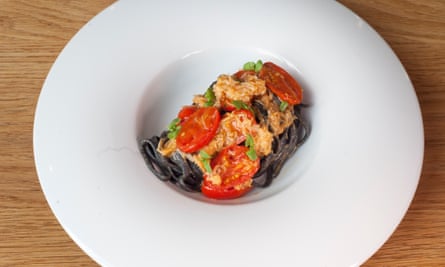 However, the fresh grilled mackerel, the slightly blackened salty skin, and the flowing oils are a real treat; Delicately soft, sour fennel curls are the perfect flakes. Crab linguine, gray with ash according to our waiter, is included among the larger plates, but is a delicious portion for £18. However, it's good pasta and sautéed properly, with cherry tomatoes dipped in the heat of the sauce. The most Brazilian dish is the Iberico pork, which is served very pink, on a deep black bean stew. It's fully stocked: there's loose chimichurri, a bowl of farova, a solid meal made of roasted cassava, and a small salad. It's £38. And now I can hear the bill going up.
We order the Guava Cream Caramel because it looks sexy and exotic. Comes covered with a beautiful piece of lacy sugar work. As my companion raises the spoon, he tells me how much he loves the supermarket caramel cream in their tattered clear jars, six for £1.15 from Asda. We each take a spoon and look at each other. "It's exactly the same," he says. I agree that it is. We obviously love that; It's £9, less than that. However, we adore the indescribably warm light buns, filled with dulce de leche. They finally kept the promise that the crossover had broken.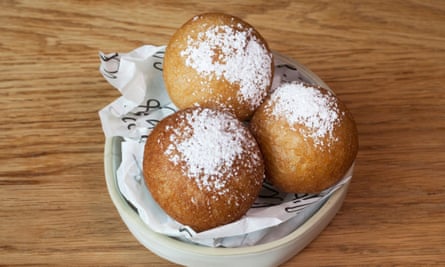 We have a £35 bottle of Abruzzo from the short wine list, which is overseen by the knowledgable team of Noble Rot. This, a cocktail, and a glass of wine each, and we have our bill for £222. It includes 12.5% ​​service, but there's also an open space at the bottom for an added bonus. I doubt it. Waiter says being inside a hotel is weird, they hate it and they fix it. It comes to my mind that if they really hated it that much, they could have put a line through it with a pen.
I know about rising rents, rising salaries, and rising component costs. I know about all of that. Times are tough. I want restaurants to succeed, but experiences like this, which charge memorable money for an experience that will be forgotten in the morning, don't help. Not far from Elis is Manteca, which makes its way around a similar array of dishes and ideas, but with a much greater intensity and instinct for feeding. Oh, the brown crabmeat casio e baby. It is not cheap but it is cheaper. Which is very good. I knew, when I visited Manteca for the review, that I would be back and spending my own money there. And I have several times. I'm really sorry that I can't say the same about Ellis. It's that easy.
News bites
It's that time of year when the restaurant industry comes together to raise money to help tackle the effects of homelessness through the StreetSmart campaign. More than 540 restaurants, including Adams in Birmingham, The Fat Duck at Bray and Mana in Manchester and The Palmerston in Edinburgh, have agreed to ask each table to add £1 to their bill to help raise funds. To find out more, and to see a full list of participants, visit streetmart.org.uk.
Part-time chef and full-time child psychologist Jaya Chanda has launched a fundraising campaign for flood relief in Pakistan, with benefits only. For a donation of at least £12, she'll send you a dal-making kit, including lentils and spices, as well as a recipe from her grandmother's kitchen. All you have to do is add onions, tomatoes, ginger and garlic. For a donation of at least £15, you'll wrap it as a Christmas gift in Indian fabric and add your own personal message. Donate here: Crowdfunder.co.uk/p/diy-dal-kit-for-pakistan-flood-relief
The challenge with most online gastronomy courses is that they require you to source the main ingredients yourself. A new project called Oma Kitchen tackles that. Their video courses, which cost £69.99 each, cover dishes from the likes of Korea, Mexico and North India and come complete with not only access to instructional videos, but also recipe brochures and pantry basics. The Mexican course, taught by chef Carla Zazueta, comes with ancho peppers, arbol and guajillo as well as various spices and Mayan chocolate. Visit oma.kitchen
Email Jay at [email protected] or follow him on Twitter MustafaHosny Oh God, Amen