IBritain is on the brink of collapse, so Saturday night Brighton has yet to get the memo. Queues at Wagamama and Serpent Bell are outside their doors, and there are revelers everywhere, jubilant. There's no room to get at the mid-priced, friendly group-like Côte, Browns, and Ask. No, these restaurants don't have the wow factor that little freelancers do, but there is a feeling that these big beasts will weather the next winter's frost. Fancy, on the other hand, is a fickle and expensive thing – one of the coolest restaurants I know has just put together a small plate of Jerusalem artichokes for £19.50, which is like Much.
Increasingly, when booking a table for a group, the focus is heavily on cheap and cheerful products; Somewhere with big tables, an agreeable white house and food that fills you up. In this hidden landscape comes Toto, a spacious European brasserie, partly in Art Deco style, offering a menu they describe as "Memories of Italian Food – Our Memories, Your Memories." More precisely, they serve small portions of pappardelle at £14 a bowl or a piece of sea bass on some dirty leeks for £22, while a side of new roast potatoes come at five. They don't make pizza, but they will do you a salumi plate featuring vinocuna, cuban, spot and pickled fennel for £12. If all of that sounds pricey, well, unfortunately, that's the lie of the earth these days: This super-cool Jerusalem artichoke I mentioned earlier is accusing 23 ravioli makers. Things are wild there.
Meanwhile, at Tutto's more pocket-friendly, 'crocchetta' lasagna – two large blocks of fried and rusk-covered lasagna – costs £7. But here's the thing: Somewhere in the quick collective frying of this lasagna, all the fun of oozing cheese, softened béchamel, or rich beef is lost, leaving you with mighty slabs of fried pasta sheets. They'll line your stomach, but a little more.
The tutu is also terribly lit; It is neither a sentimental blink nor an advantageously bright. They've spent a lot on art and proper paint, but the lighting makes it – and by default – dull. However, the staff are bright and friendly, and the bar can pull off a cool, laid-back street, which you definitely won't get at Pizza Express. The acoustics in the back room are also awful: when a table of 10 sat next to us, the noise was so bad, I started communicating with Charles via WhatsApp.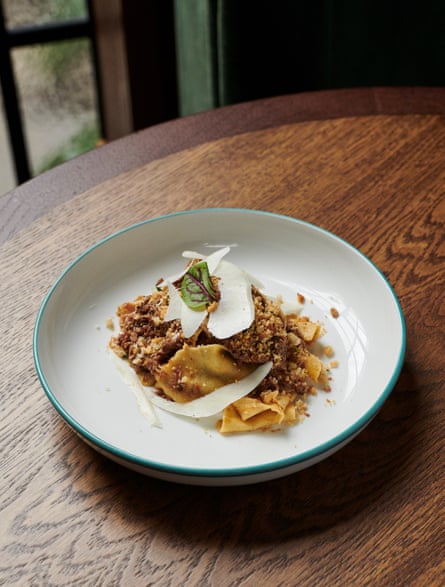 However, Toto's biggest problem thus far is her food – or rather the discrepancy between the dream of her food as presented on the menu, suggesting great produce and mild feasts, and the agonizing fact that there are chefs here who can't cook pasta. The pappardelle and tagliatelle were both undercooked in places. Tagliatelle Cheese and pepper With black truffle it should be a pounding of rich ecstasy; Almost done, with a thin, slightly seasoned sauce on the bottom of the bowl. The server hooked up the salt mill, so I gave her a few scoops. Now I have the same pasta with lumps of rock salt. The slow-cooked pappardelle was a little better, but it was a million miles away from the painstaking versions made in Trulo or Bancon.
A small burrata arrived with what was promised as black figs and an autumnal caponata, but what came was a very vinegary brown eggplant soup topped with a few unroasted pine nuts and a couple of slices of moist, unsweetened figs. I suspect this is a menu written by someone who genuinely loves Italian food and wants to serve osso bucco with gremolata to the hungry crowd, but the raw materials are not of sufficient quality. It would take Angela Hartnett to do the extra time to make this fig mysteriously edible, and I think she's already busy. Meanwhile, sea bass, undercooked but oddly moistened, was served atop a pale puree of leeks, wild mushrooms, and garlic. This dinner will not sarcastically be waxed on his deathbed.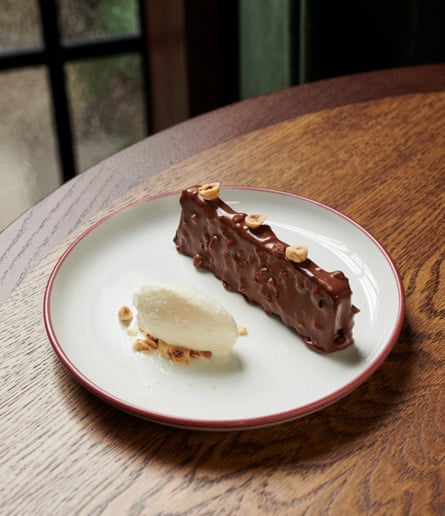 We ordered the chocolate tart for the pudding, expecting nothing, only for it to be one of the best desserts I've had in ages. I was envisioning a slice of the horrible tart, but what looked like an Iced Chocolate Feast was on the side and topped with hazelnuts. It was really excellent: a hard, flavorful crust filled with a very good, rich and sticky ganache and a big scoop of milk cream Ice cream on a bed with more hazelnuts.
In fact, whoever came up with this dessert should take charge of the entire menu. Toto would feel alienated from trans Italians – a reimagining of their homeland that wouldn't make them feel a bit homesick.
everybody 20-22 Marlborough Place, Brighton, East Sussex, 01273 031595. Open lunch Thursday – Sunday, noon – 3.30 pm (7 pm Sunday), dinner Monday through Saturday, 5-10 pm. From around £50 per person plus drinks and service

The next episode of the fourth series of Grace's Comfort Eating podcast is released on Tuesday, November 15. Listen to it here.