"The most destructive thing we humans do is eat," says Joost Bakker.
In terms of sentences that catch your eye, the introduction to the new Australian documentary Greenhouse by Joost is right there. Then again, Packer—a multidisciplinary designer, no-waste advocate and protagonist of the film—has always been an agitator.
As a florist, he caught the eye by combining plant life, electric clips and steel frames to create surprisingly flower arrangements. He's used straw bales to build rooftop garden restaurants in central Australian capitals (as well as inspired branches further afield). He collected bones from diners in Melbourne, boiled them and served them in a soup kitchen.
In 2020, the Dutch-born, Australian-raised, over two decades of high-concept sustainability projects reached its zenith when he set out to build the food system of the future. Constructed in one of Melbourne's busiest areas, the three-storey off-grid house and urban farm produced all of his sustenance and food. Even cooking gas came from human waste and food (Google "biodigester toilet"). Ambition? Sure, but that's how he loves it.
"We can have it all," Packer told The Guardian Australia. "We can have homes covered in biology, plants, ecosystems and waterfalls. It's not necessary for us to destroy the planet or kill each other with substances that make us sick. The infrastructure is already in place. It's just about reimagining our suburbs and reimagining our buildings."
Packer remained throughout the project from set up to set-up, it was filmmaker Nick Patzias (The Australian Dream, 2040) who packed much of the excitement into the 90-minute documentary. While Covid and Construction provides moments of drama, the bulk of the film focuses on green thinking initiatives in the building. Steam from bathing is used to grow mushrooms. The baseless building rests on self-watering garden beds filled with 35 tons of soil. Cameras take viewers inside the Ballarat factory that produces the Durra panel: a biodegradable, fire-resistant wallboard and ceiling made of thatch.
Although Greenhouse by Joost will be released locally next week, Packer and his team have thoroughly documented and shared the project in real time on social media. Jeremy McCloud, co-founder of Melbourne-based architecture firm Breathe, says clients have already approached him with requests to include rooftop gardens in building plans, as well as to build with Durra Panel. (While customers refer to the Future Food System in relation to the latter, it should be noted that other influential buildings across Australia have also used the Durra board.) Although Breathe is a practice committed to sustainable thinking, McCloud says that Bakker Projects on another level.
"He's doing things we can't do as architects…we can never have those ambitious conversations with developers or governments that he's doing."
While McCloud encourages the rapid uptake of some of the solutions offered by Future Food System, he also recognizes that broad acceptance only comes with time. He points to his experience with induction cookers, a major initiative in the move toward electrified kitchens and away from natural gas. Although Breathe has been integrating these residential projects since 2016, the technology has not been accepted (to some extent) until recently.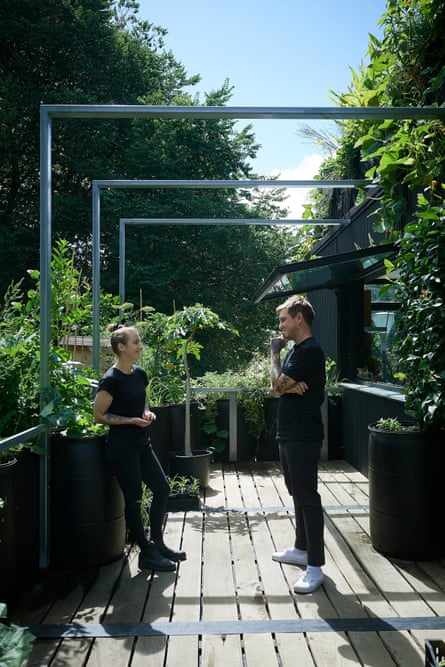 "We used to have massive resistance from real estate agents and developers, but now, it's not a conversation anymore," he says. "It goes to everything around Melbourne. But when we work in different cities, they demand gas because that's what the market expects. Just as the market has shifted in Melbourne, we need to wait for other markets to start the journey."
Although the name Baker is in the documentary, Joe Barrett and Matt Stone – Baker's business partners and in-house chefs – are equally important to the food system's future story. During the project, the then-couple fed themselves and guests with produce grown on the site.
Their creations included falafel-type balls enriched with crickets (insects are cheap, fast-growing protein that can be raised locally); an ice cream counterpart starring "Milk" made from a fast-growing tuber, tiger nut; And seafood dishes featuring maroon, yappy and trout grown in aquaculture. While this limited brew was a challenge, the chefs acknowledged that the experience ultimately proved rewarding. "I gained more confidence and grew as a chef in the time I was at home than I had in my entire culinary career," Barrett says.
"I think we've only scratched the surface of what's possible," Stone says.
In food circles, Melbourne chef Andrew McConnell of The Trader House Group (Cutler & Co, Cumulus Inc) watched with interest. In January, McConnell and his assistant Joe McGahn hired Packer as a consultant to help them tackle waste in their businesses. The group's food waste is now collected and composted by AG-tech Bardee; Traditional paper has been replaced by tree- and plastic-free "paper" from I Am Not Paper; They are on the verge of switching to bulk and condensed milk supplied by the Tasmanian-based The Udder Way initiative.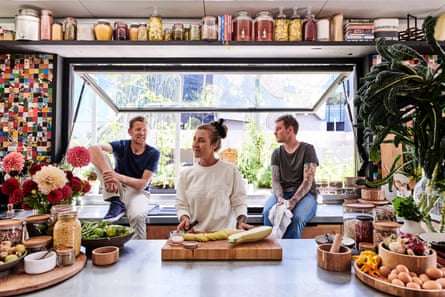 Although McConnell and McGahn were familiar with Baker's work, a vision of the future food system crystallized their decision to involve him more closely in their business.
"If we were doing this project without Joost, we would Google 'sustainable hospitality templates' and know who knows what," says Anna Augustin, project manager at Trader House Group. "He… knows people you don't find through normal channels."
But not all of the solutions featured in Greenhouse are completely sky blue. When I visited the project in April of this year, Stone and Barrett had left, so the food production side slowed down. Between staying up at night due to the sudden loud chirping of crickets, and drunken passersby clicking on my window in the middle of the night, I took solace in spying on more household solutions around the house. Low-flow cisterns in the bathroom seemed easy enough to implement; And the Greenhouse refrigerator is stocked with reusable containers, just like any other home.