"M"That's complicated nonsense about this Tuscan stew," the late chef Alistair Little said, of a dish traditionally made from little leftovers and stale bread. As with many no-waste dishes, you don't have to be very directive, but if you want to make riboletta (literally, "boil") from scratch, a few pointers may be helpful.
Vegetables
Like many Italian dishes, riboletta starts with a stir-fry of carrots, celery, and onions (Catti Caldesi uses red and yellow onions in the Italian cooking cycle, which gives them a nice sweetness).. It also tends to be too heavy for the greens. Cavolo Nero would be my first choice, for the strength of its flavor. and texture, but if you have another type of cabbage, chard, or leafy greens, just adjust the cooking time accordingly.
I also love caldisi leek silk, and have added some seasonal squash as well, though playing with whatever needs a house.
Aromatics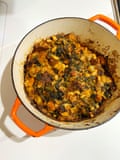 Add garlic to the beans as they cook, as in eating Lori De Mori in Beaneaters & Bread Soup. Although I can't taste the root ginger of Alvaro Maceoni, we love Angela Hartnett's fennel seeds and cayenne pepper, but herbs like thyme, rosemary or sage also make great additions.
starch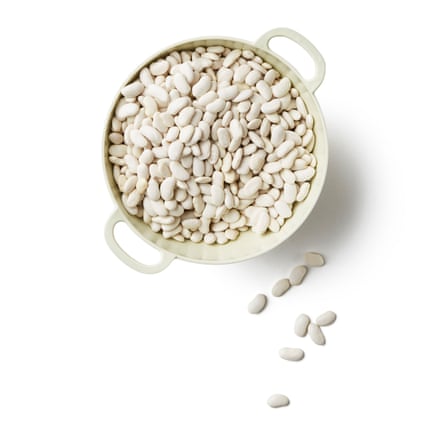 Cannellini beans are common in ribollita, but any pill will do the trick. If you cook it from dryness, add a bar of kombu to make it more digestible. De Mori and Maccioni mash some beans and stir in the broth with the obligatory bread to thicken it.
Caldesi and de Maury both bake ribolitas, but I'll put mine under the grill to soften the top, so I don't have to run the oven for long.
Add stock, or a dash of red wine (as James Ramsden suggests in his new book, Every Last Crumb) if you have some at the bottom of the bottle. Parmesan rinds (or those found in other hard cheeses) are rarely a bad thing in soups, and popping some sausage, as Valentina Harris recommends in her Italian regional cookbook, will help extend a little meat for a very long time. Which is what Ripolita is all about.
Perfect Ribulita

to equip 20 minutes
cook 2 hours, plus optional soak
serve 4-6
200 grams of dried cannellini beans (or other beans), or 400g canned baked beans (net weight)
2 cloves garlicpeeled and powdered
2 bay leaves (my choice)
1 bar combo (optional; or soak beans before cooking)
2 tablespoons olive oil
1 small onionPeeled and finely chopped
1 small red onionPeeled and finely chopped
2 carrotsfinely chopped, trimmed
2 sticks of celeryfinely chopped, trimmed
Salt and black pepper
Half a teaspoon of fennel seeds (my choice)
¼ teaspoon hot pepper flakes (my choice)
1 large leekWashed and cut into thick slices
200 grams of winter zucchinipeeled, seeded and cut into 1 cm coarse pieces
250gm black cabbageor the outer leaves of Savoy cabbage, or other greens, chopped
1 x 400g chopped tomatoes
1 Parmesan crust (or a similar hard cheese crust; optional)
200g old breadtorn into pieces
Extra virgin olive oilto serve
grated cheeseto serve
2 green onionssliced ​​long, for serving (optional)
If you are using dried beans, put them in a large saucepan, cover with plenty of cold water and add garlic, bay, and kombu.
Bring the mixture to a boil, then simmer for an hour to an hour and a half, until soft. Take out half of the legume and set aside, discarding the plate and combo.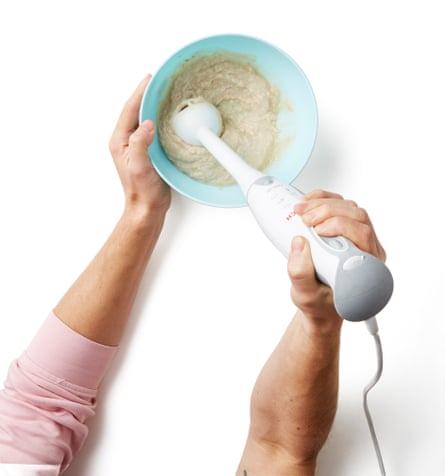 Mash the remaining beans and enough of the cooking liquid to make a thin, loose puree, adding more liquid or fresh water if needed. (If using canned beans, scoop out half, then mash the rest with the liquid from the can.)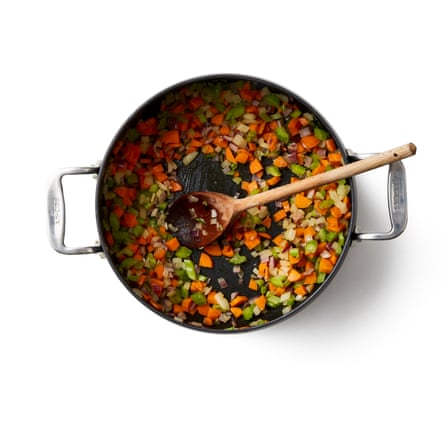 Put the oil in a large frying pan over a medium heat, then fry the onions, stirring for six or seven minutes, until softened. Add the carrots and celery and a pinch of salt and cook for five minutes or more, until tender. If you are using canned beans, finely chop the garlic and stir it into the skillet.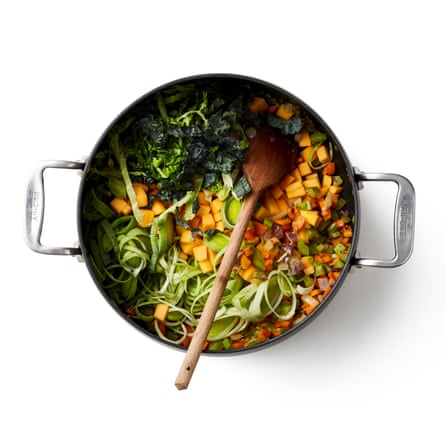 Add the fennel seeds and chili flakes, if using, cook for 1 minute, then add the shallots, zucchini, and cavullo nero, and stir well, then cover and cook, stirring occasionally, until softened.
Add tomatoes, mashed beans, and cheese peel, adding 150-250ml of water (or stock), if needed, depending on how fluid the mash is and how much ribolita soup you want.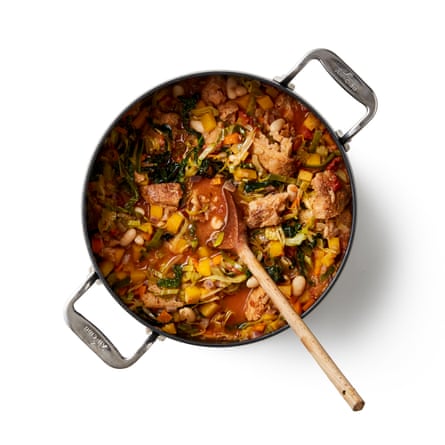 Cover again and let simmer for 40 minutes or until vegetables are tender to your liking.
Add remaining cooked beans and bread and cook until tender, seasoning as desired. Drizzle with extra-virgin olive oil and place under a hot grill until done on top, or serve as is. Top with shredded cheese and green onions, if using.
Is Ribolita a no-waste soup, or do you have a better idea up your sleeve? And if you're a fan, how do you like your bread, baked or braised, rich in tomato or tomato-free… and is it really a riboletta without the signature Tuscan bread?