IIs there anything better than movie night? Feet, selected movie, food on a tray. Asking something is often the way to go on such occasions, but it doesn't have to be the case. Cooking a dish or two for a sofa session takes some planning, right, but eating out isn't the only way to spend a night in. Here are some of the best movies for movie nights, which I called instantly.
Sticky wings and pickled stuff (photo above)
The pleasure of having dinner on the couch while watching a movie with low lighting is that no one can see how messy you get, but make sure you have plenty of napkins to hand for that person. This will make more pickles than you might need here, but they keep for a week in an airtight jar in the refrigerator and are great on sandwiches.
to equip 15 minutes
infusion 1 hour+
cook 75 minutes
serve 4-6
800 gm chicken wings
1 tablespoon lemon juice
For a viscous dressing
1 tablespoon gochujangor red mush
1½ tsp tomato paste
170 ml apple juice
100ml dark soy sauce
2½ tablespoons Demerara sugar
2 teaspoons paprika
1 teaspoon cumin seedscoarse ground in a mortar
¼ teaspoon Sichuan pepperFinely ground in a mortar or spice grinder (optional)
2 star anise
Half a teaspoon of fennel seedscoarse ground in a mortar
2 tsp garlic powder
½ teaspoon baking powder
Pickle
2 Lebanese cucumbersOR 1 regular cucumber, halved lengthwise, seeds shoveled out, meat thinly sliced ​​(150g mesh)
fine sea salt
2 fresh jalapenosthinly sliced ​​(if you prefer less heat, discard core and seeds)
10 grams fine sugar
65 ml of apple juice or white wine vinegar
20 grams dill leaves
1 tablespoon lemon juice
First make the pickle. Place the cucumber slices in a large colander with ¼ teaspoon of the salt and stir until combined, then place over a large bowl and leave for 20 minutes. Meanwhile, put the jalapeño, sugar, vinegar and 40ml of water in a small saucepan and bring to a boil for 30 seconds. We pour out any liquid from the bowl of cucumbers, then put the cucumber and dill in the bowl, then pour the pickling liquid over it and leave it to cool completely. Once cool, stir in ½ tablespoon of lemon juice.
Meanwhile, whisk all dressing ingredients in a large bowl. Add the wings and toss with your hands until well covered, then place in a single layer in a high-sided 33cm x 26cm roasting pan and leave to marinate for at least 1 hour (up to overnight).
Preheat oven to 200°C (fan 180°C)/390°F/gas 6. Cover wing tray tightly with aluminum foil, then bake for 20 minutes. Remove the foil and, using tongs, flip the wings and grill, uncovered, for another 20 minutes. Pour any dressing remaining in the skillet over all the wings and bake for another 20 minutes, until sticky and charred in places. Remove from the oven and leave to rest for five minutes, then add half a tablespoon of lemon juice.
Arrange the sticky wings and any remaining marinade on a plate, spread half the pickles on top and serve with the rest on the side.
Peanut butter squares and sour cherry rice
These addictive foods bring peanut butter jelly vibes to any movie night or lunch box. Go ahead, if you like – they will stay in an airtight box for up to 2 days.
to equip 15 minutes
cook 15 minutes
Cold 1 hour +
serve 6-8
175 ml golden syrup
75gm unsalted butter
100gm soft natural peanut butter – I love Mane Live deep roast
100 grams rice pops
75gm roasted and salted peanutscoarsely chopped
75g dried sour cherriesor dried cranberries, soak for 10 minutes in a little lemon juice, then roughly chop
40gm high quality milk chocolatealmost broken
Half a teaspoon sea salt
Line a 20cm x 20cm square tin with greaseproof paper, making sure there are plenty of protrusions.
Place the golden syrup and butter in a large saucepan over medium-high heat, and cook, stirring, for three to four minutes, until boiling vigorously. Add peanut butter and stir for another minute until smooth, then remove from heat and, working quickly, mix rice balls, 60g peanuts and sour cherries.
Transfer the mixture to a lined tin and use the overhanging paper to press down on the top until it is as flat as possible. Put it in the fridge for an hour, until it hardens.
Meanwhile, fill a small saucepan a quarter full of water and set it over medium-high heat. Place the chocolate in a small bowl and set it over the pan until it melts, making sure the bottom of the bowl doesn't touch the hot water. Remove from heat and, using a spatula, sprinkle melted chocolate over the frozen rice cake. Sprinkle over the remaining 15g each of peanuts, sour cherries and ¼ teaspoon salt, then refrigerate for 10 minutes, until firm.
Remove the mold from the refrigerator, lift the cake using the top, then cut into 3 cm squares. Arrange on a plate and serve at room temperature.
Mushroom quesadilla with plum sauce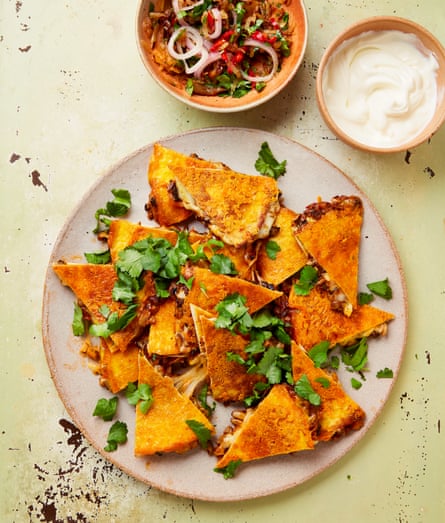 The plum sauce makes this quesadilla extra special, but if you've been pressed for some time, some hot sauce will work as a substitute seasoning. If you want to go ahead, make the mushroom stuffing the day before.
to equip 20 minutes
cook 40 minutes
serve 2-4
1½ tsp vegetable oil
350 gm mixed mushroomscut into ½ cm thick pieces
Sea salt and black pepper
3 garlic clovespeeled and powdered
½ teaspoon rosemary leavesfinely chopped
1 tablespoon tomato paste
4 medium flour tortillas
100gm low-moisture mozzarella cheesegrated
140g red Lister or mature cheddar cheesegrated
100 gm sour creamto serve
for plum sauce
2 ripe plums (210 g), cored and coarsely grated
1 leek (40 g), peeled and thinly sliced
10 g coriander leavesroughly chopped, plus an additional 10g for serving
¼ teaspoon Aleppo pepper flakes
1 teaspoon olive oil
1½ tsp lemon juice
1 red pepperstalk removed, halved lengthwise, then thinly sliced ​​(if you prefer less heat, discard pulp and seeds)
Put 1/2 teaspoon of the oil in a large nonstick skillet over medium-high heat, add the mushrooms and 1/4 teaspoon of the salt and cook, stirring constantly, for 12 minutes, until golden.
Reduce the heat to medium, stir in the garlic, rosemary, the remaining vegetable oil and a fine grind of pepper, and cook, stirring, for another 2 minutes. Add tomato paste and 100 ml water and cook with frequent stirring for three minutes until the mixture thickens, then remove the heat from the heat and set aside for 15 minutes.
Meanwhile, mix all sauce ingredients and 1/8 teaspoon salt in a medium bowl.
Wipe and clean the skillet of mushrooms and set over medium-high heat. Put the tortillas in one piece and sprinkle with half the mozzarella, half the mushroom mixture and 40 g of red lister. Lay another tortilla on top, smashing the filling inside, then let simmer for three minutes, until golden and crunchy.
Remove the quesadilla from the pan, sprinkle 30g of red lister into the pan – it should sizzle and melt almost instantly – then place the quesadilla over the cheese and press down. Cook for 90 seconds, then use a spoon to lift the cheese-covered quesadillas from the pan and flip onto a wire rack. Make the second quesadilla in the same way.
To serve, cut each quesadilla into eight pieces and arrange them on a large platter. Sprinkle over cilantro and serve with chutney and sour cream in bowls next to it.