sFeel all kinds of bags at this time of year. Not only are they all wrapped up and dressed perfectly for fall, but they're also the perfect weekend project when you're hanging out at home. Very satisfying, very sustainable, very seasonal.
Spinach, Celery, and Gouda Pie (top photo)
The tallow makes this dough very flaky and special (I use vegetable tallow to keep it vegan friendly). If you like, make the dough up to 2 days in advance; Wrap it tightly and put it in the refrigerator. This pie tastes even better the next day.
to equip 35 minutes
Cold 1 hour
cook 1 hour 40 minutes
serve 6-8
for pastries
280g self-raising flourplus more dust
150gm vegetable lard, chopped
Sea salt and black pepper
1 egg yolk
1 tablespoon double cream
to fill
2 celeriacpeeled and cut into 1 cm cubes (net weight 1 kg)
3 onionspeeled and thinly sliced
4 garlic clovespeeled and coarsely chopped
1½ tsp rosemary leavesfinely chopped
2¼ teaspoons cumin seeds
2¼ teaspoons cumin seeds
60 ml olive oilPlus extras for brushing
600 gm spinach leaves
200 gm black cabbagediscarded stems, leaves roughly grated (120 g)
20 grams of chivescoarsely chopped
20 grams of dillcoarsely chopped
2 eggs
150 gm sour cream
300 ml double cream
⅓ whole nutmegfinely grated
40 gm parmesan cheesefinely grated (or hard vegan cheese)
1 lemonfinely grated, to get 1½ tsp, then juice to get 1 Tbsp
100 grams qualitythin slices
90 grams picklesto serve
Put the flour, lard and 1/4 teaspoon of salt in a large bowl, make a hole in the middle and pour in 170 ml of cold water. Mix and knead to make a soft dough. Wrap it in a clean towel and put it in the fridge for an hour.
Preheat oven to 210°C (190°C fan) / 410°F / Gas 6°. Put the celery, onion, garlic, rosemary, two teaspoons of cumin and caraway seeds, three tablespoons of oil, and three quarters of a teaspoon of salt in a large roasting pan. Flip the celery to coat and then roast for 45 minutes, turning everything two or three times, until the celery is golden and cooked through and the onions are translucent.
Meanwhile, put a large saucepan over high heat. Add the remaining tablespoon of the oil and the spinach and cook, stirring constantly, for 12 minutes, until wilted. Reduce heat to medium, add grated cavlo nero and 1/4 teaspoon salt and cook, stirring frequently, until greens are not caught, for another five minutes. Remove from heat, add chives, dill and leave to cool for 20 minutes. Once cool, toss in celery roasting pan.
In a medium bowl, whisk together eggs, cream, nutmeg, Parmesan, lemon peel, juice, 1/2 teaspoon salt, and a fine crush of pepper, then add the quality slices and toss with the cooled vegetable mixture.
Turn oven over to 200°C (fan 180°C)/390°F/Gas 6 and grease a 24-cm cake pan with additional olive oil. Cut a third of the dough and lay a lightly floured work surface. Roll the larger piece of dough into a circle about 3mm x 35cm thick. Carefully use a rolling pin to pry it into the tin, then tap it to the bottom and sides – you should have about 2cm of protrusion. Roll out the small dough into a 26cm circle and cut it 2cm wide in the middle.
Pour the filling mixture into the pastry tin. Mix the egg yolk and 1 tablespoon of cream in a small bowl, then use to brush the top. Place the second dough circle over the filling and press and press around the edges to seal. Brush them with the remaining egg yolk mixture and sprinkle the remaining quarter each of the cumin and cumin seeds on top.
Bake for 50 minutes, until golden brown, then remove and let rest for five minutes. Remove from the tin, let rest for another five minutes, then transfer to a plate and serve with cornice on the side.
Water borek with lamb and feta cheese
Admittedly, this isn't one to try when you're pushed for time, but don't let that discourage you. If you want to go ahead, roll the pastry the day before and cover it in the fridge with butter paper, ready to cook in its water bath.
to equip 45 minutes
cook 1 hour 40 minutes
serve 6
To prepare the dough
250 grams plain flourplus an additional 100g for rolling stock
Half a teaspoon of ground turmeric
Sea salt and black pepper
3 eggs
1 tablespoon olive oil
1 tablespoon apple cider vinegar
to fill
3 tablespoons olive oil
400g (20% fat) minced lamb
15 grams thyme leavesPlus extras for decoration
2 onionspeeled and finely chopped (400 g net)
400g butternut squashpeeled, chopped and cut into 1 cm cubes
5 garlic clovespeeled and powdered
1½ teaspoons ground spices
½ teaspoon ground cinnamon
½ teaspoon hot pepper flakes
1 tablespoon tomato paste
4 plum tomatoesgrated, skins discarded (450 g)
400 grams feta cheesealmost collapses
30 grams parsleycoarsely chopped
For brushing
80g unsalted butter
2 tablespoons olive oil
First make the dough. Place the flour, turmeric and 1 teaspoon of salt into the bowl of a stand mixer fitted with the dough hook. In a small bowl, whisk together eggs, olive oil, and vinegar. Turn the mixer on medium-high heat, then pour in the egg mixture and work for five minutes until you get a smooth but slightly sticky dough. Remove from bowl, shape into a ball, cover with a damp cloth and set aside for 30 minutes.
Meanwhile, make the filling. Place a large skillet over medium-high heat, add oil, ground beef, oregano and 1/2 teaspoon salt, and cook, stirring frequently, for 12 minutes, until lightly browned. Use the spoon to break up the ground beef into approximately 1 cm pieces. Place the meat mixture in a colander over a medium bowl, return the skillet to medium heat and pour any collected fat into the bowl.
Put the onion, zucchini, garlic, allspice, cinnamon, chili flakes and tomato paste in the pan, add half a teaspoon of salt, finely grind the black pepper and cook, stirring regularly, for 20 minutes until softened and slightly caramelized. Stir the meat back into the pan, then remove from the heat, stir in the grated tomatoes and set aside to cool. Once cool, add the crumbled feta cheese and parsley.
Divide the dough into five balls of approximately 85 g and cover with a damp cloth. Generously spray a large work surface, making one ball at a time, rolling each one into a 2mm thick rectangle approximately 45cm x 30cm – use plenty of flour when rolling the dough, turning the dough over and adding more flour as necessary. Once formed, generously roll out the dough rectangle, fold in half and set aside while you repeat with the remaining dough balls.
Boil a large pot of lightly salted water. Pat any excess flour from the dough rectangles and lower the flakes one at a time into the water. Use a large slotted spoon to keep the dough submerged, cook for 30 seconds, then remove from the water and immerse in a bowl of ice water until cool. Drain it in a colander over a bowl and repeat with the rest of the dough.
Preheat oven to 200°C (fan 180°C)/390°F/Gas 6. Put butter and remaining 2 tablespoons oil in a small saucepan, and place over medium heat until melted. Grease a 22cm x 30cm high-sided rectangular oven tray with plenty of butter, then place one of the pastry paper on top, making sure there is no protrusion. Generously sprinkle the butter mixture and spread it over a third of the lamb filling. Repeat the process until all of the filling is done and there are two sheets of dough left. Sprinkle with the remaining butter mixture and place on top.
Bake for 50 minutes, until golden and crispy, and serve hot.
Pretzel, Pecan and Banana Pie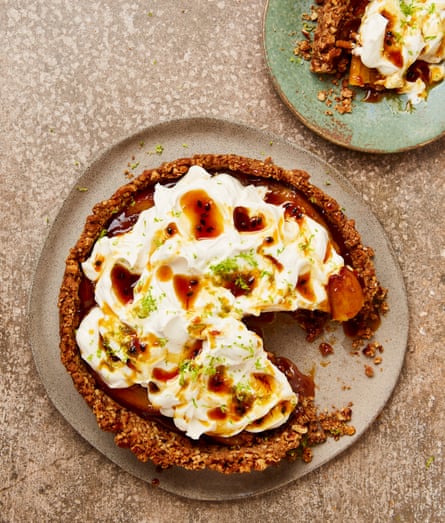 Lemon and passion fruit bring tropical flavors to this dreamy banana pie. If you want to go ahead, stuff the crust and caramel the day before.
to equip 40 minutes
cook 45 minutes
Designation 2 hours
serve 6-8
pie crust
135 g salted biscuits – I use Pennsylvania
135 gm pecans
Half a teaspoon sea salt
1½ teaspoons Demerara sugar
130g unsalted butter
30 ml maple syrup
¾ teaspoon ground cinnamon
caramel rum
150 grams fine sugar
80ml Double Cream
50gm unsalted butter
2 tablespoons dark rum
Half a teaspoon sea salt
To prepare the banana caramel
100gm fine sugar
40 gm unsalted butter
120 ml dark rum
3 medium sized bananas (530 g), peeled and cut in half lengthwise
2 passion fruitsHalf
1 lemongrated, then squeezed to obtain 1 teaspoon juice
for cream
150 ml double cream
150 ml fresh cream
2½ tablespoons maple syrup
1½ tsp vanilla paste
Preheat oven to 200°C (fan 180°C) / 390°F / Gas 6, and line a 22cm x 3cm round cake pan with baking paper.
Put the pretzels, walnuts and salt in a food processor and beat five or six times until they resemble breadcrumbs studded with small pretzels and walnuts. Stir in a bowl and add demerara sugar.
Melt butter, maple syrup, and cinnamon in a small saucepan over medium heat, then stir into a pretzel pan. Press this crust and mix firmly and evenly into the lined tray, put the tray on the oven tray and bake for 20 minutes, until golden. Remove from the oven and set aside while the caramel works.
Put the sugar and 2 tablespoons of cold water in a medium saucepan over medium heat. Cook for seven to eight minutes, resisting the urge to stir and instead swirling the mixture around the pan to ensure it gets an even caramel color. Remove the heat from the heat and carefully stir in the cream, butter, rum and salt – remember that the caramel will be too very Hot and may spit. Return to heat and cook, stirring occasionally, for 2 minutes, until thickened, then pour over pie crust and allow to cool 15 minutes. Once cool, place in the refrigerator for about an hour to firm up.
To prepare the banana, place the sugar, 1 tablespoon of cold water, and 1/4 teaspoon of the salt in a medium skillet over medium heat and cook, turning the skillet as necessary to mix, for seven to eight minutes, until mixture is smooth. turns into amber. Add the butter and rum, and cook for another three or four minutes, until soft and thickened, then carefully place in the banana halves and cook for a minute on each side. Remove from the heat, then arrange the banana halves neatly over the cooled pancake, leaving as much of the caramel sauce as possible in the pan. Return the pie tray to the refrigerator and set the caramel tray aside.
Now make the cream. Place cream, fresh cream, maple syrup, and vanilla into the bowl of a stand mixer fitted with the balloon attachment. Beat for three or four minutes on medium speed, until you get soft peaks, then pour in the cream and swirl brilliantly over the surface of the pie. Carefully separate the pancake and then move it onto a large plate.
Place the pan with the caramelized bananas over medium heat for two to three minutes, until they are slightly thicker than the maple syrup. Remove the heat from the heat, add the passion fruit juice and lemon juice, and leave to cool for five minutes.
Sprinkle 1 1/2 teaspoons of the caramel over the cream and pour the rest into a bowl or pitcher. Grate the lemon peel over the pie, spread an eighth of a teaspoon of grated salt and serve with the remaining caramel on the side.