Ruasta Preston, 43 Plungington Rd, Preston PR1 7EP (01772827958). Most plates from £8 to 12, sharing plates from £12 to 30. Unlicensed
The late great foreign correspondent Nicholas Tomalin once said that to succeed in journalism, you need "ratlike cunning, reasonable style and little literary ability." Restaurant critics need a few more qualities: a greedy appetite, broad tastes and a usable tooth set. The latter has been a bit of a challenge lately. Recently, on a trip to see my dentist to discuss the still unattached anterior crown, he told me he used to read my reviews with trepidation. He said, "I was sure one thing I asked for was to have that tooth removed."
I thought of my dentist when our first dish arrived at the little Chinese cafe, Rusta Preston. It was a stacked platter of duck wings, duck necks and duck gizzards for £13. The fuzzy nooks and crannies of the duck, often the leftover parts, are served here in a variety of styles: braised, sautéed, or our choice, lightly battered and sautéed with minced garlic, salt and pepper. If anything is going to dislodge the crown, it must be these. This dish was a feast full of know-how of practical gnawing and clenching of teeth, crunchy skin and meat pulled into strips of bone, punctuated by a dense nugget of bronze giblet, cut from plate. It was delightfully compulsive. It was fun. Fortunately, Mr. Sharma, it wasn't difficult.
A couple of weeks ago I made a lot of Kushi-Ya in Nottingham not a hidden gem, somewhere I hadn't heard of it before, and it's not the same thing. However, I consider Rusta something of a discovery, not least because of how I found it. With an extra lunch in Preston I went looking for the possibilities. This upscale place expected to serve tasting menus I didn't have the energy to sit on, wasn't open anyway at lunchtime on a Tuesday. I brought up a Google map of the city and put the word "restaurant" in the search bar, then literally clicked every red knife and fork across that map that wasn't related to Nando's Bay or Turtle Bay.
I found Roasta just outside the city center in the corner of a residential shopping show, just past the University of Central Lancashire campus, which undoubtedly offers many of its customs. Normally, I treat users' online streaming reviews with caution, as if they were anthrax until proven otherwise. But there was a warm consensus on those, complete with frequent assurances that the food here reminded us of the best places in Hong Kong, written by people who seemed to know their stuff. This seems logical. Roasta was opened five years ago by Fai Tsang and her husband Wai, who are both from Hong Kong. She runs the small 20 seat dining room and he is in the kitchen.
At the heart of the menu are Cantonese meat dishes to share: a whole roasted duck for £30, and a whole chicken marinated in soy for £25. We have a meat duo, for £15. The duck, displayed or placed on the bone, is a very powerful example, where the shimmering, polished skin under the teeth cracks. Roast pork belly is simply amazing. Almost all the fat has been removed and the salty crackling is a delicious golden honeycomb that is ground first and then appears to dissolve. We get bowls of plum-and-soy sauce for dipping, and we do it with something close to reverence. Besides, the creamy white Chinese leaves, fried in a dark vinaigrette with undertones of caramel under acidity, become the perfect companion for the dance.
Most of the menu consists of ingredients presented in a variety of ways for around £10 at a time. You can have boneless chicken or pork thighs, for example, in black bean sauce or with sauerkraut, in satay sauce or fried and topped with salted eggs, etc. Fried green beans with minced pork are served with garlic and preserved olives or, as we have it, with black beans. It's a fun turbo charge for a dish that's already flavor-enhanced. Finally, we have the freshly squeezed shrimp, sliced ​​back and rolled on themselves like fatty spacers, in a thick broth with cracked black pepper and Shaoxing wine.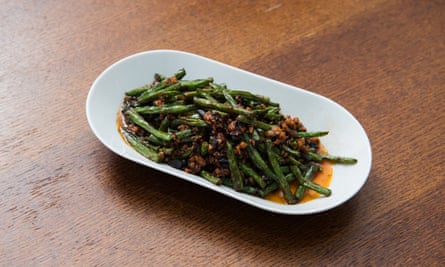 Of course, you can have rice, their noodles in broth or a variety of Guilin-style rice noodles, but I always worry that the heaviness of carbs will get in the way of the things I really care about. Tell them I'll get rice at the end if I'm still hungry. I don't order rice. Rusta is not licensed, but the food gives me enough euphoria. I passed on the bubble tea option; I just don't get the allure of the wobbly tapioca balls. Instead, I drink jasmine tea poured from a constantly refilled teapot in an enamel cup the size of a thimble.
Roasta is more often located in the café with the column sign rather than the restaurant; Perhaps, to divide the tariffs into segments, to that noble column marked "caff". It's an elbows-on-the-table kind of place where you can sit alone over a bowl of something steaming and delicious that makes the world better, all at a very good price. But the list deserves to be fully explored. It takes you beyond comfort food and into a whole host of interesting gins to Cantonese traditions, to use a proper Lancashire word. Leave the plastic at home; They accept cash only. We ordered more than 2 people and settled a bill for £56.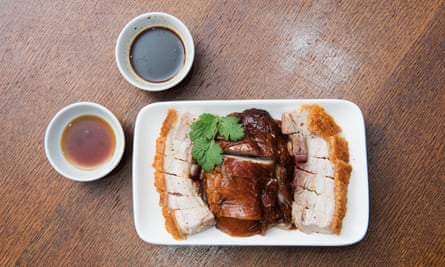 My virtual journey through the Preston map, one thrilling click at a time, also led me, that evening, to the cozy Pintxos Bar, off Fishergate in the city centre. Went in before the kitchen closed to get a great value bottle of Albarino and a few very nice tapas: more greasy prawns, but this time bil bil, in thick garlic sauce, some Padron peppers, crispy calamari with saffron aioli and chorizo, served Either in applesauce or sherry as per your taste. At the end came a piece of baked Basque cheesecake. There is a lot of this at the moment. Often times it can be heavy and clog the mouth. This was light, creamy and eminently endowable. With her came a glass of Pedro Ximénez's sherry, sadly smelling of Christmas. It was a good ending to a beautiful day. Oh God, the faithful old. I think it is safe now.
News bites
Nigerian-born chef Adejoké 'Joké' Bakare has closed its popular West African restaurant Chishuru in Brixton, south London, before reopening elsewhere in the capital next year. Bakari said the 34-seat restaurant, which began as a dinner club, simply exceeded its current size. While she needs more space, she has promised that Chishuru will remain true to her casual roots. "Yes, the new restaurant will be nice and shiny, but not too shiny," she told the restaurant industry website. great hospitality.
acclaimed movie boiling pointIn a restaurant during a difficult service and apparently filmed in one take, he produced a six-part television series for BBC One. The show will begin six months after the events of the film and will focus on Carly, the chef-cook, played by Vinenet Robinson, as she becomes the head chef of her own restaurant. Stephen Graham, who played wired chef Andy in the original, will reprise his character. Filming is scheduled to begin early next year.
Farewell to the great chef, Joyce Molyneux, who passed away at the age of 91. She worked early in her career with George Perry Smith at Hole in the Wall in Bath before writing her name at Carved Angel's Restaurant in Dartmouth, where she presided over the kitchen from 1974, eventually winning a Michelin star. Chef Bruce Paul of Chez Bruce called it "a true giant of British chefs". In 2017, Molyneux was awarded the Lifetime Achievement Award by the OFM Awards.
Email Jay at [email protected] or follow him on Twitter MustafaHosny Oh God, Amen